FROM THE DVB NEWSROOM
Regime issues arrest warrants for sacked Wa officials
The regime's Hopang District court issued arrest warrants on Oct. 17 for Chen Yanban, the Wa State Minister for Construction, and Xiao Yanquan, a former United Wa State Army (UWSA) brigade leader and the mayor of Moung Neng county in Wa State. Regime media reported that the two were allegedly involved in cyber scam operations, kidnapping, and extortion in the Wa Self-Administered Division.
The arrest warrants came after the UWSA dismissed Xiao Yanquan and Chen Yanban. Chinese police have offered rewards of 100,000-500,000 RMB ($13,668 to 68,342 USD) for information leading to their arrests. The warrants come as Chinese, Wa, and regime officials have launched a crackdown on cross border cyber crime syndicates.
Burma Campaign UK adds to 'Boycott List'
Burma Campaign UK added 30 products and services produced by companies affiliated with the military to its Boycott List on Oct. 18. It called on the people of Burma, corporations, U.N. agencies, and foreign embassies in Burma to avoid purchasing military products in order to deny the regime of revenue.
"The vast range of products and services provided by military-owned companies demonstrates their importance to the Burmese military and the dominant role that [it] has always played in the economy," said Mark Farmaner, the director at Burma Campaign UK. Since the 2021 military coup, anti-coup activists have been calling on the public to boycott military-owned brands and products.
Malaysian national dies at regime immigration center
A Malaysian national died of a heart attack at an immigration center in Tachileik, Shan State on Oct. 14, the New Straits Times reported. Muhammad Izzat Abdul Wahab, 28, left his hotel in Tachileik to go to the immigration center to obtain necessary documents to return home.
The Malaysia International Humanitarian Organisation (MHO) informed Izzat's family that he died there of heart problems. "My husband was a healthy man and he had never complained of any heart problems," said Izzat's wife. MHO has been rescuing Malaysian nationals abroad who fall prey to cyber crime syndicates.
News by Region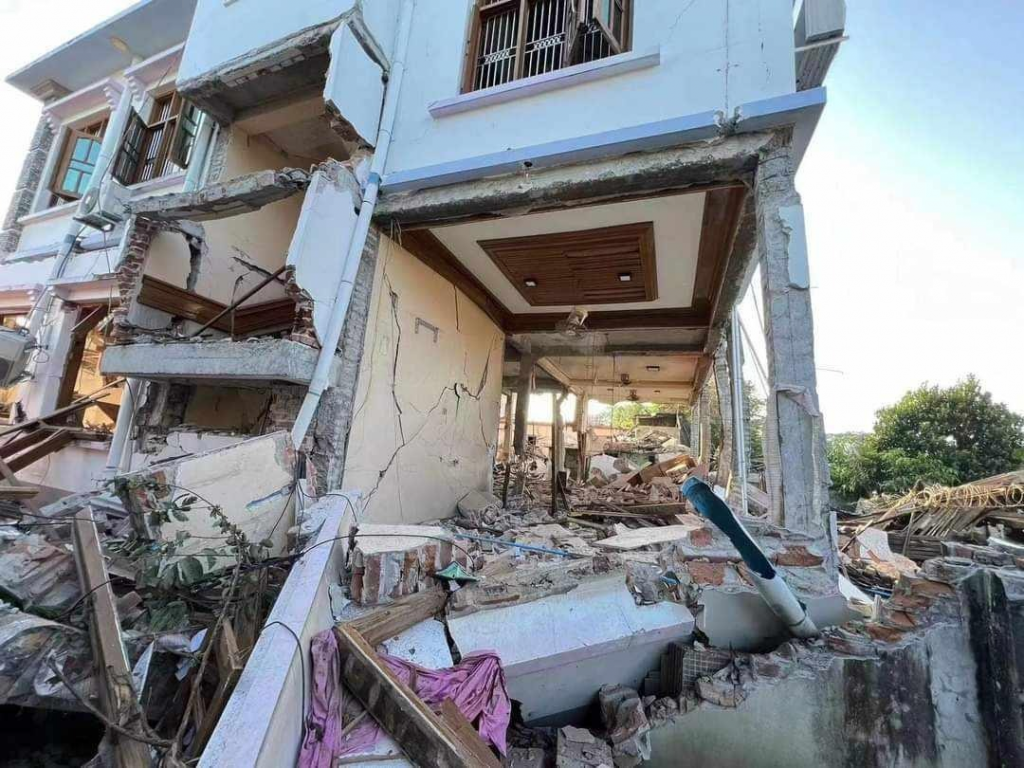 KACHIN—The house of a former Kachin Independence Army (KIA/KIO) officer in Bhamo was destroyed by a bomb detonated by the Burma Army on Oct. 18."There were a lot of [soldiers] near the house, blocking the road. They took every precious thing inside," said a Bhamo resident. 
The former KIA officer Dashi Ladwal was arrested together with his wife and niece the previous day, on Oct. 17. The reason for their arrest and the location of where they are being detained is unknown.
Around 400 families have become displaced from their homes due to fighting after the KIA and other resistance groups seized a Burma Army outpost in Ngabatgyi village in Shwegu Township on Oct. 18.
Locals claimed three houses were destroyed by artillery shells. The body of a Burma Army soldier was discovered inside the outpost while the others had fled. The outpost was set ablaze after its seizure.
CHIN—A mother of six was killed after stepping on a landmine in Zaungle village, Falam Township on Oct. 18. "She and three other women were there. A landmine exploded near the fence of a military outpost. She lost one of her legs and bled to death," said a Zaungle resident. Locals believe the landmine was planted by the Burma Army.
NAYPYIDAW—An investigation is underway for seven inmates who escaped from the Kintha 2 police detention camp in Tatkon Township on Oct. 17. The inmates were serving prison sentences for murder, rape and drug trafficking. "The authorities covered up the news and searched for them," said an unnamed source close to the administration.
TANINTHARYI—A Dawei Prison court has sentenced two political prisoners under the Counter-Terrorism Law, states the Dawei Political Prisoners Network (DPPN). Lin Htet Phyo, a student from Dawei University, was sentenced to 15 years on Oct. 16. "I couldn't even ask about his health," said Lin Htet Phyo's friend.
Lin Htet Phyo was arrested on July 26. The court sentenced Dawei's Yin Yin Cho to an additional 32 years in prison on top of the original 12 years she received last May. She is accused of supporting the People's Defense Force (PDF). Her total prison sentence is 44 years.
Read our latest op-ed: Bangladesh's information war on Bhasan Char: A Closer Look by Shafiur Rahman.
Listen to our latest podcast: Vox Pop: Trish on the culinary history and community of Bamama Cooks.