FROM THE DVB NEWSROOM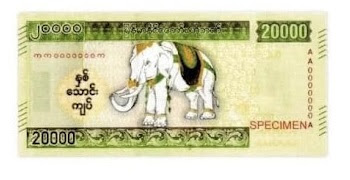 Regime mints new 20,000 kyat note
Regime media reported the Central Bank of Myanmar will release a new 20,000 kyat ($9 USD) banknote on July 23. It will be released to the public on July 31 to commemorate the first birthday of a white elephant, reportedly born after the 2021 military coup, and the completion of the Buddha statue – believed to be the nation's largest – in Naypyidaw. The new 20,000 banknote will be available at central bank branches in Naypyidaw, Yangon, and Mandalay.
NUG Spring Development Bank ready to launch
The Spring Development Bank (SDB) under the guidelines of the National Unity Government (NUG) Interim Central Bank began its trial run on July 22. "We will begin our official User Acceptance Testing [UAT] launch with our 100 relationship managers across the globe. We will start the run with 1,000 account users and we are hoping that it [SDB] will be fully ready by the end of August. First, we will be operating accounts under four currencies: Burmese Kyat, USD, Singapore Dollar and Thai Baht. Through our bank, users can easily make transactions and exchange currency," said Kelvin, the SDB management executive officer. NUG Interim Central Bank Chairperson Tin Tun Naing said that the SDB will help fund resistance forces, circumvent regime banks, and provide an independent banking system for the public. SDB clients will be able to use their accounts in any country with a relationship manager.
EU imposes new sanctions on regime
The E.U. imposed a seventh round of sanctions against six regime officials and a state-owned mining business on July 20. The sanctions were enacted in response to escalating violence and human rights violations in Burma. Those sanctioned include Burma Army officials Aung Kyaw Min, Poh Reh Aung Thein, Quartermaster General Kyaw Swar Lin, Minister for Immigration and Population Myint Kyaing, Minister for Labour Pwint San and Minister for Health and Sports Thet Khaing Win. A total of 99 individuals and 19 organizations in Burma have been sanctioned by the E.U.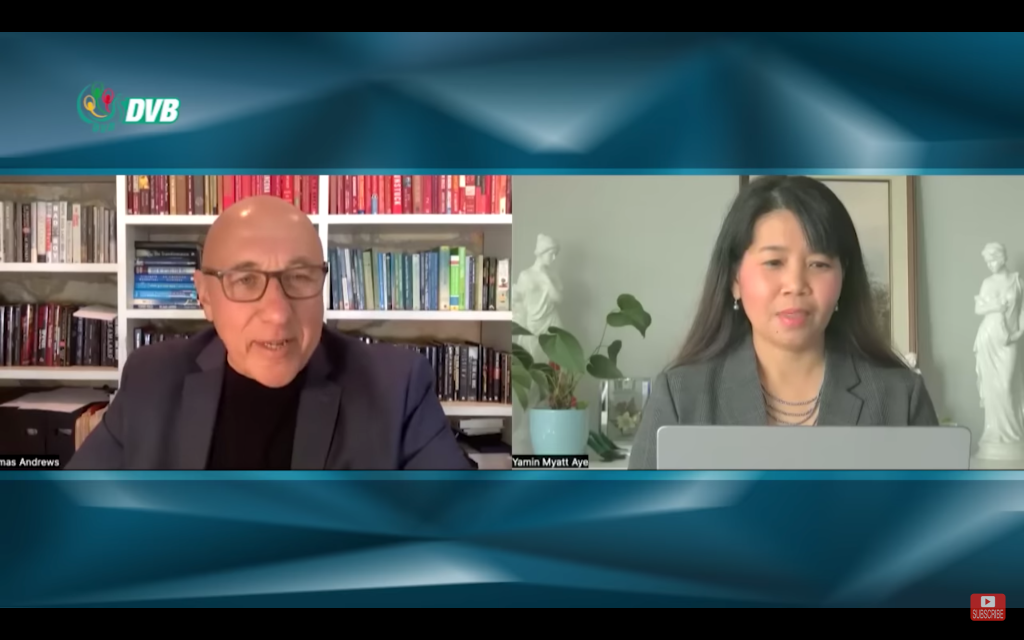 Tom Andrews sits down with DVB
In an exclusive interview with U.N. Special Rapporteur on the situation of human rights in Burma, Tom Andrews told DVB that hundreds of thousands of children have been displaced from their homes in Burma and millions are in need of humanitarian assistance. "As of last year more than 800 children have been killed or maimed in Myanmar, 387 children are now being held behind bars as political prisoners. And 51 children are being held as hostages by the junta as leverage to get to their families," he added. The impact of the 2021 military coup on Burma's children means that they face the prospect of becoming "a lost generation," according to Andrews.
News by Region
KAREN—Forty-six Burma Army personnel were killed and 46 others were injured during clashes in Karen National Union (KNU) Brigade 6 territory of Duplaya district in June, the KNU Central stated. During the fighting, one resistance fighter was killed and another one was injured. Two civilians were killed and nine others were injured by artillery. Three airstrikes destroyed two houses and damaged a church. Duplaya residents have been displaced and are in need of food, shelter, and healthcare services.
The Karen National Union (KNU) stated that coalition forces seized the Let Khat Taung hilltop outpost from the Burma Army in Myawaddy town, near the Thai-Burma border, on July 21. Six from the KNU coalition forces were injured. It seized landmines, weapons and ammunition at Khat Taung.
KARENNI—More than 5,000 Internally Displaced People (IDPs) staying near the Thai border are in need of food, the Karenni National Women's Organization (KNWO) stated. "We have arranged shelter and toilets as they fled urgently. They are living in small tents that are not okay for rainy and windy days. Especially for the elders and children under two who cannot survive without sufficient water and shelter," said Maw Pray Myar, the KNWO secretary. Karenni refugees who crossed into Thailand are receiving shelter and assistance from local aid groups.
NAYPYIDAW—The regime Ministry of Economy and Commerce ordered all online businesses to register. "I think they want to control online businesses. And it wants to watch over the digital currencies and control it," said an unnamed business owner. To register, the business owner must be over 18-years-old and live inside the country. It warns that those who fail to register within six months of the order will be punished in accordance with the Essential Supply and Services Act.
SAGAING—A total of fourteen residents, including members of the People's Defense Force (PDF), were reportedly killed in Sone Chaung village of Yinmabin Township on July 20. Regime media reported that 13 PDF fighters were killed. Locals claim that the Burma Army has committed four massacres in Yinmabin Township since the 2021 coup.
YANGON—The Yangon Eastern District Court added another five years to the prison sentence of Nyan Win Htet, the former chair of Dawbon Township Students' Union, under the Counter-Terrorism Law on July 20. The All Burma Federation of Student Unions (ABFSU) states that Nyan Win Htet, 22, was arrested in June 2022 and sentenced to 15 years in prison under the Counter-Terrorism Law last December. This additional sentence brings his total prison sentence to 20 years. "The revolution will not stop even if they are jailing and killing revolutionaries. We will continue to fight until the end," said the ABFSU.
An administrator in East Dagon Township was killed while sitting at a tea shop on July 21. "Two gunshots were fired and he was wounded in his head and abdomen. All of the shops were shut down after the incident," said an East Dagon resident. The body was sent to North Okkalapa Hospital.