FROM THE DVB NEWSROOM
Regime touts student enrollment as school year commences
The Rakhine State Educational Office stated that more than 300,000 students have enrolled in Rakhine State schools for the 2023-24 academic year. The school year commenced on June 1. More than 360,000 students were enrolled last year (2022-23) in the state. Around 3,000 schools were either destroyed or damaged by Cyclone Mocha on May 14. Students will have to attend temporary classrooms until their schools are rebuilt. Rakhine State had the highest student enrollment rate for both basic education schools and universities after reopening following the 2021 coup.
Another cyclone expected in June
A new cyclone may hit Burma on June 9, independent meteorologist Win Naing told DVB. He said a tropical depression could form in the Bay of Bengal on June 6, and gradually strengthen into a cyclonic storm, which would move towards the western coast of Burma achieving wind speeds of 66 mph on June 7. Win Naing predicts it will become a severe cyclonic storm on June 8 and reach wind speeds from 95 to 118 mph, making landfall between Sittwe and the Bangladesh border on June 9. Win Naing said that preparations for another cyclone must be made as soon as possible. Heavy rain and winds are expected in Yangon, Ayeyarwady, Magway, Mandalay and Sagaing, Chin and Rakhine.
Ban Ki-Moon calls for end to violence
Former U.N. Secretary-General Ban Ki-moon called for increased diplomatic pressure on Naypyidaw to bring an end to violence and release political prisoners in Burma at a press conference in Seoul, South Korea on May 31. Ban was criticized for meeting with Min Aung Hlang and military officials during his visit – on behalf of The Elders – to Burma in April. "I am in close contact with all those people to do as much as we can do to help them democratize Myanmar," said Ban. He called on the military to implement the ASEAN Five-Point Consensus immediately.
Japan to withdraw investments in railway project
The Japanese government is withdrawing official development assistance for a railway project, The Asahi Shimbun reported. Japan has been involved in upgrading railroad tracks linking Yangon and Mandalay since 2013. It stated that it would review other Official Development Assistance (ODA) projects and would resume loans when a civilian administration was restored in Burma. The announcement comes after whistleblower group Justice for Myanmar (JFM) criticized Japan's economic investments in Burma and called for it to review its projects.
News by Region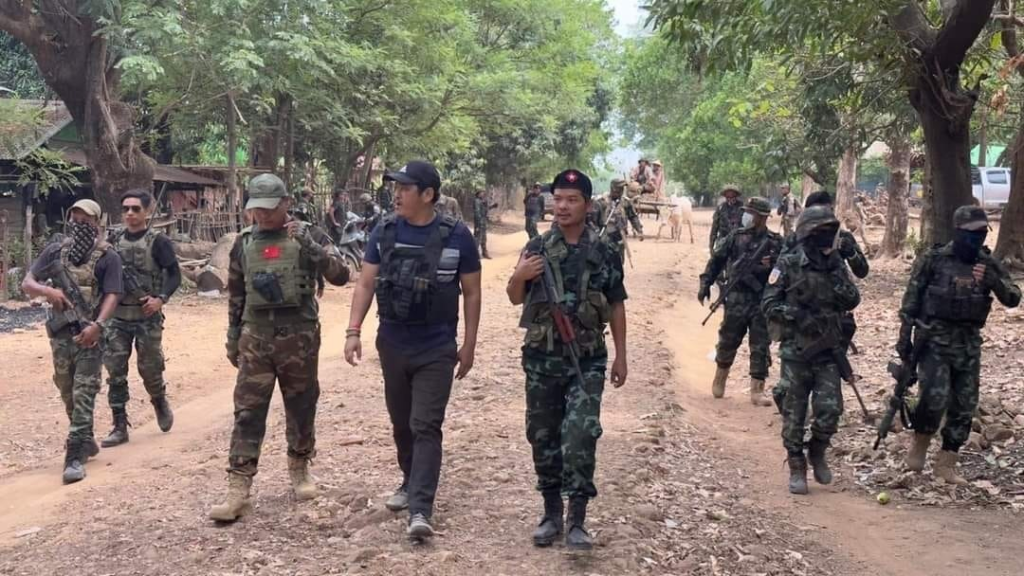 BAGO—The National Unity Government (NUG) Minister of Home Affairs and Immigration Lwin Ko Latt paid a visit to People's Defense Force (PDF) outposts in Bago Region, the NUG stated on May 31. It claimed that the minister had toured the frontline and met with PDF members during the second week of May. Lwin Ko Latt also held "open discussions" with locals regarding the resistance movement.
KARENNI—The NUG recognized four young medics killed in an airstrike on May 27 as "martyrs." The medics provided healthcare to people in areas of the state under the control of the resistance movement.
NAYPYIDAW—A Russian delegation led by the Deputy Chairman of Russia's State Duma Sholban Kara-Ool met with Min Aung Hlaing and Union Election Commission Chairman (UEC) Thein Soe on May 30. They discussed "assistance from Russian to hold a free and fair election [sic]" and signed a Memorandum of Understanding (MoU) between the two countries' election commissions. No election date has been set by the UEC.
RAKHINE—Three people were hit by lightning and killed in Kyaukphyu and Ramree townships on May 30-31. Two were killed inside their home. "They were playing mobile games when it was raining. Lightning struck and both of them were killed at the place," said a Ramree Township resident. The third man was struck and killed on a boat in Kyaukphyu Township.
YANGON—Regime media reported that Li Li Naing Kyaw is receiving medical treatment at a military hospital after being shot in front of her home in Yankin Township on May 30. Li Li Naing Kyaw is the daughter of a military officer and previously claimed that opponents of the regime "want to destroy the nation." Several media outlets, including this one, mistakenly reported that she had died. DVB regrets the error.
The NUG established its first battalion under the Yangon Region Military Command. The 5101st Battalion was formed in accordance with the NUG defense guidelines. It stated that the resistance movement in Yangon has used guerrilla tactics after the 2021 coup due to intense security in the city. The NUG has claimed that over 300 PDF battalions have been established across Burma.