FROM THE DVB NEWSROOM
Rohingya Genocide remembrance day
Today commemorates the Rohingya genocide. On Aug. 25, 2017 the Burma Army launched a crackdown in northern Arakan State forcing over 700,000 Rohingya to flee into Bangladesh. The U.N. labeled it a "textbook case of ethnic cleansing" and the U.S. government calls it a genocide. The military regime must file its counter-memorial with the International Court of Justice (ICJ) on Aug. 24 to defend itself against the crime of genocide put forth by The Gambia in 2019.
Regional human rights group, Fortify Rights, calls on the military regime to comply with the ICJ and end its ongoing genocide against the Rohingya. An estimated 600,000 Rohingya live in Arakan State. Nearly one million Rohingya have sought sanctuary in Bangladesh refugee camps. The U.N. High Commissioner for Refugees (UNHCR) states that conditions on the ground in Arakan State are not conducive to safe and dignified returns for the Rohingya.
Singer Byuhar sentenced to 20 years in prison
A court at Insein Prison sentenced singer Byuhar to 20 years in prison on Aug. 23. He was charged with 505 (A) of the penal code, which makes it a crime to publish or circulate any "statement, rumor or report." He was later charged with Section 124 of the penal code, or sedition, which was amended in 2021 after the military coup to prosecute anyone who intends to "sabotage or hinder the performance of the Defense Services and law enforcement organizations who are engaged in preserving the stability of the state."
Byuhar was arrested on May 24 in Yangon after allegedly posting a video to his social media account criticizing Min Aung Hlaing and his regime's Ministry of Electricity for the frequent power cuts since the 2021 military coup. "He is in good shape in the prison," said a source close to his family, where Byuhar was transferred after interrogation on June 6. He is the son of Naing Myanmar who composed the song "Kabar Ma Kyay Bu [We won't be satisfied until the end of the world]."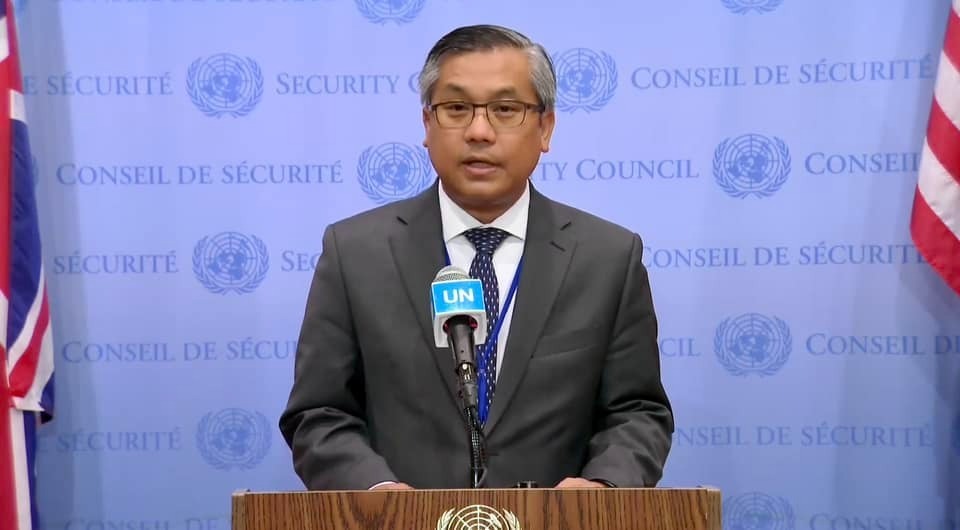 Civil society groups apply pressure on the UN and Singapore
Over 500 civil society organizations expressed concern over the visit to Burma of the Under-Secretary-General for Humanitarian Affairs and Emergency Relief Coordinator for the U.N., Martin Griffiths, Aug. 17-19.
They state that the visit "lacked substantive achievements" and was used as a photo opportunity by the military regime. They called on the U.N. Office for the Coordination of Humanitarian Affairs (UNOCHA) to establish a line of communication with the National Unity Government (NUG) and Ethnic Resistance Organizations (EROs) to assist with aid deliveries. Griffiths called on the regime to allow great humanitarian access in Burma.
Justice for Myanmar, Burma Campaign U.K., and over 200 other civil society groups are demanding Singapore's Minister of Foreign Affairs Vivian Balakrishnan investigate Singapore-based companies accused of exporting weapons to the Burma Army. They're also calling for economic sanctions to deny the military access to Singapore's financial system.
The U.N. Special Rapporteur on the situation of human rights in Burma, Tom Andrews, outlined 138 Singapore-based companies that have exported $254 million USD worth of weapons and equipment in his last report. Singapore's Ministry of Foreign Affairs denies that it has facilitated any weapons sales to Burma.
News by Region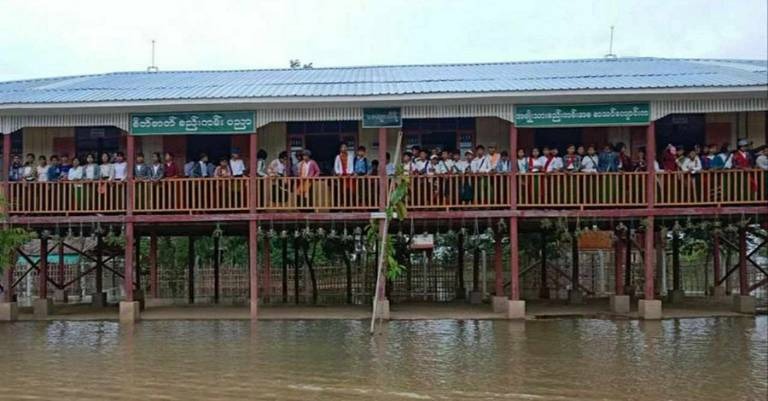 MAGWAY—Twenty-six schools in Pwintbyu, Yenangaung, Salin and Mibu townships have been shut down temporarily due to floods. "The schools will be shut down for a week," said a source in the administration. The Irrawaddy River reached a critical level because of rains on Aug. 22. The region has around 5.5 million students studying this academic year.
MON—Kyaikto Revolution Force (KRF) claimed that it killed Border Guard Force (BGF) Captain Win Soe in Kyaikto Township on Aug. 24. "He used to cooperate with the Burma Army," said a KRF spokesperson. It opened fire on Win Soe's vehicle killing the BGF captain and another. Win Soe allegedly worked with the township authorities to seize 300 acres of land and arrest locals, according to the KRF spokesperson.
SAGAING—A military court in Indaw Township sentenced four civilians to death on Aug. 18 for allegedly providing food and weapons to the People's Defense Force (PDF), regime media reported. "They were arrested in April and June," said an Indaw resident. The four were charged under Section 49 (A) and 52 (B) of the Counter-Terrorism Law. Martial law was declared in Indaw Township last February. At least six locals have been arrested this month.
AYEYARWADY—Twenty-seven Rohingya and a driver were arrested at Oak Pon checkpoint in Kyangin Township on Aug. 23. "They were hiding in a dump truck. They were [detained and] taken to the police station," said a Taung Oak Pon resident. The Rohingya are from Ann Township in Arakan State. Nearly 400 Rohingyas have been arrested in Ngapudaw, Labutta and Pyinsalu townships over the last few months, according to locals.