FROM THE DVB NEWSROOM
Senior Kachin Independence Army officers killed in airstrike
Senior Kachin Independence Army (KIA/KIO) officers were killed by airstrikes on the headquarters of KIA Brigade 9 and A Nang Pa in Hpakant Township on Oct. 16, the Kachin News Group reported.
"Their fighter jets dropped bombs over A Nang Pa and our military outposts in Brigade 9 territory. They also shelled some places in Hpakant," said Naw Bu, the KIA spokesperson.
Naw Bu added that the Burma Army may have been retaliating for a KIA attack on a military column in Hpakant that reportedly injured senior military officials. Over 60 people were killed in an airstrike on a KIO anniversary concert at A Nang Pa on Oct. 23, 2022.
HRW finds military responsible for attack
Human Rights Watch (HRW) determined that an airstrike carried out by the military was responsible for the death of 29 civilians and 57 injured at the Munglai Hkyet Internally Displaced Persons (IDP) camp on Oct. 9. HRW experts interviewed witnesses and reviewed photos and videos of the aftermath.
The investigation found that the debris and damage was consistent with the effects of high-explosive bombs delivered by aircraft, corroborating a similar finding from Amnesty International. Regime spokesperson Zaw Min Tun claimed that the explosion happened at a KIA storage facility.
UN hosts Rohingya meeting in Bangkok
The U.N. High Commissioner for Refugees (UNHCR) hosted a high-level meeting in Bangkok, Thailand on Oct. 17 to discuss the status of Rohingya refugees. Participants discussed efforts to increase support for Rohingya and create conditions conducive for voluntary repatriation to Burma or possible resettlement to third countries.
Officials from the U.S., U.K, and Bangladesh attended. Civil society groups, humanitarian organizations, and stakeholders were also present. Over one million Rohingya have fled Burma to escape persecution and genocide. The U.N. states there are at least 960,000 Rohingya refugees in Bangladesh, 102,000 in Malaysia, and 18,000 in India.
Over 2,000 China nationals repatriated for cyber crimes
China's Ministry of Public Security (MPS) announced that 2,349 of its nationals were sent back from Burma on Oct. 16. Beijing, Naypyidaw, Bangkok, and the government in Laos agreed to cooperate to launch operations against cyber crime gangs operating along their respective borders on Aug. 15.
China's MPS stated that a total of 4,666 Chinese suspected of being involved in cyber crimes in northern Burma have been repatriated. It claimed that cyber crimes in China have decreased by 74 percent since the operations began.
News by Region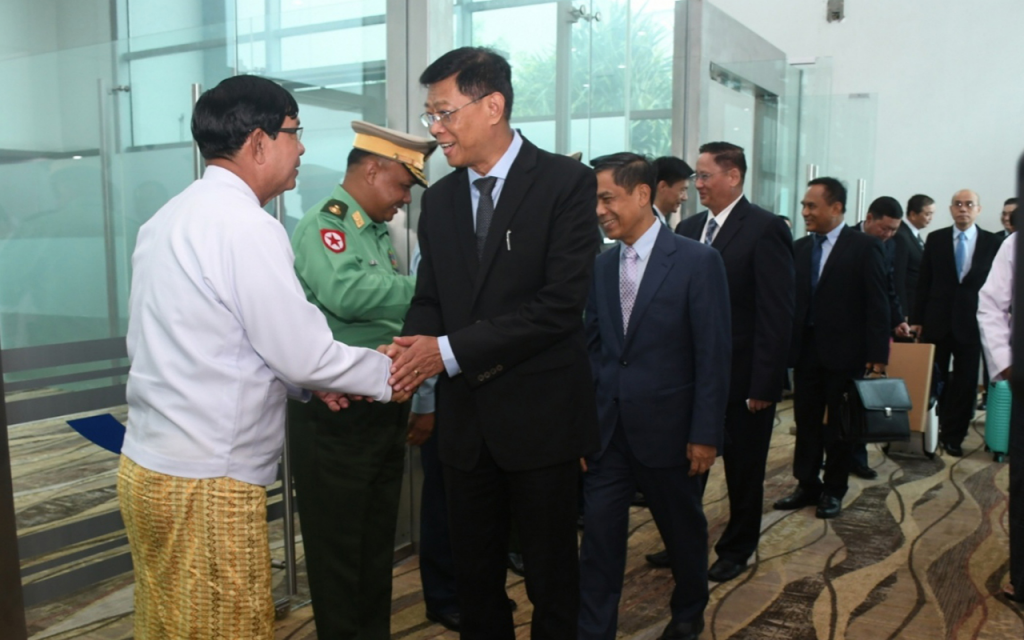 NAYPYIDAW—Regime Ministers Mya Tun Oo, Ko Ko Hlaing and Yin Maung Nyunt traveled to China to attend the Belt and Road Forum for International Cooperation on Oct. 17-18, regime media reported. The Belt and Road Forum was previously held in 2017 and 2019. State Counsellor Aung San Suu Kyi attended.
A mother and her 10-year-old daughter died in their home in Pobbathiri Township and their bodies were recovered on Oct. 15. "The rain caused water from the mountains to surge, and the water came into their house, causing them to drown," a local told DVB.

MON—Ammunition and drugs were confiscated from two men on a motorbike at a checkpoint near Mawlamyine Airport, according to a source close to the police. The seized items included a pistol, ammunition, ketamine, cannabis, and drug paraphernalia. Police are investigating.
SAGAING—Six civilians were killed by the Burma Army in Thaekon village, Yinmabin Township on Oct. 16. "We found the bodies after [soldiers] left the village that morning. Three were 17-year-old boys and the rest were in their 40s. They even took earrings from the women who were hiding in the village's monastery," stated a resistance group.
SHAN—Around 100 China nationals and 300 Burmese citizens were arrested by the United Wa State Army (UWSA) for operating cyber scams in Mong Hsat Township on Oct. 14, RFA reported. "My husband was among the arrested," a woman in Mong Hsat told RFA. China nationals suspected of being involved in cyber crimes have been rounded up by the UWSA since September.
YANGON—Four men were arrested with narcotics worth an estimated K100 million ($47,682 USD) in North Dagon, South Okkalapa and North Okkalapa townships on Oct. 15-16. "We arrested a man on a bus carrying K60 million worth of methamphetamine tablets in North Dagon on Oct. 15. We arrested one more in that township and another one in South Okkalapa," said a police officer.
Police officers stated they had arrested another man in North Okkalapa Township following an investigation. The police charged the suspects under the Narcotic Drugs and Psychotropic Substances Law.