Burmese students and activists took to the streets again on Friday morning, calling for the release of fellow protestors and denouncing the watered-down amendments bill on the National Education Law, which was passed by the country's upper house of parliament on Thursday.
Rallies were reported in Rangoon, Myingyan in Mandalay Division, Tavoy [Dawei] in Burma's southernmost Tenasserim Division, and Myaungmya in the Irrawaddy delta.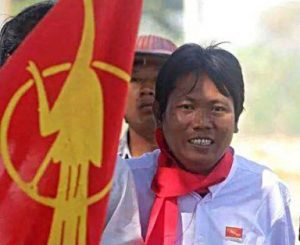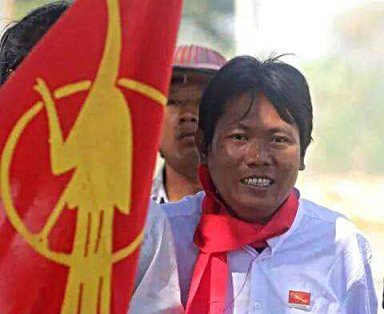 Early reports indicate that seven protestors were arrested during the rallies – four in Myingyan and three in Rangoon– including Nanda Sitt Aung, who on Wednesday was charged in absentia on five accounts at Letpadan Township Court, where dozens of students and other activists were charged and jailed.
Nanda Sitt Aung, one of four activist who were declared fugitives for not appearing in court, helped lead the Rangoon protest on Friday morning but was apparently spotted by police and arrested along with two colleagues.
Ko James, deputy-chair of the All Burma Federation of Student Unions (ABFSU), said, "The three were followed on their way back to their hideout after the protest. Plain-clothes police arrested them at a bus stop in Mingalar Taungnyunt."
Ko James said that about 40 Rangoon activists turned out despite a heavy security presence to begin a protest at 10:10am in front of the Theingyi Market Plaza in the city's downtown area.
"We have four demands: the adoption of a student- and public-focused education law; the release of the students and other protestors from Tharawaddy prison; action taken against government officials who acted above the law or ordered the violent crackdown on the students' protest [in Letpadan on 10 march]; and an official denunciation of the use of violence used to disperse peaceful demonstrators."
Speaking to DVB on Friday after the rally, Aung Nay Paing, a member of the Committee for Democracy Education Movement, said, "The authorities tried to stop us but we persevered with the protest. We chanted slogans on the pedestrian crossing bridge and sang songs.
"Afterwards, Ko Nanda Sitt Aung addressed the crowd, explaining the students' cause and denouncing the police's use of violence to disperse demonstrations, stressing that the government should find a political solution to the issue."
[related]
Meanwhile, students in Myingyan demonstrated by flying student flags on their motorbikes instead of marching down the street due to the heavy police presence in the town, according to a DVB reporter who followed the march.
"The students on motorbikes were ordered to stop by local police and the district administrator but they ignored them and drove on by," he said, adding that protestors also distributed leaflets to onlookers.
Meanwhile, more than 30 students in the Irrawaddy Division town of Myaungmya marched through the town wearing matching t-shirts and distributing stickers to passers-by, according to local ABFSU member Tayza.
"We are staging this campaign to promote awareness about the detained students and their supporters," he said, adding that two students from Myaungmya are among those detained in Tharawaddy prison.
Another students' protest went ahead in Tavoy on Friday morning, but a planned demonstration in Henzada, also called Hinthada, just 30 kilometres west of Tharawaddy and Letpadan, was stopped by local police.
CLICK HERE for DVB's interactive map and chronology of students protests across Burma.