FROM THE DVB NEWSROOM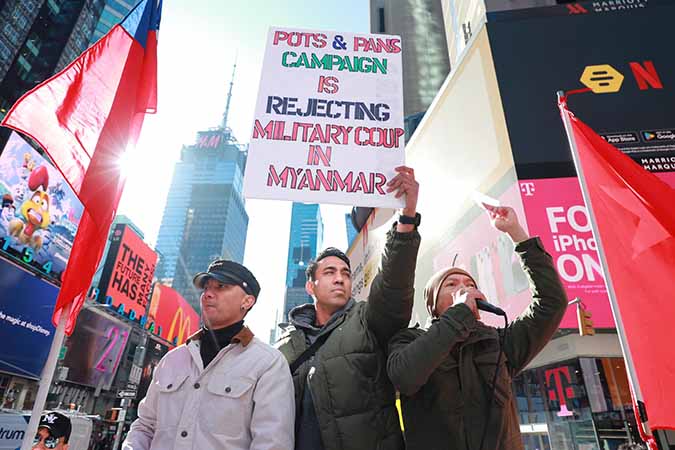 "Silent Strike" to be held in Burma to mark anniversary of coup
A nationwide "Silent Strike" is set to take place on Feb. 1, 2023 – the second anniversary of the military coup that ousted the National League for Democracy (NLD) government and plunged Burma back into the abyss. People have been asked to stay home as a way to denounce the military's attempted takeover and arrest of its elected leaders, State Counsellor Aung San Suu Kyi and President Win Myint. The previous three silent strikes in Burma since the 2021 coup have put the spotlight back on the country. Anti-coup protest leader Tayzar San urged everyone to join the Silent Strike on Feb. 1. "Boycott the illegal [junta's] elections. Show silence as evidence."
Regime claims that immigration offices have been destroyed since coup
Regime media reported that nine immigration offices have been destroyed by arson attacks since the 2021 coup. Three in Chin State, four in Sagaing Region and two in Magway Region. "Those offices have to do everything that every government asks for. They have to do their jobs under this military council as well. It is okay to burn those buildings down but I think the documents shouldn't be destroyed as they are important information for the people," said an anti-coup leader on the condition of anonymity. So far this month, immigration offices in Myaing, Salingyi, Yesagyo and Myinmu townships have been attacked by arsonists. According to data collected by DVB, 21 arson attacks have occurred at immigration offices since 2021.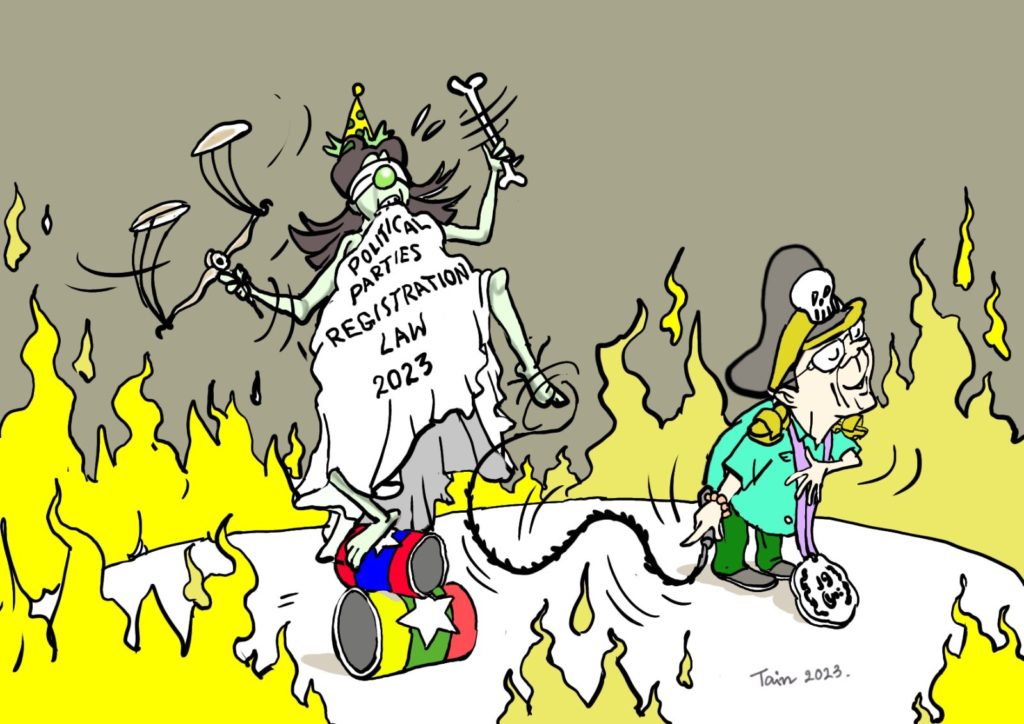 Political parties face stricter regulations under amended Political Parties Registration Law
Min Aung Hlaing amended Burma's Political Parties Registration Law on Jan. 26 to require all political parties to have at least 100,000 members. It also states that they need to have at least K100 million ($47,564 USD) deposited at the Myanma Economic Bank (MEB) to be able to compete nationwide. Min Aung Hlaing claimed that there were too many political parties in Burma that do not adequately represent the people. The political parties allowed to contest elections must maintain a presence in at least half of Burma's townships. If the party contests at the state or region level, it needs to recruit at least 1,000 members and have at least five offices. State and regional parties must also have at least K10 million ($4,756 USD) deposited at the MEB.
News by Region
KACHIN—A 19-year-old man was killed and his mother injured after a shell fired from the military base in Hopin Township landed in nearby Nant Yin village on the morning of Jan. 27. "They went to the farm that morning. It happened near the Nant Yin creek and killed the son at that place. His mother's leg was injured," a local said.
KAREN—Nine Internally Displaced Persons (IDP) camps have been established at monasteries as thousands of residents from 20 villages near Kyondoe town, Kawkareik district have fled their homes. "We're still collecting data on the IDPs as we are placing them in nine different locations. We do not dare to put them together in one place as they might become a military target," said a person assisting the IDPs. Fighting between coalition forces led by the Karen National Liberation Army (KNLA) and the Burma Army 546th Battalion near Mingalon village has been intensifying in Kyondoe town since Jan. 20. Residents of Kan Ni, Thayattaw and Migalon villages were forced to flee to safety due to arson attacks on Jan. 23. "The military's air force dropped bombs over houses. Its infantry also torched the homes," a local said. Residents of Kyondoe town, and 20 nearby villages, were forced to flee their homes. A local resistance force recently claimed that more than 90 Burma Army troops were killed and 50 were injured from Jan. 20 to 26. More than 10 airstrikes have been carried out on Kan Ni village. Three members of the Karen National Defense Organization (KNDO) were killed.
MANDALAY —A captain-level officer and his wife were shot dead by a local resistance group in Myingyan on Jan. 26, the group claimed in a release. The group also warned that anyone who cooperates with the military council and provides information will face similar action in the future.
RAKHINE—A man was killed after a landmine was activated near a military outpost in Phar Pyo village, Minbya Township on Jan. 27. The 52-year-old victim stepped on a landmine while searching for wood on the mountainside. "There is a military outpost near the mountain. He was killed there and was wounded in the abdomen. His body was later brought to the village," a local said. On Jan. 26, one child was killed and three others were injured by a landmine in Phoe Khaung Chaung village, Buthidaung Township.
A bridge that was built by the Arakan Army (AA) with the assistance of locals to connect two villages in Rathedaung Township was opened on Jan. 25. "It was the very first bridge built by the AA with the locals. I hope this kind of action for regional development will be continued in the future," a resident said. The bridge 'Lai Gwin Chay' cost about K34 million ($16,182 USD). The bridge opening was hosted by the United League of Arakan (ULA). It included a football match and theatrical performances.
SHAN—Kyaw Zayyar, the editor in chief of the Kanbawza Times News based in Taunggyi, was sentenced to one year in prison on Jan. 9. He was arrested in Gyobingauk town, Bago Region, on Dec. 25, and charged with incitement on Jan. 9. The junta arrested four journalists from Kanbawza Time News on March 24, 2021 and sentenced them to three years each for incitement. All four were later released in an amnesty. A total of ten journalists have been arrested in Shan State. Five of them remain in detention.