FROM THE DVB NEWSROOM
State of emergency may be extended in August
Min Aung Hlaing made comments hinting that he may extend the state of emergency in Burma for another six months in August. This would delay any regime planned election, as according to the 2008 constitution they can only be held six months after the end of the emergency period. "Many requirements can be seen in the implementation of fully emphasizing the security, peace and stability and rule of law," said Min Aung Hlaing. He claimed that "events of terrorism declined but continued to occur." Min Aung Hlaing has extended the state of emergency every six months since he staged a military coup against the democratically-elected government in February 2021.
More US aid to Burma and Bangladesh
The U.S. announced that it will provide more than $74 million USD in additional humanitarian aid to Burma and Bangladesh. The assistance will go towards Internally Displaced Persons (IDPs), including the Rohingya, as well as Rohingya refugees in Bangladesh and their host community in Cox's Bazar. The U.S. has donated more than $2.1 billion USD in humanitarian assistance to Rohingya refugees since 2017.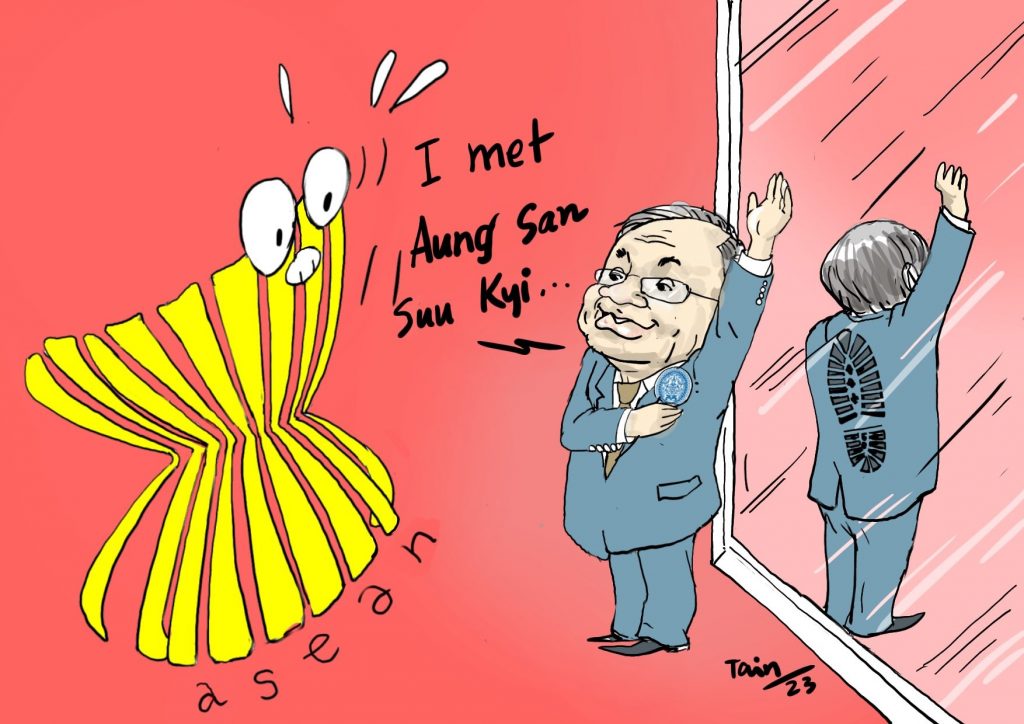 ASEAN sticks to Five-Point Consensus
The Association of Southeast Asian Nations (ASEAN) Foreign Ministers reaffirmed their support for the Five-Point Consensus in Burma at a meeting in Jakarta July 11-12. In a joint communiqué released on July 13, the ministers "urged all parties involved to take concrete action to immediately halt indiscriminate violence, denounce any escalation, and create a conducive environment for the delivery of humanitarian assistance and inclusive national dialogue."
News by Region
MANDALAY—Maung Dain Gold Jewelry shop in Amarapura Township was robbed by four men on July 13. "Lots of gold jewelry was taken. They even fired several gunshots," said an Amarapura resident. A police officer claimed that 53 ticals of gold jewelry worth over K14o million ($67,000 USD) was stolen.
A woman was killed and two children were injured during fighting near Kyat Pyin Police Station in Mogok town on July 12. "We heard eight gunshots and four explosions but we don't know who fired as it happened early in the morning," said a Kyat Pyin ward resident. A woman in a house near the station was killed.
Six civilians and one People's Defense Force (PDF) member were killed in Nyaung-U Township on July 13. "The Burma Army shelled the village and shot once they entered causing civilian casualties," said a PDF spokesperson. The Burma Army seized weapons and set fire to the PDF camp. Regime media reported that all the victims were PDF members.
SAGAING—Eleven people were injured by an explosion at Shwebo market on July 16. "The explosion occurred near the market restroom, with one bomb blast followed by another," a shopkeeper told DVB. The PDF accused the Burma Army of orchestrating the attack. "The revolutionary forces would never engage in such actions in public areas," said a PDF spokesperson. Residents confirm that Burma Army troops have been stationed in Shwebo since the 2021 military coup.
Two were killed and a woman and child were injured by Burma Army artillery in Kalay Township on July 13. "They have been continuously shelling since last month. Many houses have been destroyed," said a Si San village resident. The PDF has urged residents of Kalay and Tamu townships not to use the road due to fighting.
SHAN—Ten employees were injured in an explosion at Zwe Htet Gold & Jewellery Shop in Lashio on July 15. A local witness told DVB that the shop was "blood-soaked." One of the victims is in critical condition at the hospital. No group has claimed responsibility for the attack.
TANINTHARYI—Four homes belonging to pro-regime militia members in Nat Aim Taung village of Pulaw Township were seized by the PDF on July 11. This is the first instance of properties owned by regime forces being seized. The regime imposed martial law in Pulaw Township last February.