By Ali Fowle
Fear is a powerful and often debilitating emotion. In the post-coup climate in Burma, fear is being used to control society. Burma's military are using surveillance, night raids, collective punishment, the threat of arrest, torture and death to spread terror throughout the population. This pervasive state of fear is choreographed to crush dissent and maintain control, and under these conditions media freedom has become non-existent.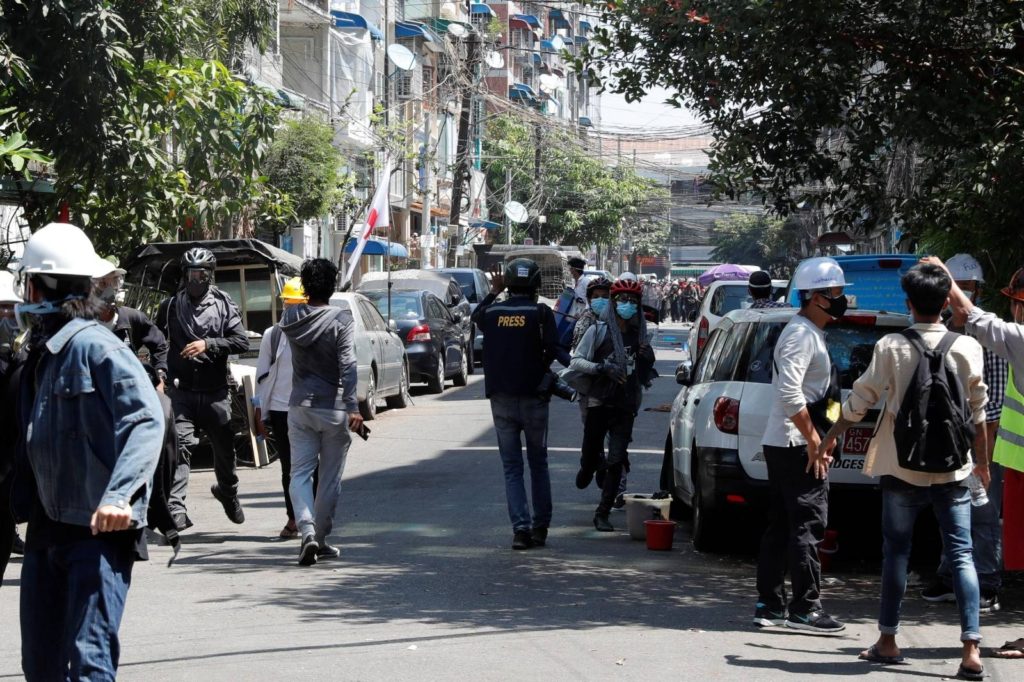 No one is safe
In the weeks after the coup, the military's sweeping arrests of hundreds of high profile politicians, activists and celebrities were sending a clear message, "No one is safe." Anyone who wields any sort of influence, or indeed their family members, can be taken.
It soon became clear that journalists were a specific target. Arrests and raids began quickly. Journalists were beaten and dragged from the streets into police vans, offices were ransacked, media licenses revoked. A former colleague live-streamed his arrest from his home in the dead of night. Friends had warned me that a crackdown on foreign journalists was imminent and as one of the few registered left in the country, I became concerned that I might also become a target.
Working as a journalist in Burma has always carried an element of risk. Even under the country's all-too-brief period of relative media freedom between 2012 and 2021, journalists were regularly harassed, arrested, sentenced and put under pressure from authorities. But for the last few decades, including during military rule, there was an unspoken assumption that for foreign journalists, even those working without proper accreditation, deportation would eventually be the default punishment.
But Min Aung Hlaing's murderous regime has changed the game. The arrest of Australian academic and economic advisor Sean Turnell in the early days of the coup had been a warning that under this regime, foreigners are not exempt from politically motivated punishment. Throughout my nine years of living and working in Burma, I was followed by "special branch" officers, held up at checkpoints, interrogated at hotels and detained by the police. But it wasn't until the military coup in 2021 that I truly felt afraid.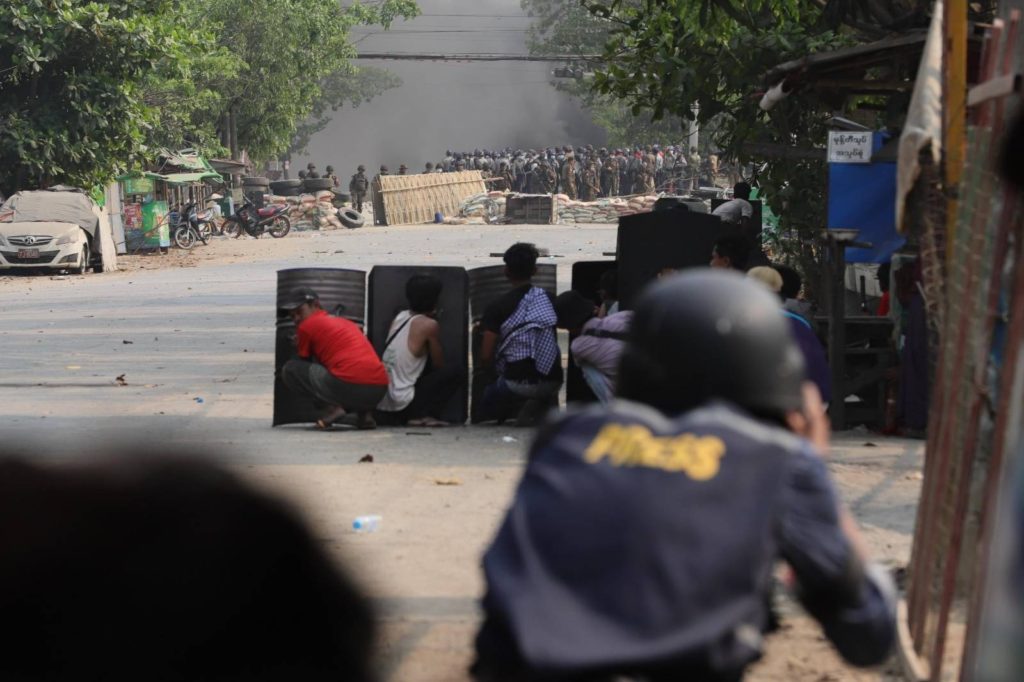 The "wanted list"
In the days after the coup there were rumours that the military was compiling a list of all journalists. On March 5, along with many others registered as working for foreign media, I received an email from the Foreign Correspondents Club of Myanmar informing me that all press accreditation needed to be re-issued. They demanded that I send my "bio data", and passport photos to the Ministry of Information within a week. This request, compounded with existing rumours, was fooling no one. I packed my bags, and decided to leave before it became too late to do so.
Registration is a familiar tactic for the military. Since the coup, it has enforced the requirement for every household to register all residents with local authorities. With registration now obligatory, anyone who feels at risk is stuck with a dilemma. If they register they risk exposing themselves. But not registering might alert landlords or neighbours that they have something to hide. As if to confirm the growing fears of wanted lists, arrest warrants began being read out every night on state television. Several media workers' names were announced. Most journalists moved into safehouses, as others prepared to leave the country.
No escape
The military began stopping people at the airport. The fear of being on a list meant journalists became too frightened to dare leaving through official routes. Many made plans to flee through Burma's porous borders.
In May 2021, American journalist Danny Fenster was arrested at Yangon airport while trying to leave Burma. This made it clear that escape through official routes was futile and deportation was no longer on the cards. If the regime's plan had been just to silence the media and get rid of journalists they could have let him go, but they wanted to make a point. Fenster was sentenced to 11 years in prison with hard labour. The sentencing was designed to provoke fear amongst journalists and the international community.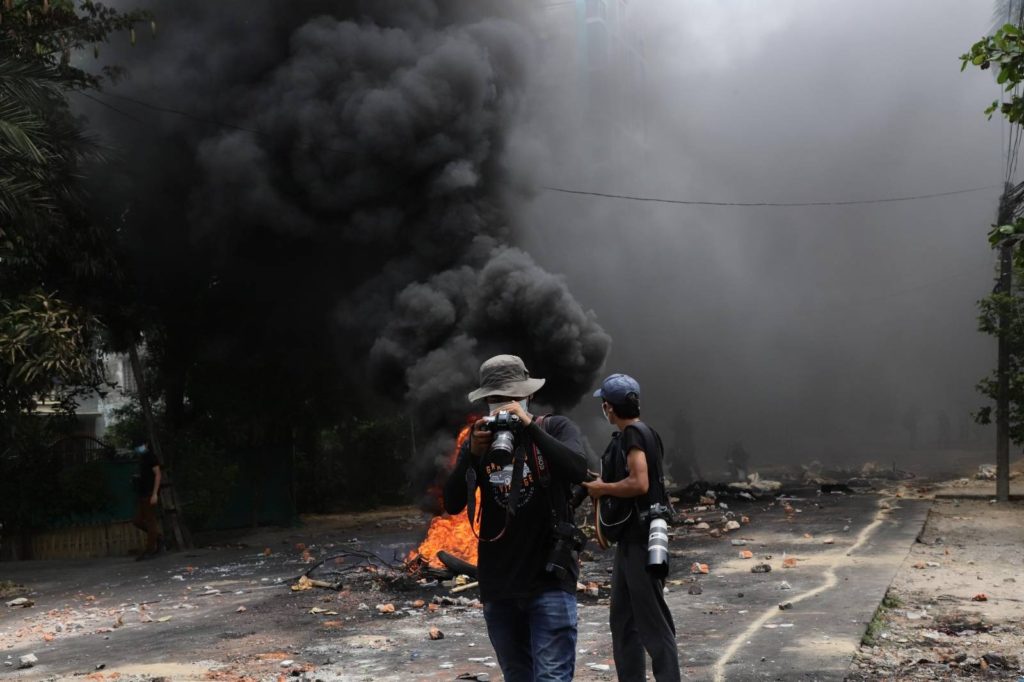 Night raids, Informers, Safehouses and "Dalans"
Since the coup the junta have made a point of reminding communities that they are now under military control. Anyone who feels they may be at risk is now faced with an increasing number of checkpoints around the cities, plain clothes officers "hiding" conspicuously within the community and regular night patrols conducted by military trucks filled with armed soldiers. The military makes most of their arrests at night so when darkness falls, fear pervades. Not feeling safe in your own bed, in your own home, is a feeling that the military has worked hard to cultivate.
As well as a network of plain clothes military intelligence officers, the junta gathers information through civilian informants known as "dalan". This can be anyone from the local area, and these community spies have led to arrests and violence. Trusted local ward officers have also been fired and replaced with junta appointed employees, making registering with local authorities even more intimidating. The military uses dalan to spread fear and paranoia. Just the existence of these people breeds a deep distrust within communities, knowing that anybody could be watching you, turns people against each other. It is not the reality of who is an informant that spreads the deepest fear, it is the uncertainty. Journalists I know still in the country keep the curtains drawn when they move to a new neighborhood. They move regularly from safehouse to safehouse, never staying in one place long enough to draw attention to themselves or others.
Communication is also risky. Under the previous military regime communication was curtailed by making mobile phones prohibitively expensive. Now phones are accessible but they make people vulnerable. Communicating with certain people is a crime that can get you arrested. Anyone stopped at a checkpoint risks having their phone taken and searched. For journalists, this makes secure communications impossible. The exodus of foreign telecoms companies has also increased the fear and the risks. All phone lines will now essentially come under state control increasing the risk of phone lines being bugged or tapped. There are also growing concerns of surveillance capabilities imported from China and other more technologically sophisticated countries with similar attitudes towards dissent and human rights. If phone hacking and facial recognition technology start being used regularly by the regime the mass surveillance state will be complete.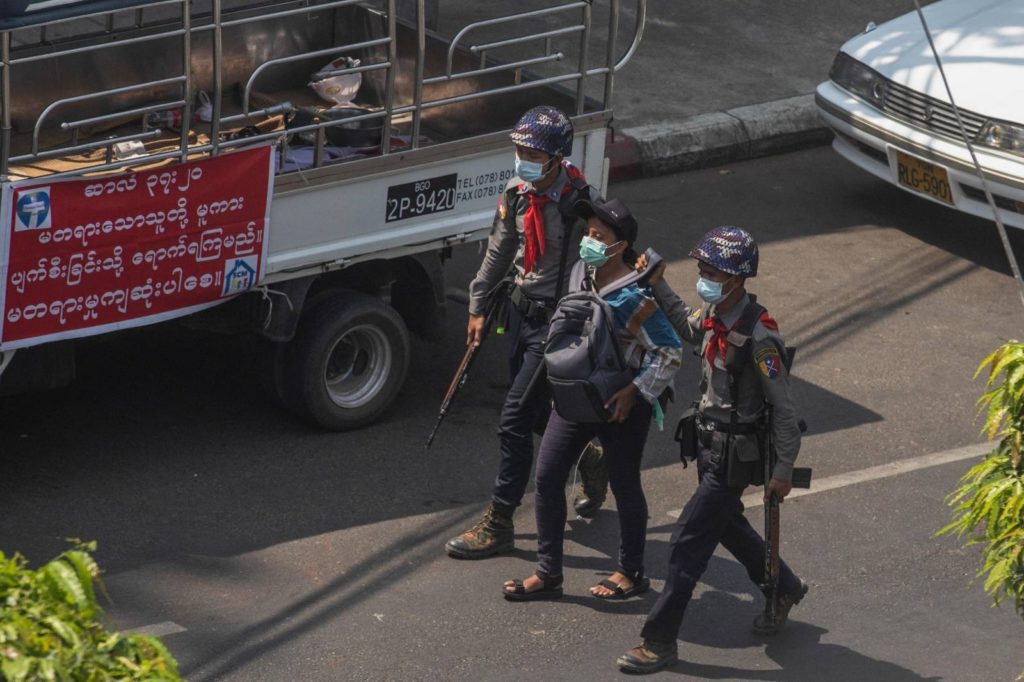 Enforced disappearances
What faces those who are detained is another terrifying prospect. After being forcibly taken from their homes in the dead of night journalists and others arrested have in some cases not been heard from for weeks or months. These enforced disappearances are a tool to intimidate and spread fear. If you don't know where someone is or what is happening to them you fear the worst. Those whose fate is known face disproportionately long sentences and horrific treatment. Since the coup journalists have been tortured, sexually assaulted and even killed. Burma is now considered one of the most dangerous places in the world to be a journalist. More than 140 journalists have been detained since the coup and 61 remain in prison.
The sheer numbers of arbitrary arrests means the risks are not just for journalists, but those they communicate with. By checking and surveilling people's phones, or by threatening to do so, those who might otherwise speak to the media become too frightened. Journalists' friends and families can also be arrested by association. The military has been known to arrest family members of those on their wanted lists, taking children and elderly parents hostage. Journalists, like many others, now fear that their family members may be targeted if they continue their reporting even from a place of safety.
Release, Amnesty, False hope.
Last week's general amnesty to celebrate national day saw the apparent release of around 6,000 prisoners. Amongst them are Australian economist Sean Turnell, former British envoy Vicky Bowman, her husband Htein Lin and filmmaker Toru Kubota. Five other journalists were released. But these higher profile names are designed to placate the international community and silence critics. Dozens of less well known journalists and thousands of other prisoners remain in custody, very few of which will have senior officials from foreign nations lobbying for them.
When a prisoner is released in an amnesty, the charges are not dropped. The military can (and often does) re-arrest them at any time. None of the political prisoners listed in the amnesty gained freedom through any appeals or legal proceedings. The dangerous laws that were used to imprison them are still in place and can be used against others. Perhaps surprisingly, given the military's attitudes towards media freedom, Burma's generals have not brought back the notorious censorship rules that were used under the previous regime. But when most of the country's journalists have been driven out of the country or into hiding, when foreign media can't and wouldn't dare enter the country, and when ordinary people fear arrest just for speaking to a journalist there is no need for censorship. Media freedom under these conditions can't exist, and fear becomes destructive and controlling.
---
Ali Fowle is a freelance journalist and filmmaker who lived and worked in Burma from 2012 to 2021.