A physical confrontation between student activists and riot police took place in Letpadan at round 11:30 on Tuesday morning as tensions neared boiling point in the standoff.
An unnamed student from Mandalay's Yadanabon University told DVB that students had been staging a sit-in at an intersection in the town when police moved in and tempers flared.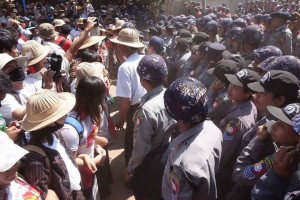 "The scuffle came about when some girls [protestors] went to sit at the front of the line to protect a group of Buddhist monks who were staging a hunger strike. Then another group of students stepped up to join them," she said. "The police probably assumed we were attempting to break through their lines and starting pushing forward. The students, not wanting to confront them, raised their hands for them to stop. We tried to speak with them but they came charging with batons raised. They yelled 'Beat them!'. We shouted back: 'There is no need for that!' The situation calmed down when the student leaders arrived."
Earlier, police had set up a human chain to contain some 500 student activists and their supporters who had staged a sit-in at a road intersection in the town after marching out of the Aungmyay Beikman monastery where they had been maintaining a vigil since 19 February.
Police had set up barricades at the junction and refused to let the protestors pass on their intended march to Rangoon as part of a nationwide campaign opposing the National Education Law.
"We marched out of the monastery this morning and came face to face with police who had barricaded the intersection at Kyundaw Street," said Ye Yint Kyaw, a spokesperson for the so-called "Mandalay column" which has played a leading role in encouraging student groups to join marches to Rangoon.
Mandalay column protest leaders earlier entered into negotiations with Pegu [Bago] Division's Border and Security Affairs Minister Col. Thet Htun, who reportedly urged them to suspend the march. The students, for their part, offered to compromise with the Pegu officials if their eight-point list of conditions was met.
[related]
The eight points suggested by the protestors included: permission to continue their march to the next town, Tharawaddy; from there, they would take transport to Rangoon, but would be allowed to fly banners and flags and campaign via tannoys and loudspeakers. They also requested that security forces keep a distance from their convoy. If conditions for the demonstration were met, they said, they would disperse in Rangoon.
Student negotiator Min Min Zaw said the minister had not yet responded to their demands.
"The border and security affairs minister has not yet responded," he told DVB on Tuesday before noon. "We were told the officials are awaiting orders from higher up. They suggested we wait; that's why we organised a sit-in."