FROM THE DVB NEWSROOM
Supreme Court agrees to hear appeal on Aung San Suu Kyi conviction
The Union Supreme Court is set to hear Aung San Suu Kyi's appeal on corruption charges. No date has been set. The jailed State Counsellor was convicted of 19 charges, including for the purchase of a helicopter and receiving gold bars along with $600,000 USD from former Yangon Chief Minister Phyo Min Thein. Aung San Suu Kyi, 77, will also appeal her convictions related to claims of electoral fraud and violating the Official Secrets Act. She has been sentenced to a total of 33 years and is being held at Naypyidaw Prison. Aung San Suu Kyi and President Win Myint have not been allowed to meet with her legal team since December 2022.
Rohingya testify in Argentine court
Rohingya testified in a court hearing in Buenos Aires, Argentina on June 7. At least six others are expected to testify by June 13. The investigation was launched into alleged war crimes committed by the Burma Army against the Rohingya after a complaint was filed with Argentina's judiciary on the basis of universal jurisdiction, which is outlined in the South American nation's constitution. "Finally in-person hearings are taking place and strong evidence is being produced in a court of law," said Tun Khin, the President of the Burmese Rohingya Organization UK (BROUK). Over 700,000 Rohingya fled to Bangladesh after the Burma Army launched an operation in Rakhine in 2017 which has been labeled genocide by the U.S. government in 2022.
UK company to stop selling Burmese rubies
British retailer TJC announced that it would stop selling Burmese rubies after it learned that revenue from the sale of rubies was being used to finance "human rights violations" in Burma. "It is impressive that TJC had proactively decided not to source gems from Burma following the coup," said Mark Farmaner, the Director of Burma Campaign UK. Burma's gems industry is valued at around $2 billion USD per year, which provides the military revenue to purchase arms. Burma Campaign UK called on 40 jewelry retailers to provide evidence that the gems they sell are not from Burma. "TJC deserves praise for taking an ethical stance on this issue. We hope that other British jewelry retailers will do the same," added Farmaner.
More employment agencies to meet demand
Foreign employment agencies in Burma have increased from 370 to 435 in 2023, according to the Department of Labor. "Some of these agencies were initially operating as brokers. They tried to obtain official licenses and are said to openly engage in exploitative practices," said a source working for one agency. According to labor rights groups, unemployment has risen since the 2021 military coup.
News by Region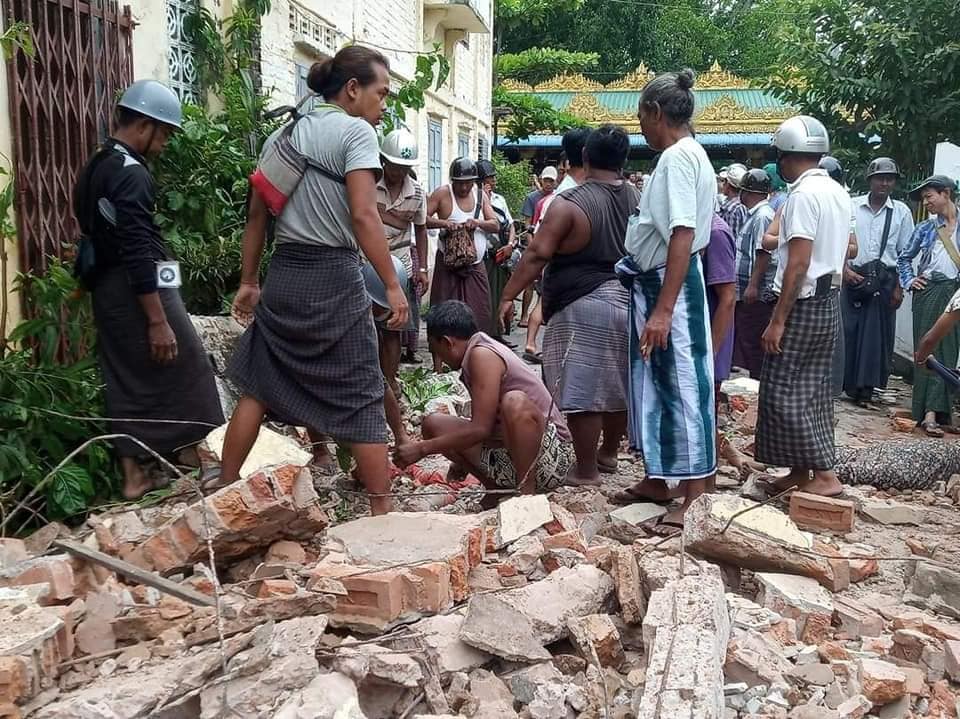 AYEYARWADY—Two people were killed by a magnitude 4.8 earthquake in Maubin Township. A Buddhist monastery collapsed with the two inside. The earthquake impacted Nyaungton, Maubin, and some townships in Yangon. The tremors damaged religious structures and homes. "The extent of the destruction was large, with many houses experiencing structural damage. A civilian and nun lost their lives," said a Maubin Township resident.
KACHIN—Two Kachin Independence Organization (KIO) administration officials were arrested by the Burma Army in a raid on a guest house in Myitkyina town. The Burma Army inspected Shwe Laik Pyar guest house on June 6. A source close to the KIO suspected that the Burma Army had information that the two were staying at the guesthouse, which is why the raid was conducted at midnight.
Rare earth mining has increased around Inn Khaung Pa Internally Displaced Persons (IDP) camp in Bhamo district this month. "Mining around Loilong, Inn Khaung Pa and Lon Kha Pa areas has resumed. I saw at least six new mining sites and there might be more," a man said. The area is controlled by the Kachin Independence Army (KIA). Rare earth mining in N Ba Pa and Dingsing Pa area had halted after protests from residents, but mining has continued in areas near Mai Ja Yang road.
SAGAING—More than 30,000 people in Khin-U Township have been displaced from their homes due to arson. The displaced residents are living in forests with the help of the People's Defense Force (PDF). "Food is an essential need for them. They also need medical support. It would be enough for us if we can rebuild small buildings for them to live in," said a PDF spokesperson.
Eight bodies were discovered in Kawlin Township on June 5. The Burma Army began its offensive against PDF in the area on May 28. Sixteen civilians were arrested, but five of them were released by the Burma Army. "We informed the families of the eight victims," said a PDF spokesperson.
Read our latest story Attorneys subject to arrest and torture, states HRW.