Burma's president and military commander-in-chief met Aung San Suu Kyi today for talks billed as the first steps towards the transfer of power. The two separate Naypyidaw meetings followed a request by the National League for Democracy (NLD) leader after her party's landslide poll victory.
It was the first post-election meeting for Suu Kyi with the incumbent president and the chief of Burma's powerful military. Suu Kyi had met multiple times with parliamentary speaker Shwe Mann since the 8 November poll. After winning 390 of the 657 Union Parliamentary seats contested, Suu Kyi's party immediately wrote to the two former and one current military general asking for discussions to ensure a "peaceful and calm implementation" of the ruling mandate issued to the NLD.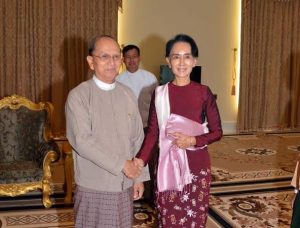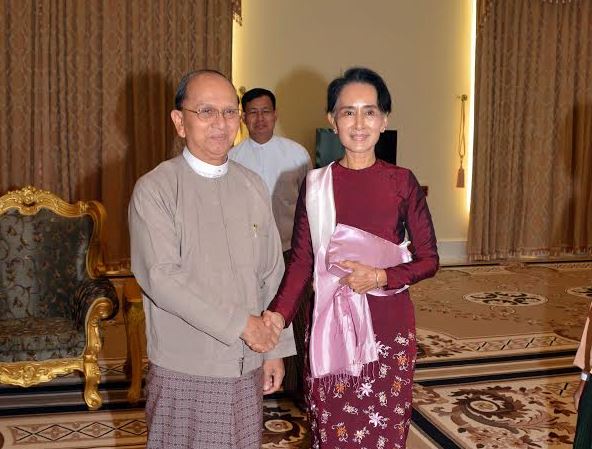 After first meeting with the president on Wednesday morning, Suu Kyi then sat down with Snr-Gen. Min Aung Hlaing in the defence office. The NLD's ability to work cooperatively with the military is touted as one of the major obstacles facing the incoming government. Despite this, Ming Aung Hlaing told journalists that the meeting yielded a "good outcome".
He added: "The two of us agreed to cooperate on undertakings that will be beneficial for the country."
No details have emerged as to the talking points between Suu Kyi and Thein Sein.
[related]
Shwe Mann was this year ousted from his role as the chair of the incumbent Union Solidarity and Development Party, which will occupy just 40 seats in the next Union Parliament.
In a joint statement issued Shwe Mann and Suu Kyi the pair after their 19th November meeting, they pledged to prioritise the agenda of national reconciliation and ethnic unity, and to establish a tradition of "mutual respect".