DVB Debate Lead Story News Politics Video
On this week's episode of DVB Debate, the panel sizes up the political and economic role for former exiles and economic migrants in a new Burma.
Watch today's top stories with Helen Regan.
Twenty-six years after the 8888 Uprising, the people of Burma say they are still fighting to establish an independent and fair democratic system.
More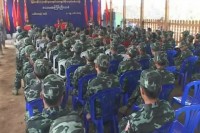 The All Burma Students Democratic Front , which last year signed a ceasefire agreement with the Burmese government, begins its 10th Conference at Dawn Taman camp in Karen State.
Activist group says it may look to become a political or philanthropic organisation following release of several members in amnesty
Mar 17, 2009 (DVB), Overseas Burmese democracy activists have staged protests over the past two days to mark the 21-year anniversary of Red Bridge Day, when nearly 100 student protesters[…]
Mar 16, 2009 (DVB), Security was tight in Burma's former capital and economic hub Rangoon last Friday as overseas Burmese democracy activists marked the 21-year anniversary of the country's Human[…]