Lead Story News Politics Video
Wirathu, a Buddhist monk notorious for anti-Muslim hate speech, led a crowd of protesters in Mandalay on Wednesday.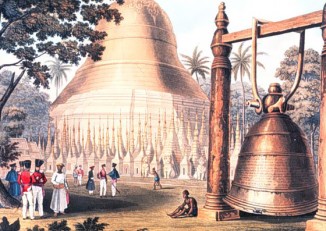 An MP says the highly publicised recovery attempt of the Dhammazedi Bell which ended in failure was a "national shenanigan" and the organisers should be charged with fraud.
Seven years on from the Saffron revolution, monks speak of the wounds that haven't healed.
More

Buddhist monk Rakkha Wuntha was in jail for his political beliefs. Now he's marching all the way from Mandalay to Arakan state in support of the remaining political prisoners.

A series of explosions at one of India's oldest and most prestigious Buddhist temples in eastern India has left two monks injured. Nine blasts went off within half an hour[…]

Seven Muslim men, including a minor, were sentenced to jail on Tuesday for the murder of a monk, whose death allegedly sparked a wave of religious riots across central Burma[…]
Concern also raised at well-being of jailed former army captain Nay Myo Zin who is yet to receive treatment for a fractured pelvis
Warning follows murder of Irrawaddy man in gambling match after Burmese authorities temporarily lift the ban on betting games
Dec 7, 2009 (DVB), A monk who appeared at the Rangoon courtroom on the day Burmese opposition leader Aung San Suu Kyi was sentenced in August has been imprisoned for[…]
Oct 15, 2009 (DVB), Prison sentences of up to 10 years have been handed down to 11 activists, including one monk, by a prison court in Burma, family sources say.[…]
Oct 2, 2009 (DVB), United States' engagement with the Burmese junta must be linked to a clearly defined time scale with comprehensible goals, according to an international network of Burmese[…]
July 22, 2009 (DVB), Monks living in a Rangoon monastery were harassed by authorities last week after accepting food donations from opposition party members given to mark Martyrs' Day in[…]
June 15, 2009 (DVB), Five political prisoners in Burma's Insein prison have been put in solitary confinement after prison authorities suspected them of planning to demonstrate against the trial of[…]
June 3, 2009 (DVB), A prominent Burmese monk who organised relief efforts following cyclone Nargis last year has called for religious leaders in Burma to join hands in solving the[…]
Mar 27, 2009 (DVB), Buddhist monks in central Burma have launched a petition to protest against government restrictions that prevent them from freely conducting a traditional Burmese Buddhist ceremony. Government[…]
Mar 16, 2009 (DVB), The imprisoned All-Burma Monks Alliance leader, U Gambira, has passed on a message of support to human rights and democracy activists in Burma to keep fighting[…]
Jan 27, 2009 (DVB), Hotel and tourism minister major-general Soe Naing has ordered the immediate closure of a social support training programme in Pyapon township in the delta region because[…]
Jan 22, 2009 (DVB), Imprisoned monk leader U Gambira has been transferred to the remote Khandee prison in Sagaing division, according to his sister Khin Thu Htay. The All Burmese[…]
Jan 21, 2009 (DVB), A monk who was arrested following public demonstrations in September 2007 has been sentenced to 14 years' imprisonment by Mayangon township court for stealing a jade[…]
Jan 19, 2009 (DVB), The family of high-profile monk activist U Gambira, who is being detained in Mandalay prison, said they had heard reports the monk had been staging a[…]
Jan 16, 2009 (DVB), Local farmers from Tawwi in Bago division's Nyaunlaypin township have complained that a monk named Dhamma Pala has seized their land to build a pagoda. A[…]
Dec 9, 2008 (DVB), Former actor Kyaw Hein, who became a Buddhist monk on 4 November, has been holding religious discussions this week in Bago, north of Rangoon, according to[…]
Dec 2, 2008 (DVB), Lawyer Aye Myint of Bago legal aid group Guiding Star said the group is currently working on the case of a monk who was imprisoned after[…]
Oct 23, 2008 (DVB), A monk who played a leading role in last year's Saffron Revolution in Burma has fled the country for Thailand due to fear of arrest for[…]
May 1, 2008 (DVB), Sayadaw Bhaddanta Kawvidabhivamsa, 81, chairperson of the International Burmese Monks Association, died of a heart attack on Tuesday at the Coney Island Hospital in New York.[…]
Apr 4, 2008 (DVB), An official from the Democratic Karen Buddhist Army has denied accusations that the group was involved in the theft of a revered monk's body from a[…]
Mar 4, 2008 (DVB), A 27-year-old monk who was arrested in October 2007 after taking part in public demonstrations in September has been charged with theft for allegedly stealing a[…]
Feb 20, 2008 (DVB), U Gambira, the leader of the All-Burmese Monks Alliance who was detained in November for his role in public demonstrations last year, has been charged with[…]
Feb 6, 2008 (DVB), All-Burmese Monks Alliance leader U Gambira, who has been detained since 4 November for his role in instigating monk-led protests in September last year, has had[…]
Jan 30, 2008 (DVB), U Gambira, the leader of the All-Burmese Monks Alliance who is currently being held in Insein prison, has been charged under the Unlawful Associations Act, according[…]