A long-term plan must be put into place for the hundreds of miners and their families who are currently sheltering in churches in the town of Tanai, some 180 kilometres northwest of Kachin state capital Myitkyina.
"About 1,000 evacuees have taken refuge in the main halls and compounds of our churches," said Dr. Samson Kalam, the general secretary of Kachin Baptist Convention. "But this is not feasible as a long-term settlement. We need to consult with the relevant authorities to build shelters. But it is unlikely that the authorities will allow that. For now, I informed UNHCR [UN refugee agency] that we will build some shacks in the church compounds."
The miners flooded into Tanai after the Burmese army air-dropped leaflets by helicopter on 5 June over the gold and amber mining sites where they were working, instructing them to leave the sites immediately or face a military "clearance operation". The pamphlets said that the mines, which operate under the supervision of the Kachin Independence Organisation (KIO), are illegal and that anyone found still at the site after a deadline of 15 June would be considered an accomplice of the KIO rebels.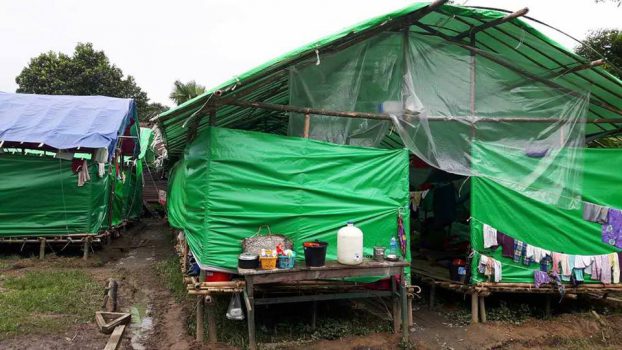 Church leaders in Tanai estimate that about a thousand people have sought sanctuary at the Kachin Baptist Church and Catholic churches in the town.
"The churches provide food for them," said Naw Tawng of the hastily assembled church rescue committee. "Other social welfare organisations, political parties and the WFP [World Food Programme] are also providing some food. But cooking meals for a thousand displaced persons is not possible in the long run. We need to formulate a plan for the families."
Meanwhile, rice prices have escalated in Tanai due to a ban on trade to the town which has been in force for two months.
Burmese government forces have stationed checkpoints around the town to prevent the import of rice, oil and other products to areas that, they say, are controlled by rebel groups.
A local rice merchant said that traders may only buy a limited amount of rice and oil, and that the Burmese military has stipulated strict limitations.
"In May and June, we could not buy any rice for Tanai," he told DVB. "A sack of rice, which previously cost 35,000 kyat [US$25] is now 43,000 kyat. We do not have many sacks left in stock."
The rice trader, who asked to remain anonymous for security reasons, said he was one of 20 licensed rice traders in Tanai and that each can import up to 100 sacks of rice per month.
[related]
However, in response to a question in parliament last week regarding the trade of rice and oil in Tanai, Gen. Myint Nwe, the deputy minister of defense, stated, "There are no bans on trade."
He elaborated: "Certain inspections are conducted for the sake of security in the area – to ensure that the amount of rice and oil brought in does not exceed the demand of locals in Tanai, Nanyoon and Shin Bway Yang townships, to ensure that it is not being passed over to KIO-controlled areas."
Locals in Tanai have told DVB that clashes between government forces and the KIO have been almost continuous since 18 June, some three days after the Burmese army's eviction notice to all miners in the area.