Tens of thousands of Kokang civilians, mostly women, children and the elderly, have flooded across the Chinese border into the town of Nansan following three days of intense clashes between Burmese government forces and Kokang rebels of the Myanmar National Democratic Alliance Army (MNDAA) in and around the town of Laogai [also written Laukkai].
Liu De Ao Kai, an MNDAA military police officer based in Laogai, confirmed to DVB on Thursday that between 40,000 and 50,000 Kokang civilians had sought shelter across the border in Nansan, which is part of Yunnan Province.
"The Chinese officials have now closed the border, but are helping set up refugee shelters on the Burmese side," he said.
Earlier, China's Phoenix New Media TV reported that more than 100,000 refugees had fled to Nansan, adding that a line of people 10 kilometres long had formed at the border checkpoint.
Other Chinese outlets have reported that thousands of people circumvented the checkpoint and entered China illegally.
The Kokang are a Han Chinese ethnic group, and generally speak the local language in Nansan.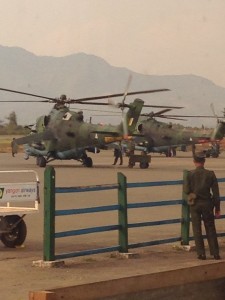 The Chinese government has not yet released any official figures. However, Chinese Foreign Ministry spokeswoman Hua Chunying confirmed at a daily news briefing on Tuesday that "some Myanmar border residents, because of safety considerations, have entered China.
'They are being looked after," she added.
Photographs and video uploaded by Chinese residents show local authorities setting up a shelter for displaced Kokang families inside the Nansan International Exhibition Center, just 100 meters from the Sino-Burmese border crossing.
Food, water and clothes have been provided to refugees at the centre.
Meanwhile, Chinese armed forces are now reported to be patrolling the borderline to prevent a further influx.
"There are medical workers, Red Cross volunteers and a free phone booth in the shelter," a local resident named Deng said.
Another Nansan local, identified as Mrs Mu, said the wave of refugees had been "overwhelming" for the small town.
"There are traffic jams everywhere, the hotels are full, and commodity prices are soaring," she told DVB on Thursday.
"One hotel nearby used to be 50 or 60 yuan (US$8- 10) per night, but is today costing 200," she said. "The price of a bowl of noodles from a stall in the street has risen from six to 20 yuan."
Liu De Ao Kai said that the Kokang regional capital of Laogai – some 8 km from Nansan – was completely deserted by Thursday. He said some shops showed signs of looting.
Meanwhile, as hostilities continued on Thursday, the MNDAA claimed that it had killed more than 100 Burmese soldiers, according to a statement posted on its official Chinese website.
The statement went on appeal to all Kokang citizens to support the rebel cause and to donate money to the MNDAA to help "expel the Burmese army from our region and to restore the rights of our people with a high degree of autonomy".
It concluded: "In this multi-ethnic nation of Myanmar, we have to force the Burmese government to return to the negotiating table through armed struggle."
[related]
Burma's state media painted a markedly different picture on Thursday, saying that Tatmadaw [Burmese army] units "are in hot pursuit of Kokang renegade troops".
A report in the state-run Global New Light of Myanmar said that there had been eight skirmishes or confrontations between the Tatmadaw and the Kokang rebels around Laogai on Monday and Tuesday. It also said that the Burmese military had carried out five airstrikes during the operations.
The MNDAA is thought to be under the command of former leader Peng Jiasheng, also known as Pheung Kya-shin, who was ousted from his position by a government-backed Kokang faction in 2009 and has since lived in relative obscurity in China.
Under the strong-arm rule of Peng's former deputy, Bai Xuoqian, the Kokang Special region, which is one of four zones in Burma with a semi-autonomous status, has become 'a hotbed" of drug and weapons trafficking, according to US diplomatic cables made public by WikiLeaks.