FROM THE DVB NEWSROOM
Thai Senate dashes Pita's bid to become prime minister
Thailand's parliament voted to block Move Forward Party (MFP) leader Pita Limjareonrat's second bid to become prime minister on July 19. Out of 715 parliamentarians, 394 voted against his bid. The military-appointed Senate and conservative parties argued that Pita is ineligible because he lost the vote to become prime minister last week. This decision came after the Constitutional Court temporarily suspended Pita from parliament over owning shares of a defunct media company. Pita's failure to become Thailand's prime minister despite winning the most votes in the May 14 election, and cobbling together a coalition of parties to govern, raises doubts that the next Thai government will help end Burma's political crisis.
Beijing condemns report outlining its support for Naypyidaw
Mao Ning, China's Deputy Director of the Information Department at the Ministry of Foreign Affairs, criticized a report by U.N. Special Rapporteur Tom Andrews that detailed Beijing's military support to Naypyidaw. Mao Ning was responding to a Sky News reporter's question about China's relationship with Naypyidaw on July 18. "The report contained smears against normal arms trade between sovereign countries and misrepresentation of facts. We have asked the Special Rapporteur to stay objective and fair and strictly follow his mandate and stop serving any political agenda," said Mao Ning.
India-Burma-Thai highway delayed due to violence
India's Minister of External Affairs S. Jaishankar said the construction of the India-Burma-Thai Trilateral highway has been delayed due to Burma's political crisis. He said this before attending the Mekong-Ganga Cooperation (MGC) Foreign Ministers Meeting in Bangkok on July 15. "The biggest part of this project is already done. So, we will find a solution to move forward with this project," said Jaishankar. The 1,400-km-long highway aims to link India to Southeast Asia from Moreh town in Manipur State, through Burma, to Mae Sot, Thailand. The road in India is expected to be completed by December but the section in Burma is projected for 2026.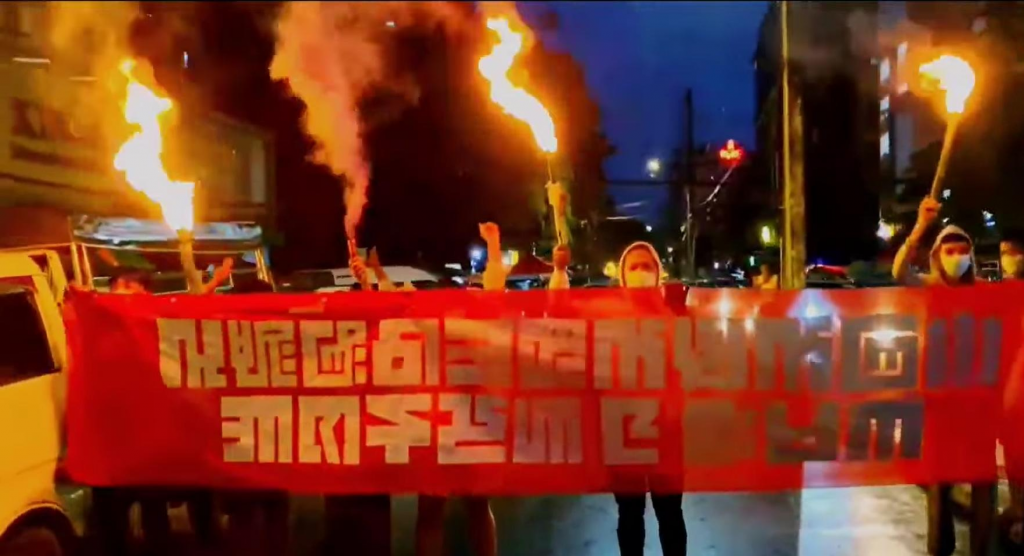 Resistance groups commemorate Martyrs' Day
The Committee Representing Pyidaungsu Hluttaw (CRPH) called on the people of Burma to fight alongside ethnic nationalities to "end the dictatorship with the spirit of nine martyred leaders" on July 19, Martyrs' Day. It commemorates the assassinations of General Aung San and seven other officials, as well as a bodyguard, who were killed six months before Burma gained its independence 76 years ago. The CRPH hosted an online ceremony together with the National Unity Government (NUG) to pay tribute to those who've died fighting for democracy. Ethnic nationality leaders and surviving relatives of those assassinated in 1947 gave speeches at the event. A flash mob protest was held in Yangon's Chinatown on July 18. The People's Defense Force (PDF) observed the holiday and the regime held ceremonies at the Martyrs Mausoleum and the Secretariat in Yangon.
News by Region
BAGO—Two police officers and two others were killed in a shootout between the Burma Army and unknown attackers in Kyauktada town on July 18. One man was injured. "Police officers saw three people on the bridge and told them to stop. Other men then appeared and started shooting. Two police officers and two men in civilian clothes were killed," said an unnamed source close to the local administration. The Burma Army set up checkpoints in Kyauktada town to inspect vehicles.
KACHIN—The Kachin Independence Army (KIO/KIA) restricted travel in and outside of its headquarters of Laiza town. "It is not a total shutdown. People are still allowed to go [outside]," said a Laiza resident. The Burma Army launched an offensive from Namsanyan village near Laiza on July 3, and is sending reinforcements along the Bamaw-Myitkyina Road.
KAREN—The military-proxy Union Solidarity and Development Party (USDP) office in Hpapun Township was destroyed on July 17. "There were no people at the office but the whole office was destroyed by explosions. No one was injured," said a Hpapun resident. Locals claimed that the USDP party officials had already fled to nearby cities for safety.
A Burma Army captain was killed and five others were injured during fighting between the Karen National Liberation Army (KNLA) and the Burma Army in Myawaddy Township on July 18, the KNLA claimed. One resistance fighter was injured. The Thai military increased security along the Thai-Burma border due to the fighting.
SAGAING—A six-year-old boy was killed and five others were injured by artillery in Thet Pae village of Khin-U Township on July 19. Khin-U Information Group said the Burma Army artillery shells also killed three cows.
Read our latest story: Burma's resistance must cooperate with Thailand's new government.