FROM THE DVB NEWSROOM
Timor-Leste government invites NUG to Dili
National Unity Government (NUG) Foreign Minister Zin Mar Aung met with Timor-Leste President Jose Ramos-Horta in Dili on July 3. Zin Mar Aung attended the swearing in ceremony of Timor-Leste's government as an official representative of Burma on July 1. Timor-Leste is the first country in Southeast Asia to publicly meet with NUG officials. President José Ramos-Horta and Prime Minister Xanana Gusmão have been longtime supporters of Burma's democracy movement and jailed leader Aung San Suu Kyi.
Child labor increasing in Burma, states ILO
A survey commissioned by the International Labor Organization (ILO) and the Asia Regional Child Labour Project (ARC) found that poverty is the main driver of child labor in Burma. More than 70 percent of the working children interviewed in Karen, Yangon and Ayeyarwady were working to assist their families financially. "This situation has only been made worse since COVID-19 and the nationwide conflicts caused by the political crisis," said Donglin Li, the ILO Liaison Officer and Representative in Burma. The ILO in Burma called for greater awareness and new policies to address child labor.
APHR calls for more inclusive democracy movement
The ASEAN Parliamentarians for Human Rights (APHR) has called for Burma's democracy movement to be inclusive of women and ethnic nationalities. The APHR held a meeting with Burmese women and civil society activists in Chiang Mai on June 29 to discuss federalism, ethnic inclusion, and the patriarchy. "The history of Burma is rooted in ongoing conflict. When we look at the creators of conflict, it is very clear that it is the Myanmar [military] junta. Women have always been involved in revolutionary acts because we believe in genuine peace," said Moon Nay Li, the Women's League of Burma (WLB) general secretary. APHR Chair Mercy Barends said that a democratic Burma cannot be sustainable without the participation of women and ethnic nationalities.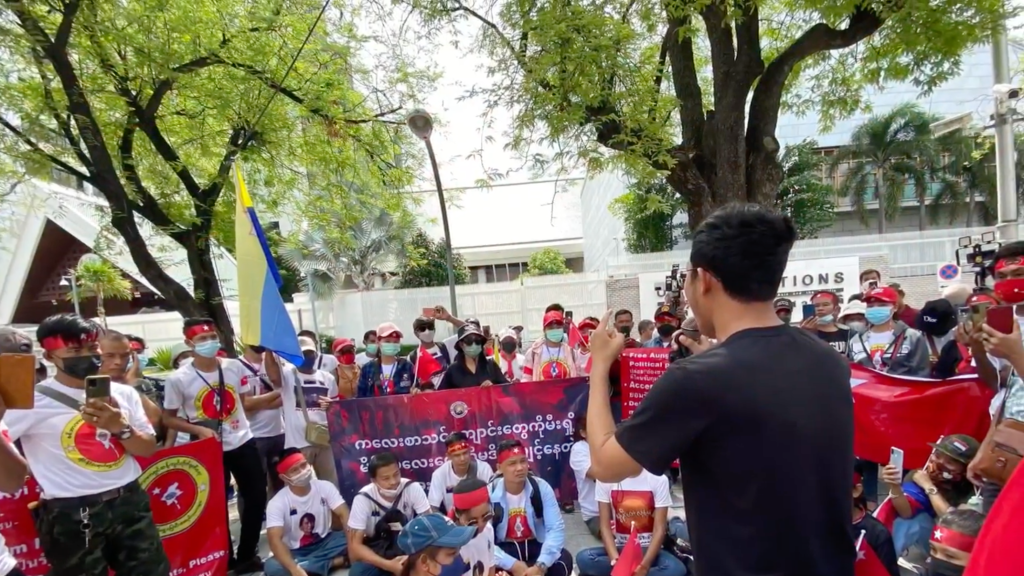 News by Region
KAREN—A man was killed by artillery at a rubber farm in Tagay Village of Kyain Seikgyi Township on June 30. The Karen National Union (KNU) claimed that the shell was fired by the Burma Army.
NAYPYIDAW—India's Defense Secretary Giridhar Aramane met with regime officials to discuss "maintenance of tranquility in the border areas, illegal trans-border movements and transnational crimes such as drug trafficking and smuggling" on June 30 and July 1, the Hindu reported. Indian officials have accused Burmese nationals of involvement in violence between ethnic Meitei and Kuki in Manipur State.
SAGAING—Locals report that timber smuggling in Ayadaw and Banmauk townships has increased. Substantial volumes of teak have been illicitly exported to China. "Since early 2022, the Chinese have arrived and have been smuggling timber together with Burmese businessmen," a resident told DVB.
TANINTHARYI—A woman was injured by artillery in a village located in Tanintharyi Township on July 1. "She is currently receiving treatment at Myeik Hospital," said an unnamed source. Martial law was imposed in Tanintharyi Township and the People's Defense Force (PDF) has prohibited residents from using specific roads at night.
YANGON—Two people who were arrested in Shwepyithar Township on July 2 for allegedly participating in a protest are currently being held at an interrogation center. They were arrested with a sign that read: "Don't forget 7.7.1962, written in students' blood." It referenced students who were killed by the Burma Army for protesting against a previous military regime in 1962. School officials allegedly assisted soldiers in tracking down the protesters.