FROM THE DVB NEWSROOM
UN calls for humane treatment of surrendered soldiers
The U.N. intensified efforts to end the fighting in Burma by calling on member states with influence on the military to intervene and call for hostilities to cease and power to be handed over to a representative, civilian government.
It expressed concern over the military's "indiscriminate and disproportionate air strikes and artillery barrages" in response to losses on the battlefield. The U.N. Office of the High Commissioner for Human Rights (OHCHR) outlined the need for all parties in the conflict to treat those who surrender humanely.
DVB data states that a total of 326 soldiers, police and militia members have surrendered to resistance forces across Burma since Oct. 26. Around 70 civilians have been killed and over 90 have been wounded with more than 200,000 people displaced from their homes, adds the U.N.
A total 72 soldiers fled into India to avoid capture
At least 29 soldiers at a military base located on the India-Burma border fled attacks from Chin resistance forces into India on Nov. 16, Reuters reported. As many as 43 fled into India's Mizoram to avoid capture as the Chin National Army (CNA/CNF) and Chinland Defense Force (CDF) seized control of Rikhawdar in Falam district on Nov. 13.
At least 39 of the 43 were returned to the military by Indian authorities, via a border crossing, in Manipur. The India-Burma border town of Khampat, Sagaing Region came under the control of the People's Defense Force (PDF), with the assistance of Chin resistance forces, on Nov. 7.
Canada and European countries intervene in genocide case
Canada, Denmark, Germany, France, the Netherlands, and the U.K. filed a joint declaration of intervention in the case of The Gambia v Myanmar in order to set out its interpretation of the relevant provisions of the Genocide Convention at the International Court of Justice (ICJ) on Nov. 15.

The Gambia opened a genocide case against Burma for its persecution of the Rohingya at the ICJ in 2019. It accuses the military of committing genocide against the Rohingya in Arakan State in 2017. Thousands of Rohingya were killed. Over 700,000 were forced to seek refuge in Bangladesh, where they now languish in refugee camps.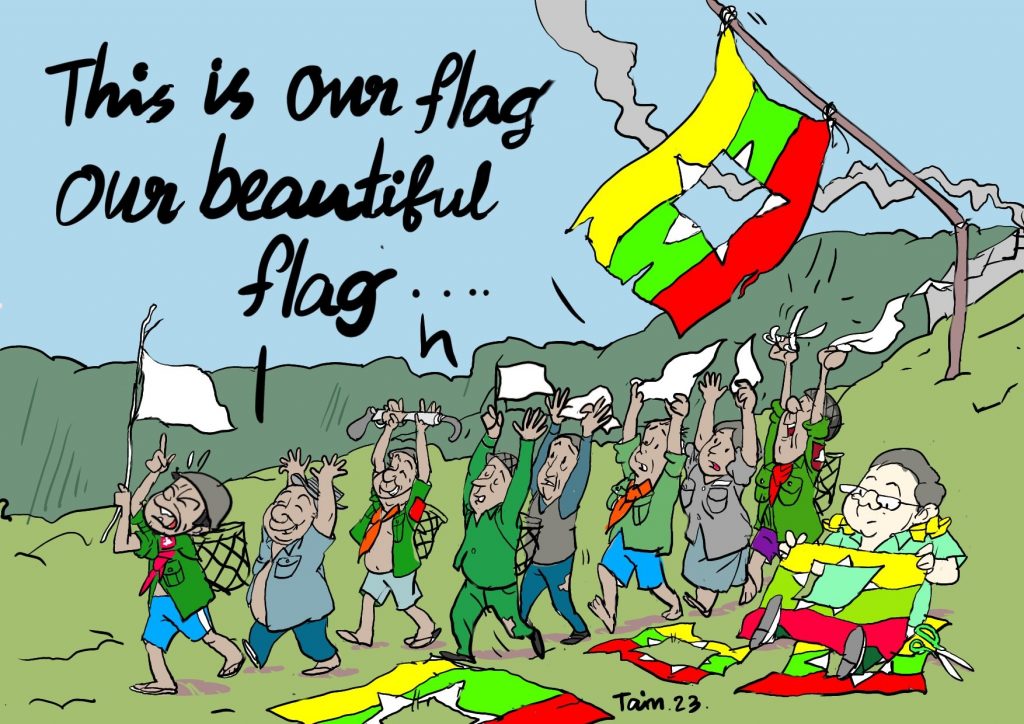 News by Region
SAGAING—The Tigyaing People's Defense Force (PDF) claimed that 20 civilians have been killed in 20 separate airstrikes since Nov. 10. Thousands of civilians have been forced to flee and are in need of food, water and shelter.
"Nearly the entire town was turned to ash," said the Tigyaing PDF spokesperson. The military is deployed in three of Tigyaing's five wards. Two are under PDF control. Fighting began in Tigyaing on Nov. 8.
BAGO—Four civilians, including a pregnant woman and child, were killed by airstrikes carried out on Zapalin Kone village of Taungoo Township Nov. 17-18. "They fired from their aircraft over three villages that morning," said a Taungoo resident. Local rescue teams were unable to reach the area to provide assistance due to roadblocks.
CHIN—The National Unity Government (NUG) claimed that a "large cluster bomb" killed 11 people, including eight children, in Vuilu village of Matupi Township on Nov. 15. Vuilu Village has 80 homes and is located 64 kms (40 miles) from Matupi. There have been no reports of fighting there since the 2021 military coup.

KAREN—Thousands of foreign nationals from China, Thailand, Malaysia, Vietnam, Sri Lanka, Bangladesh, India, Nepal, Laos, and Ethiopia are reportedly being held captive and forced to work at cyber scam centers and casinos in Myawaddy Township, according to sources who spoke on the condition of anonymity.
The sources told DVB that only a small percentage of them are able to seek help due to fear of arrest, sexual abuse and torture. "They can't communicate with the outside world because they aren't allowed to have a phone," said one of the sources. Shwe Kokko, under the control of the Border Guard Forces (BGF), in Myawaddy Township is the site of several casinos.
MON—A senior military official, along with a soldier, were killed by a drone strike on the Southeast Regional Command in Mawlamyine on Nov. 16. The drone attack was carried out by resistance forces while military officials, including senior officers, were gathered for a ceremony.
Delegates from the Democratic Karen Buddhist Army (DKBA) and the Karen State BGF were in attendance. "One heavy shell dropped in the compound of the headquarters, and another fell near a market," an eyewitness told DVB.
SHAN—Four people were arrested in a joint operation by Chinese and regime authorities in Laukkai, located in the Kokang Self-Administered Zone of northern Shan State on Nov. 16.
Regime and Chinese state media reported that Ming Xuechang, a former Kokang official and member of the military-proxy Union and Solidarity Development Party (USDP), committed suicide. His sons, Ming Guoping and Ming Zhenzhen, and his daughter, Ming Julen, were arrested.
"We are really serious about fighting online fraud and are cooperating with China," said regime spokesperson Zaw Min Tun. China's Ministry of Public Security confirmed the arrests and stated that Ming Xuechang's three children were handed over to Chinese authorities.