FROM THE DVB NEWSROOM
UN Relief Chief meets Min Aung Hlaing
The Under-Secretary-General for Humanitarian Affairs and Emergency Relief Coordinator for the U.N. Martin Griffiths met with Min Aung Hlaing in Naypyidaw on Aug. 15, regime media reported. The U.N. Office for the Coordination of Humanitarian Affairs (UNOCHA) in Burma provided DVB a response stating that Griffiths' visit was to advocate for greater humanitarian access to communities impacted by war and natural disasters. It added that this demonstrates the international community's solidarity with the people of Burma. Read more here.
Burma to skip ASEAN chair in 2026
Burma will not take over the rotating chair of the Association of Southeast Asian Nations (ASEAN) in 2026 due to the country's political crisis, Thai PBS reported. The Philippines will instead become ASEAN 2026 chair and Burma will wait until 2027. Since the 2021 military coup, the country has faced increased resistance from the People's Defense Force (PDF) and Ethnic Resistance Organizations (EROs). The military regime has been blocked from high-level ASEAN meetings due to its failure to implement the Five-Point Consensus agreed upon in April 2021. Laos is due to be the ASEAN chair in 2024 followed by Malaysia in 2025. Indonesia is the current chair of ASEAN.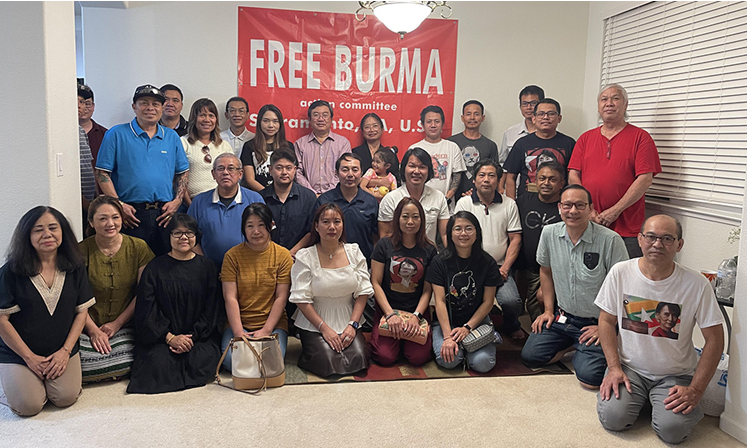 NUG deputy minister meets Burmese diaspora
The Deputy Minister of Foreign Affairs in the National Unity Government (NUG) Moe Zaw Oo met the Burmese community in Sacramento, California to discuss resistance to the military regime on Aug. 14. He spoke about his ministry's work and the NUG relationship with ASEAN and the international community. Moe Zaw Oo wants Burmese-Americans to lobby Congress so it can take more action against the regime. He is traveling across the U.S. to meet with the Burmese diaspora.
News by Region
KAREN—Fighting between forces led by the Karen National Liberation Army (KNLA) and the Burma Army continued in Myawaddy Township on Aug. 16. Gunfire and explosions could be heard across the border in Mae Sot. Thai authorities have increased security along the border. Clashes broke out after the Burma Army attempted to retake its base on Let Khat mountain, located south of Myawaddy town.
KACHIN—Eight more bodies of miners killed in a landslide were recovered at a jade mine in Hpakant on Aug. 16. This brings the death toll to 33. "We found eight more today. A total of 33 corpses have now been found. We are continuing the search, and there are also remains waiting to be identified by their families," said a rescue team member. Thirty-six miners were confirmed missing by their families since the landslide on Aug. 13. Ten people were injured.
RAKHINE—The chairperson of Rakhine Women Network, Nyo Aye, was arrested at her office in Sittwe on Aug. 15. "She was living in the office. Members of the network went to the station to find out more about her arrest," said a Sittwe resident. Nyo Aye spoke at an event on Aug. 13 to commemorate Sittwe rice killing day. In 1967, 300 protesters demanding rice grains were killed by the military in the Rakhine State capital.
SAGAING—One boy was killed and others were injured by artillery in Yinmabin Township on Aug. 15. "One 10-year-old boy died and five people were injured when it fell on a house in the village," a local told DVB. Residents allege that the Burma Army used its artillery to safeguard the transportation of copper plates and food by Chinese mining companies Wanbao and Yang Tse. Resistance groups have urged the Chinese companies to cease collaborating with the regime.
SHAN—A Danu youth group claims that over 40 civilians have been killed by the Burma Army in the Danu Self-Administered Zone. It adds that the Burma Army arrested and killed civilians from Pindaya and Ywangan Townships on accusations of being affiliated with resistance groups and has burned down more than 50 homes since the 2021 coup. Another 20 homes in the area belonging to National League for Democracy (NLD) party members were sealed off by the regime.
TANINTHARYI—The regime charged the father of Min Lwin Oo, a member of the Dawei District strike committee, with incitement on Aug. 13. Min Lwin Oo's father was arrested at his home in Kyongthin village of Launglon Township on June 19. He hasn't been allowed to contact his family. The regime offered K300,000 ($142 USD) for information leading to Min Lwin Oo's arrest.