A leading UN official has called for more support for the 140,000 internally displaced persons (IDPs) in Arakan State, the majority of whom are Rohingya Muslims. However, on the same day – 16 July – Burmese state media released a report suggesting that IDPs have an excess of UN-supplied rations.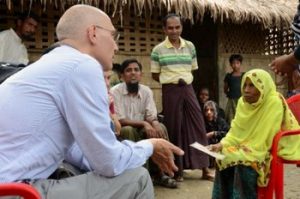 UNHCR's Assistant High Commissioner for Protection Volker Türk called for "more concerted support to resolve the plight of displaced people in Myanmar [Burma] and those with undetermined citizenship", the UN's Reliefweb site reported.
Türk this week concluded a five-day mission to Burma, during which time he visited IDPs camps, as well as the mostly Buddhist city of Sittwe and predominantly Muslim town of Maungdaw,
"Türk heard directly from the affected populations in Rakhine [Arakan] State, where 140,000 people are still internally displaced after the outbreak of inter-communal violence three years ago," the UN report said, noting that Arakan is one of the least developed states in the country and home to an estimated one million people of undetermined citizenship — predominantly Rohingya.
"This population is affected by restrictions on freedom of movement and access to livelihoods and services such as health and education," it said.
Meanwhile, Burma's state-run Global New Light of Myanmar reported an entirely contradictory viewpoint on Thursday, citing sources who allege that "excess relief supplies provided to refugee camps in Rakhine State are being sold at roadside stalls".
[related]
"International organizations, UN agencies and the Rakhine State Government have been supplying Bengali [Rohingya] refugee camps in Sittwe Township with food, kitchenware, clothes, plastic sheets and items for women and children on a monthly basis," New Light reported.
It also noted that despite reports of shortages in the camps, cited sources said that "relief supplies were abundant", and that such items were being resold at roadside shops in a Rohingya village.