FROM THE DVB NEWSROOM
Up to 90,000 people displaced since Oct. 27
Nearly 50,000 people in northern Shan State and 40,000 in Sagaing Region have fled their homes to become Internally Displaced Persons (IDPs) since Oct. 27, stated the U.N. Office for the Coordination of Humanitarian Affairs (UNOCHA).
Seventeen civilians have been killed and 39 have been injured. Hundreds have sought refuge across the border in China. At least 200 homes have been damaged in six townships of northern Shan State since Operation 1027 was launched by the Brotherhood Alliance against the military.
The price of basic commodities has surged due to the number of security checkpoints set up by the military and the Brotherhood. Several people have died due to the lack of healthcare services being provided by both sides, added the U.N.
Civil society calls Finnish and Swiss peace efforts 'sham'
In a statement issued on Nov. 10, 661 Civil Society Organizations (CSOs) urged Finland and Switzerland to cease their "sham peace efforts" and disinvite the military's Peace Committee to the Martti Ahtisaari Peace Foundation in Helsinki, Finland.
"We are appalled to learn that Switzerland and Finland are pursuing these initiatives that, in our view, allow the junta to perpetuate its war of terror," stated the CSOs. Switzerland, in collaboration with the Centre for Humanitarian Dialogue and Swisspeace, organized a Nationwide Ceasefire Agreement (NCA) workshop in Naypyidaw from Oct. 16-18.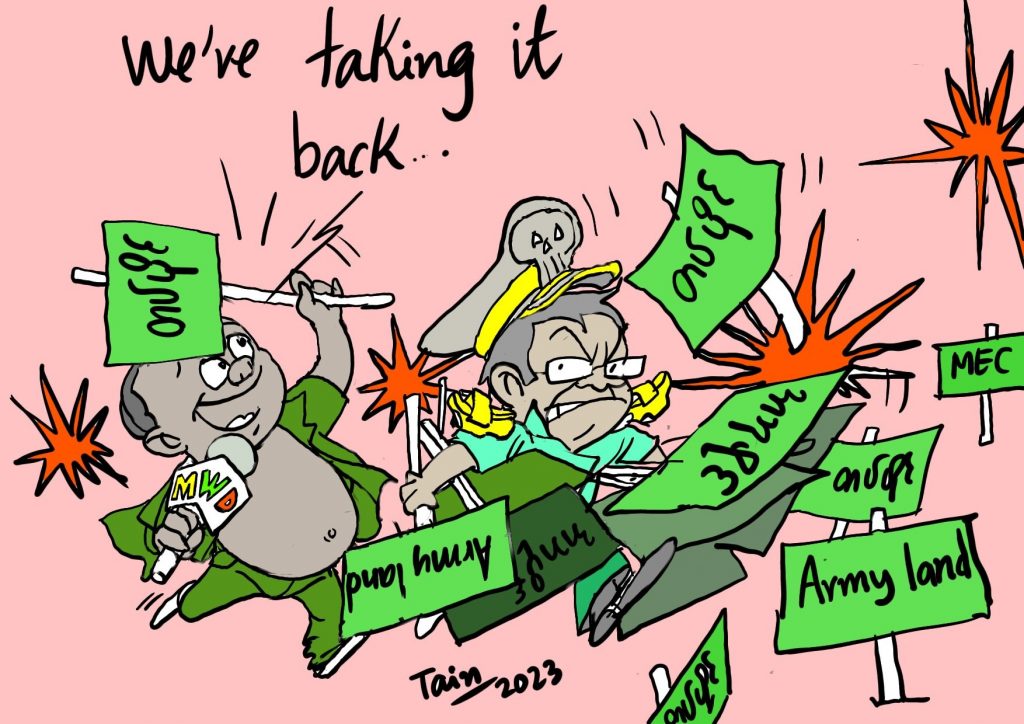 News by Region
ARAKAN—Aye Kyi, the mother of jailed reporter Htet Aung, appealed to prison authorities for her son to be able to receive medical care. She has been unable to visit him since his arrest on Oct. 29 but has received a letter from him. "The letter requests that medicine be purchased," Aye Kyi told DVB. Htet Aung is facing charges under the Telecommunications Law.
KARENNI—The Karenni Nationalities Defense Force (KNDF) claimed to have shot down a fighter jet in Hpruso Township on Nov. 11. "After we seized a military inspection gate at the border of Demoso and Loikaw, a fighter jet attacked us. So, we returned fire," said a KNDF spokesperson.
Regime spokesperson Zaw Min Tun claimed the plane crashed due to technical issues. The KNDF has seized seven military outposts in Demoso, Moebye and Loikaw townships since Nov. 11. The military responded with airstrikes. Two pilots from the crashed plane were able to escape but  their parachutes and other equipment were seized.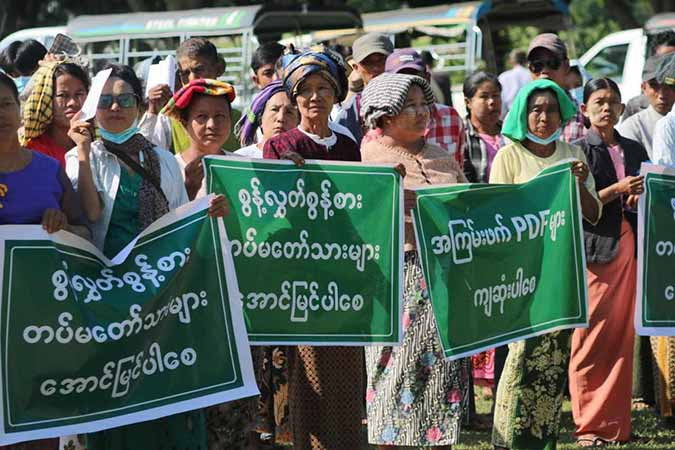 NAYPYIDAW—A protest against the People's Defense Force (PDF) took place in Zabuthiri Township on Nov. 11. Demonstrators held banners reading "May the territories of the PDF fail" and "May the brave Burma Army troops be victorious." A Zabuthiri resident told DVB that demonstrators were paid afterwards.
The former regime Home Affairs Minister Soe Htut was sentenced to five years in prison on charges of corruption related to passport issuance. He was arrested on Sept. 25. "Six more officials, including senior police and military officials, have also been interrogated," an unnamed source close to a military court told DVB.

MANDALAY—Loudspeakers in Pyin Oo Lwin urged residents not to believe rumors circulating that resistance groups are planning to attack. 'There were no people on the streets in the town," said a Pyin Oo Lwin resident. Locals have reportedly been stockpiling goods in anticipation of fighting.
Ten women from Aungmyaetharsan and Chanayetharsan townships were arrested for posting images to social media showing themselves wearing flowers on Nov. 11. The online campaign asked participants to hold flowers, which symbolizes victory, in support of the anti-coup resistance attacking military outposts across the country.
SHAN—One child was killed and another person was injured by artillery in Lashio Township on Nov. 9, the Shan Human Rights Foundation (SHRF) told DVB. Three shells landed inside an IDP camp located at a monastery sheltering 500 people. "One has not detonated yet, while the remaining two detonated," stated SHRF. Nearly 7,000 people have sought refuge in the township since Oct. 27.
(Unofficial rate: $1 USD = 3,300 kyat, Official rate: $1 USD = 2,100 kyat)