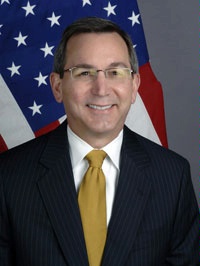 The U.S. Senate unanimously confirmed President Barack Obama's nominee to be ambassador to Burma on Tuesday, after the administration assured lawmakers it would not rush to ease sanctions as the country moves from decades of military rule.
The Senate voted 90-0 to confirm career diplomat Scot Marciel to the post in Burma, also known as Myanmar.
Currently the principal deputy assistant secretary in the State Department's Bureau of East Asian and Pacific Affairs, Marciel has also been ambassador to Indonesia and served in Vietnam, the Philippines, Brazil and Turkey.
Obama nominated Marciel to be his next envoy to Burma in October. His confirmation vote had been briefly delayed by concerns that the administration might ease sanctions before the country's human rights situation improved.
Watch an interview with the current US Ambassador to Burma, Derek Mitchell here