Thousands of people attended a Union Solidarity and Development Party (USDP) election campaign rally on Monday in Myaungmya Township, Irrawaddy Division, amid suggestions that many were lured by the offer of a free meal.
Signs read: "Vote for the candidate who will bring benefits to the region and the nation" and "Tint Hsan and Khin Ye are beloved by everyone in Ayeyarwady [Irrawaddy] Region".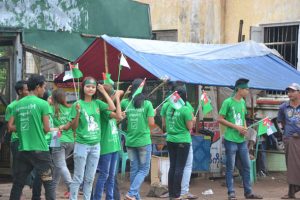 Tint Hsan, the incumbent minister for sport, and Khin Ye, former minister for immigration and population, are running in Myaungmya for the USDP.
Crowds wore USDP t-shirts and carried the party's flags, using decorated motorcycles and cars. Floats flying party flags negotiated the Irrawaddy River.
Eleven Media asked about gifts, meals and clothes presented by the party.
[related]
"We gave nothing to our supporters. We only gave out only fried noodles as a snack. The USDP's supporters organised this rally," said Hla Myint Htoo, USDP executive member for Myaungmya.
"I heard that the USDP was giving out lunch boxes for those attending its campaign. I'm waiting to get one," said Khin Mar Thin at the Sadkyar Thiha Sadkyar Nanda Pagoda where meals were being distributed.
The candidates were not seen at the event, according to residents.
Tint Hsan is the founder of the ACE Construction Group. His company was granted the contract to build the parliament buildings for nearly 600 billion kyat (US$480 million) and a pavilion for a grand military review for 6 billion kyat in Naypyidaw.
Khin Ye, who previously served as both minister for immigration and population and police chief, was among a number of senior union ministers allowed to retire in August, freeing them to run as USDP candidates in the upcoming 8 November election.
This article was republished with full permission from Eleven Media.
Read more about the 2015 election here.