Guest contributor
Saw Mery
My name is Saw Mery. I'm 19-years-old. Since the 2021 military coup, I have been working as a freelance journalist. Prior to the coup, I was a high school student getting ready to take the government matriculation exam. But the coup radically altered my life as I stopped my studies to get a real world education by joining the Civil Disobedience Movement (CDM), which opposed the coup in a peaceful, non-violent, way. I participated in the anti-coup protests. My parents gave me permission to do this. My responsibility was to establish a secure environment for student protesters when their unions joined the street protests. Thankfully, no one was arrested at the time (February and March 2021).
My elder sister was a television news reporter for Mizzima, a news agency banned along with four other independent media outlets on March 8, 2021. Soldiers searched our family home in Yangon and kept an eye on my movements during the raid. My family decided to move a liberated area of the country under the control of an Ethnic Armed Organization (EAO) – not under the military – in Myanmar's borderlands. As a student who relies on the internet to keep in touch with family and friends, and to learn about what's going on in the country, the lack of internet made it difficult for me to stay there long. To make a phone call, I had to climb steep mountain slopes and descend into valleys on my way back to camp. Every night, I cried. My parents consoled me. I had to give up my aspirations to complete my high school education because I was now displaced from my former life.
After spending two months in Karen State. I made the decision to return to Yangon in order to complete my studies. Luckily, I returned home without incident. I attended an online school run by a student group that provides free education online for high school students in Myanmar. Only two organizations provided CDM students with free education at that time. I created my own educational organization after learning management techniques. All of the volunteers helping me are students, and we provide educational services to younger kids. I even became interested in digital campaigns so I created one at Click2donate. After all this, I knew I wanted to become a lifelong learner. Since all independent Myanmar media, including my sister's news agency, had moved into Thailand to set up in exile. I thought it best to follow to find some work.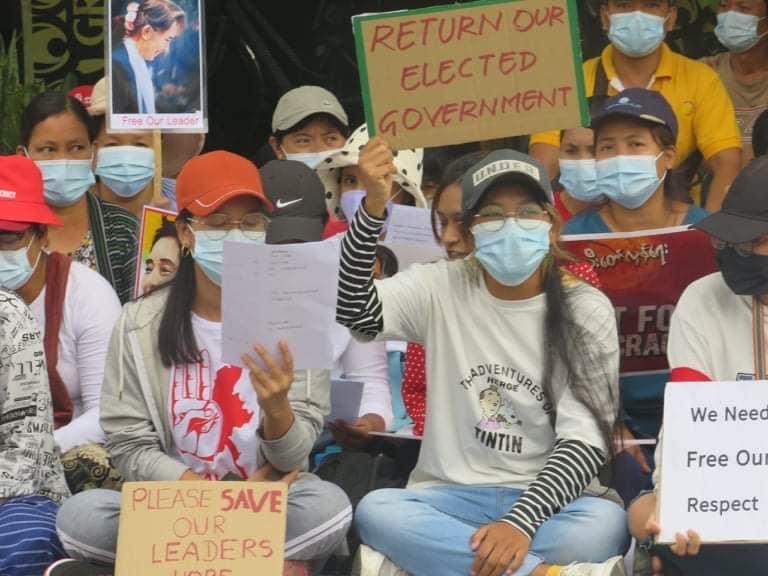 My first step was to become a reporter. I attended a Citizen Journalist (CJ) class offered by the Democratic Voice of Burma (DVB). After the class, I started writing news stories for the DVB website. I was delighted to see my work published. I applied and was accepted in the Multimedia Diploma course offered at Chiang Mai Journalism Academy. While in Chiang Mai, I joined a podcast training and became a member of the team at Resilient Voices Podcast. All of this happened within one year. It was an exciting time for me.
But when I started looking for a job as a journalist, it wasn't good timing. Every media outlet was having financial difficulties over one year after the coup, making it very difficult for new journalists to find paid work. While some still hired new recruits, the pay they received was low and sometimes did not even cover the cost of visas to stay in Thailand. If in Myanmar, living with parents, they might be able to work for such low pay. But in exile, it's difficult to work and survive without a family support network on low pay. I've explained this to many Myanmar news editors. I resigned from my job with one regional media outlet because of the low pay and lack of benefits. There were rumours circulating about why I quit that made it harder for me to find a new job. Many new journalists told me they experienced this as well when leaving one job to look for another.
Most journalists don't receive any benefits. They need to follow the news 24 hours a day. Some senior journalists do not wish to provide any room for newer reporters to showcase their talent. I've had my right to education taken away by the military. Now families are facing financial constraints as a result of increases in costs for basic food items in Myanmar. Most young people are forced to combine work with study to help their families pay the bills. My request to all senior journalists, predominantly male, is to stop preventing young people from getting jobs because of their age. This is discrimination. Instead, they should judge someone based on their work performance. Not their age. If this doesn't stop, I am certain that the bridge between the senior and junior journalists of Myanmar's news media will be uncrossable. Despite the difficulties I face as a young journalist starting her career, I won't let the senior journalists get me down. I will keep following my dream.
---
Saw Mery is a 19-year-old journalist, podcaster and Civil Disobedience Movement (CDM) member based in Thailand.