FROM THE DVB NEWSROOM
War crimes complaint filed against military in Manila court
Five members of the Chin community and Filipino lawyers filed a criminal complaint with the Philippines Department of Justice in Manila against the military on Oct. 25. The complaint accused the military of killing civilians, burning down homes, destroying churches, and using aid as a weapon of war.
"The atrocity crimes being committed in Chin State are part of Myanmar's forgotten war against the Chin," said Salai Ling, a complainant and the deputy executive director at the Chin Human Rights Organization (CHRO). Other complainants include the relatives of Chin people killed by the military. Romel Bagares and Gilbert Andres, who co-authored the legal complaint, filed it in the Philippines on the basis of universal jurisdiction. Similar cases have been filed in Indonesia and Argentina.
Nearly 700 civilians killed by airstrikes since 2021
At least 687 civilians were killed and 458 injured due to airstrikes since the military coup on Feb. 1 2021 to August 2023, stated Nyan Lynn Thit Analytica The human rights documentation group added that the military has conducted at least 902 airstrikes since 2021, which has damaged 86 religious buildings, 54 schools, and 26 healthcare facilities.
It outlined that aerial attacks have grown more intense with each passing year. "From January to August 2023, the military council conducted airstrikes on 199 days out of 243 days, indicating that aerial attacks occurred approximately every day during these eight months."
Nearly seven million migrant workers from Burma in Thailand
There are an estimated 6.8 million migrant workers from Burma in Thailand with only 1.8 million officially registered, stated the Media Intelligence Group in its latest report. There are a total of 8.3 million migrant workers in Thailand, including Cambodians, Laotians and Vietnamese.
The average minimum wage for migrant workers from Burma ranges from 10,000-15,000 THB ($276-415 USD) per month. Burma's minimum wage is only the equivalent of 1,000-2,000 THB ($28-56 USD) per month. The workers are primarily employed in manufacturing, construction, sales, and agriculture. The majority of them are men between the ages of 25 to 34, the report added.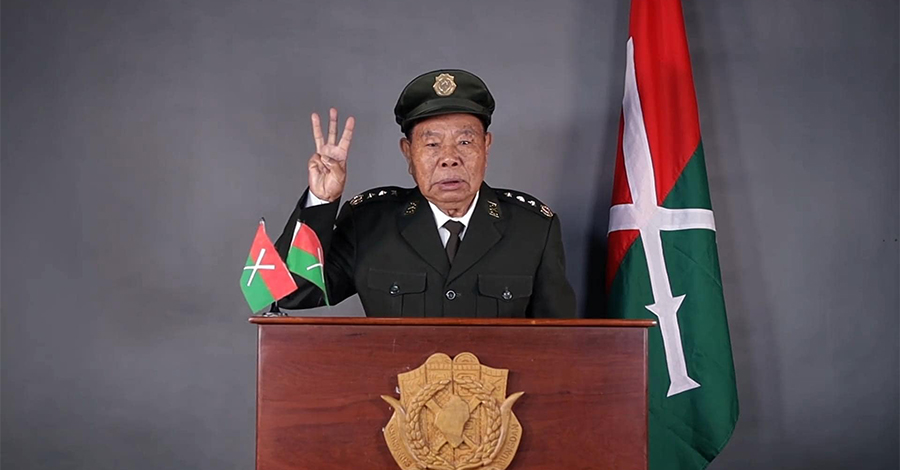 KIO reiterates support for uprising against military
N' Ban La, the chairperson of the Kachin Independence Organization (KIO/KIA), called for unity among resistance groups in order to dismantle the military and establish a federal democratic state. He made the remarks during a speech to commemorate the founding of the KIO on Oct. 25.
"The country is in crisis because of the military regime, and I have seen that this has led to the destruction of the country," said N'Ban La. He discouraged anyone from participating in any regime planned election, stating that it would not resolve the political crisis. The KIO was founded on October 25, 1960 in Lashio, Shan State.
News by Region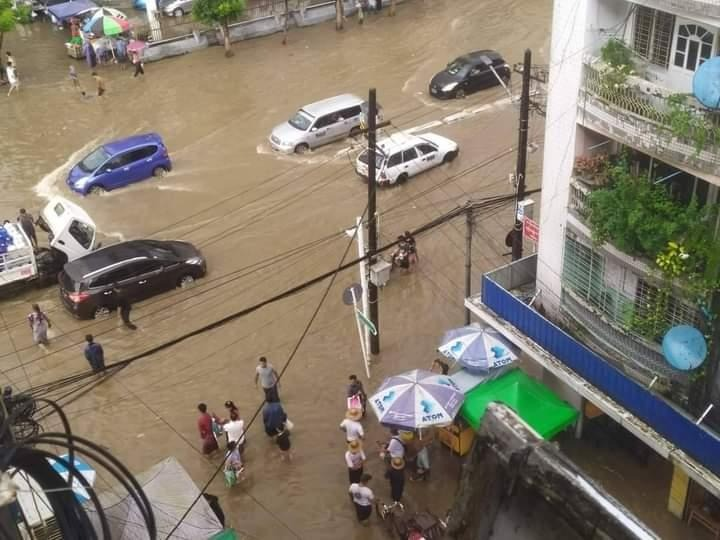 YANGON—Homes across Yangon have faced floods due to the heavy rainfall on Oct. 24. The south and east stairways of Shwedagon Pagoda had water cascading down it on Tuesday.
"The water suddenly entered at around 3.30 p.m. and we didn't even have time to collect our crafts. It ended at 5 p.m. I've been selling crafts here for fifteen years and [have] never experienced anything like this," said a shopkeeper that sells goods along the pagoda's stairways.
MANDALAY—A retired major and an officer from the Ministry of Construction in Ngazun Township were killed on Oct. 24. "They were in the car. There were many bullet holes in the car and both of them were killed on the spot. The Burma Army arrived in civilian clothes after the incident," said a Ngazun resident.
NAYPYIDAW—A military court in Naypyidaw sentenced Ko Ko Maung, the former chief of the Burma Army Northern Command in Myitkyina, to 10 years in prison earlier this month. He was arrested together with six other high-ranking military officers on July 13.
"He was arrested on direct orders from Naypyidaw and sentenced in mid October," said an unnamed source close to the Northern Command. The seven were reportedly arrested for disobeying orders and illegal trading. Soe Hlaing was appointed the new chief of the Northern Command on Oct. 21.
SAGAING—A couple were injured by an explosion outside their home in Sagaing town on Oct. 23. The bomb exploded while they tried to remove a flower basket and the wife lost a limb while the husband was seriously wounded. No group has claimed responsibility.
Two people including a teacher involved in the Civil Disobedience Movement (CDM) were sentenced to life imprisonment by the Indaw Prison court on Oct. 23. Regime media reported that they were sentenced under the Counter-Terrorism Law.
Read our latest: Q&A with DVB Short Docs 2023 filmmaker Maung Moe.