Nga Lunn first tattooed Aung San Suu Kyi's portrait on his father. A big supporter of the National League for Democracy (NLD) leader, his 47-year-old father now has her face inked upon his forearm, complete with her signature flowers tucked into her hair. Today, a photo of that tattoo is displayed at the entrance of the Golden Land Tattoo Studio.
"I felt a bit of pressure doing it because everybody in the country knows her face, so I have to do a good job," said the 24-year-old tattooist.
Since this first inking last February, Nga Lunn estimates that he has done roughly 15 Suu Kyi tattoos for Golden Land's clients. Ko Toe, the owner, says that all were men, and all opted for a seven to eight inch colour portrait of her face.
"They all have their own reasons. Some of them are just believers," Nga Lunn said, while working on a young man who wanted his girlfriend's face on his forearm. The young man piped up, saying that this tattoo is "proof" of his love, an aspect that Nga Lunn equated to those who get Suu Kyi permanently etched on their bodies.
"Getting an Aung San Suu Kyi tattoo is basically the same thing," he said. "Maybe they just want to show how much they trust her."
If there is one takeaway from this month's election, it is the faith that the people in Burma have in the NLD leader. While many observers expected an NLD victory, few anticipated the landslide that Suu Kyi's party came away with: less than a week after the 8 November poll, the election commission announced that NLD had won 387 seats in the parliament, compared to the ruling Union and Solidarity Development Party's 41. This surge was likely due to the pro-democracy icon's immense popularity and her party's promise to bring change to Burma.
[related]
Yet in terms of political expression, seismic change may have already arrived. Before President Thein Sein's nominally civilian government came into power in 2011, any talk of politics was typically done in private. Today, in the wake of the election, many are vocal about their adoration for Suu Kyi, with some of the more empowered supporters taking the radical step of permanently inking her visage upon their bodies.
At Golden Land, Rangoon's first tattoo parlour that opened in 2003, Ko Toe and Nga Lunn said that tattoos of the revered General Aung San have always been popular. Yet the duo has saw a wave of clients come in with requests for political body art in the lead-up to the 8 November election, and Gen. Aung San's daughter looks set to outpace him.
This would not have been possible a mere five years ago, said Nga Lunn.
"Aung San Suu Kyi was a prisoner and a great rival of the government. So if you get an Aung San Suu Kyi portrait, it means that you are rebelling against the government so people don't want to get that tattoo," he said. "Maybe they rebel in their minds, but they don't want to show it because they are afraid of getting arrested."
For B Za Thant Synn, 32, his first tattoo was not an act of rebellion but a proclamation. Two weeks before the election, he approached Golden Land to get Suu Kyi's side profile inked onto his upper arm. His rendering of her is dressed in a red top with the NLD's star and peacock logo, and has white flowers tucked behind her hair.
The completed art, which will take an addition two sittings, will include white doves flying in a sky of blue around her portrait, and the words "Freedom From Fear" etched below it.
"I've been thinking about it for a while. If I get a tattoo it will be with me until I die and I wanted it to be meaningful," the advertising project officer said, adding that it ended up being a choice between the political leader and his daughter. "It's not just a tattoo. I think of it as me having pride in a person I respect."
Such a visible pronouncement has shifted how people perceive him. While B Za Thant Synn has always identified as a supporter, he finds that his tattoo – as well as his frequent political posts on Facebook that occasionally lead to online arguments – might edge him towards the "activist" territory, a label he is happy to embrace.
"The conditions before were not really there for me to express my political views," B Za Thant Synn said, referring to the pre-Thein Sein period. "And because I didn't have a chance, my willingness is even stronger now to express my feelings."
Like B Za Thant Synn, Nyo Mi Thwin, 44, opted for the Nobel laureate's face for her first tattoo, yet she has never been afraid to express her political views. She was 16 when she took part in the 1988 pro-democracy movement, and her years in a university were punctuated with short-term detention periods for her work as a student activist.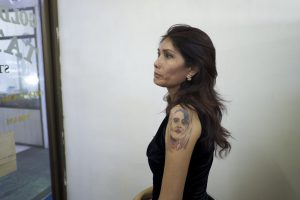 Her reason for choosing Suu Kyi was simple – to wear her heart on her sleeve. "I love her. It is a personal feeling," the mother of two said, adding that her husband thought she was crazy when she got it. "My husband asked me, what if she doesn't win? And I said that it doesn't matter – I just love her."
Now that Suu Kyi and her party have won, Nyo Mi Thwin has greater optimism for her two teenagers' future. At the moment, she would prefer not to send them to a university in Burma because "I have a college degree but it's useless." Once the NLD party forms a government, Nyo Mi Thwin is hopeful that Suu Kyi will enact reforms within the education, healthcare and legal systems.
"She will do good but she will be criticised and she will be tried," Nyo Mi Thwin said. "It's like rubbish – she has to clean it out, but she will be able to do it. When my children grow up, we will have a better government."
How the next generation fares is also on the mind of Kyaw Say, 37, a Karen refugee now living in the US who is a new father. He flew back to Burma to witness both the birth of his baby boy and the election, which he did not participate in because he is now an American citizen.
"I cannot vote  – that's why I'm voting with my skin," said Kyaw Say, who works as a sushi specialist in Ohio.
He got inked on 9 November at John Gyi Tattoo Studio, located mere minutes from the NLD headquarters. Unlike B Za Thant Synn and Nyo Mi Thwin, Kyaw Say's body is replete with body art, but he had reserved his left arm for iconic women: on one side is Suu Kyi's face, on another is the Statue of Liberty.
The design he chose, a colorful interpretation of Suu Kyi's face, was originally created by American street artist Shepard Fairey.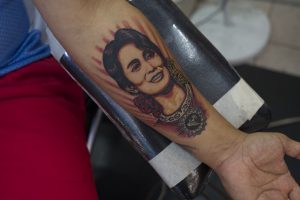 "Daw Suu has had a long journey fighting peacefully for democracy and she still believes that we can have a democratic country," Kyaw Say said. "I don't know how to say the happiness in my heart [about her victory]."
Whatever happens in the future – and Kyaw Say has high hopes – he is thankful that the election has, in a way, crystalised the people's freedom of expression.
"Before, they would say that the government is watching so we can't do anything," he said. "But now people dare to do what they want even if they know the government is watching."