FROM THE DVB NEWSROOM
Western countries condemn attack that killed 29 civilians
The U.S., Canada, France, and the U.N., have condemned the attack on the Munglai Hkyet Internally Displaced Persons (IDP) camp in Kachin State, located near the Kachin Independence Army (KIO/KIA) headquarters on Oct. 9. The mass killing resulted in the death of 29 civilians, including women and children. Fifty-seven others were injured.
Stéphane Dujarric, the spokesperson of U.N. Secretary-General António Guterres, condemned "all forms of violence, including the military's intensifying attacks throughout the country, which continue to fuel regional instability." The U.S. also blamed the military. France stated that "the massacre once again underscores the disregard of Burma security forces for international humanitarian law."
Sacked regime ministers sentenced to prison
Regime media reported on Oct. 10 that a military court in Naypyidaw sentenced Lt. Gen Moe Myint Tun and Brigadier General Yan Naung Soe to 20 years in prison after they had been removed from their positions and interrogated. Moe Myint Tun was prosecuted for running his own company, accepting bribes, and failing to take action against businesses selling oil at exorbitant prices.
Yan Naung Soe was found guilty of receiving bribes and assisting Moe Myint Tun in corruption by abusing his position of authority. The two were convicted of high treason, corruption and violating military rules. Regime media did not state on which date the verdict was reached by the military court.
'Indivisible' exhibit panel discusses cross-border aid
Creative resistance group A New Burma hosted a panel discussion in Chiang Mai, Thailand on Oct. 11. Panelists included Ye Zaw, the health director of the Karenni Interim Executive Council, and Ko Htoo, a former medical student and founder of a group providing health services in Karenni State called Nway Oo Kyan Mar.
A New Burma's Indivisible exhibit at Alliance Francaise de Chiang Mai features photos, videos and artwork from ethnographer Khin Sandar Nyunt ends Oct. 14. Panelists called on the international community to channel cross-border humanitarian aid from Thailand into Burma and noted how regime airstrikes make it difficult to provide proper medical assistance to IDPs.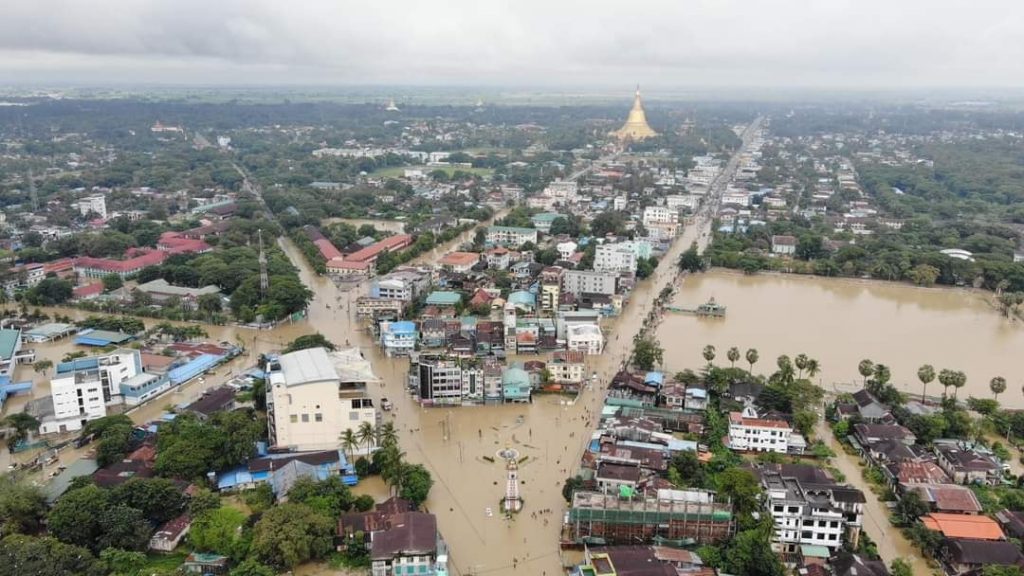 News by Region
KACHIN—An Arakan Army (AA) soldier was killed and ten others were injured by artillery at an outpost near Laiza on Oct. 9. "The Burma Army attacked Munglai Hkyet IDP camp that day and also shelled the outpost continuously. If they continue to target our military bases, the relationship between the two sides will worsen and tension may arise," said Khaing Thukha, the AA spokesperson.
The Brotherhood Alliance – which includes the AA, Ta'ang National Liberation Army (TNLA) and Myanmar National Democratic Alliance Army (MNDAA) – condemned the attack that killed 29 civilians. It stated that it was a "crime against humanity." It promised to continue standing with the KIO/KIA.
MANDALAY—Around 800 people have been left homeless after they were evicted by the regime in Inngyintaung village near Pyin Oo Lwin on Oct. 10. "They arrived fully armed, and we were warned that our homes would be demolished by bulldozers if we resisted," a Inngyintaung resident told DVB.
The regime ordered the evictions on Oct. 5. The villagers didn't comment on whether or not they were offered compensation. They suspect that the land will be used for coffee plantations.
A police officer was killed in Aungmyethasan Township on Oct. 10. "Unidentified gunmen on a motorcycle chased him and shot at him. He was later sent to Mandalay hospital with a head shot wound," said an Aungmyethasan resident. The Burma Army set up a checkpoint in the area and inspected pedestrians and vehicles.
MON—Over 3,700 methamphetamine tablets were seized in a raid on a home in Bilin Township on Oct. 10. A man was arrested for the sale of illicit drugs. "We received advanced information about him," a police officer told DVB.
SHAN—Fighting between the Ta'ang National Liberation Army and Shan State Progress Party (SSPP/SSA) in Kutkai Township on Sept. 23 was a "misunderstanding," according to Tar Aik Kyaw, the TNLA spokesperson. He said that a meeting between the two members of the Federal Political Negotiation and Consultative Committee (FPNC) took place on Oct. 6-7.
NAYPYIDAW—The regime's Ministry of Foreign Affairs stated that it is "closely monitoring the situation" in the Middle East between Israel and Hamas, where more than 1,900 people have been killed. The regime urged the relevant parties to exercise restraint and to resolve the issue "peacefully."
YANGON—Police officers are reportedly demoralized as resistance forces have targeted their families, according to a source close to the police. "Even senior district officers visited township police stations to carry out campaigns [to improve morale], provided money and told the officers to have faith in each other," said the unnamed source.
Police stations lack manpower despite heightened security since the 2021 military coup. At least 432 complaints have been filed between police officers over accusations of bribery since 2022. The regime claims that 605 police officers have been killed and 384 have been injured since 2021.