DVB's latest debate comes in the wake of a series of deadly bomb attacks in Burma, which have been blamed on rogue elements within the Karen National Union.
But despite the timing, the panelists dismissed any connection with the continuing peace talks, and the chairman of Shan Nationalities League for Democracy, Khun Htun Oo, said he was confident the bombs were unrelated to the peace process.
The Myanmar Peace Centre was optimistic that they will reach a ceasefire agreement by next month.
"The essence of the nationwide ceasefire is not just about reaching the ceasefire but more than that, to open door for political dialogue," said the general director of the government-backed Myanmar Peace Centre, Min Zaw Oo.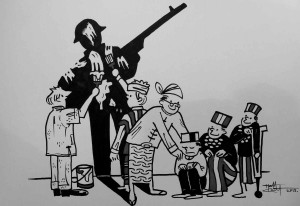 Khun Htun Oo disagreed and claimed that the government was urging ethnic armies to sign a ceasefire first and talk later.
"What the ethnic people wish for is a political dialogue and only after, sign the agreement," he said. "But at the moment, we are being told to sign the agreement first and negotiate afterwards."
A heated argument followed as Khun Htun Oo questioned how the ethnic groups were meant to trust the government when clashes were still erupting, even after peace deals were signed.
"What if everyone signs the agreement and then gunfire breaks out again?" said Khun Htun Oo. "A shot fired means the end of the agreement."
But Min Zaw Oo said the fighting would continue.
"Don't expect the gunfire will absolutely end just because the ceasefire agreement is signed," he said.
Much of the debate centred on Khun Htun Oo's argument that there would be no point in signing a blanket nationwide ceasefire without seeking political solutions.
Another point in the debate was the financial situation of rebel soldiers.
Khun Htun Oo said the Myanmar Peace Centre has no budget to spend on ethnic soldiers after the ceasefire. He insisted that if the soldiers do not get any financial support, they will turn to the opium trade.
[related]
In the past ceasefires have been signed based on an agreement that ethnic groups can profit from natural resource deals, but Khun Htun Oo said this time it would not be so simple and the government must support them.
Next on DVB Debate, how will Burma solve its traffic problem?
You can join the debate and watch the full programme in Burmese at www.dvbdebate.com
Or share your views with us by commenting on our website at www.dvb.no