"There is one word that has hung heavily on my mind during this visit — reprisals," Yanghee Lee, the United Nations special rapporteur on the human rights situation in Burma, told media at a press conference in Rangoon on Friday.
Lee painted a bleak picture of human rights progress in the country, on the final night of a 12-day tour. She told media that while the Union government did appear to be committed to democratic reform, the "three legs" — referring to the military-held ministries of home affairs, border affairs and defence — were impeding meaningful advancement.
She claimed that during interviews in Kachin, Arakan and Mon states, people told her they were afraid of the consequences they might face for speaking out.
"In every one of my visits and in every one of my meetings, I asked the government of Myanmar to ensure that everyone I spoke with does not suffer reprisals for speaking out on rights issues or expressing their opinions. Yet, distressingly, several people I met during this visit would say to me, 'I don't know what will happen to me after our meeting,'" she said.
Lee commended the cooperativeness of most authorities and lawmakers, but added that Commander-in-Chief Min Aung Hlaing and an unnamed Union minister declined her requests to meet.
Speaking first on Kachin State, Lee described the situation as "extremely worrying … as well as in the north of Shan State," where she characterised the plight of local civilians as "too often overlooked."
"The people, here too, are suffering, and the hope generated by the outcome of the 2015 election is starting to wane."
Kachin State has seen increasing levels of violence between the Burma Army and a coalition of ethnic armies known as the Northern Alliance. The fighting has displaced hundreds of locals.
Commending the bravery shown by the villagers she met, Lee said, "They see speaking out as their only hope for change, and want desperately for the rest of the world to be aware of the situation that they are in."
Northern Arakan State locked down
Elsewhere, ongoing militarisation of the northern Arakan region kicked off after three coordinated attacks against police border posts on 9 October. Nine officers were killed in the assault, which was carried out by armed militants from the Islamic extremist group Harakah al-Yaqin (Faith Movement).
In response, the government mobilised security forces for "clearance operations" aimed at apprehending the perpetrators. Scores of Muslims were killed in the following weeks, with media access and life-saving humanitarian aid to Maungdaw tightly restricted during the mission in a move that attracted a chorus of international condemnation.
Since October, more than 65,000 Rohingya Muslims fled en masse to neighbouring Bangladesh, according to the International Organisation for Migration. Once across the border, many women reported that they had been raped by security forces.
State media and official spokespersons have denied nearly all accusations of human rights violations in northern Arakan State, instead mounting a campaign in state media aimed at discrediting "fake news" reports of the sexual assault of women and girls, violent reprisals against Muslim men and the destruction of villages.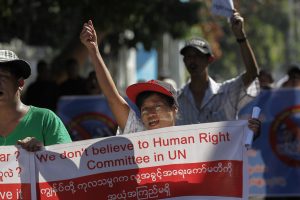 The emergence of a leaked video in December, showing police beating detained Muslim men in Koe Tan Kauk village, forced the government to launch an investigation into the incident, but the President's Office has maintained that the abuse was an isolated incident.
According to the UN envoy, more than 450 men are being detained in connection with the October and November attacks. In interviews with some of them during her visit, many claimed to not know why they were being held. Others said they had no way of contacting their families, and feared they were considered dead.
Access to legal representation has been all but impossible, according to Lee, who said only one man that she spoke with had managed to seek assistance through his family.
"They did not seem informed of the charges against them, if any," she said.
The rapporteur emphasised that while she "deplored" the October attacks on police posts, the government's response must be "carried out within the parameters of rule of law and in full compliance with human rights."
An interim report released on 3 January by a government-appointed investigative commission on the Arakan State crisis failed to mollify critics and the United Nations. Downplaying what it termed "external allegations" of human rights abuses, the report also dismissed rape allegations, citing a lack of evidence. The report claimed investigations were ongoing into allegations that security forces razed Muslim homes.
[related]
In reference to government assertions that Muslims in northern Arakan State were burning down their own homes, Lee called the notion "quite incredible … it would be quite far-fetched for them to suddenly think that the authorities would allow international actors to build them better houses."
President Htin Kyaw formed the government investigative commission on 1 December. It conducted a single visit to affected villages in Maungdaw later that month.
Access denied
Lee was denied access to two villages in Arakan State, as well as parts of conflict-torn Kachin State. Intending to visit Hpakant and Waignmaw townships in the country's north, she found herself barred from both by the government, which cited "security concerns."
She expressed frustration at remaining restricted from Laiza, the Kachin Independence Army's Waignmaw Township headquarters. Lee said she requested a visit on every one of her trips to Burma as special rapporteur but had been denied for the fifth time, and claimed the government did not confirm that she would be barred in this most recent request until "the very last minute." The Union and state government's reasons for the denial were in contradiction, she added.
Lee instead visited some of Myitkyina's IDP camps and met with local civil society groups that raised concerns over persisting military impunity in the state. The two-year-old cold case of two murdered Kachin teachers and the December 2016 disappearance of two pastors — the Office of the Commander-in-Chief revealed this week that they were in military custody — were central to the talks.
Summarising her findings in the region, Lee warned, "It is evident the situation in Kachin and the northern border is deteriorating."
Unwelcome visitor
Lee, a professor of developmental psychology at Sungkyunkwan University in South Korea, has had a rocky relationship with Burma since she replaced Tomás Ojea Quintana in 2014. The Buddhist nationalist association Ma Ba Tha staged rallies against the envoy in early 2015, with prominent member Wirathu labeling her a "whore" for her criticisms of a legislative package advocated by the group.
She last visited in her capacity as special rapporteur in July 2016, when she highlighted the risks that fast-paced international investment could pose to the advancement of human rights in Burma.
"Building a culture of respect for human rights must be a priority now and in the future," she said at the time.
On Friday, she remained cautious, saying, "While there have been positive developments in Myanmar, there is still a long way to go to achieve a society where individuals are free to share what has happened to them and to live without fear."