Crime Lead Story Migrants Issues News Video

Two Burmese men were arrested on Friday on the Thai island of Koh Tao.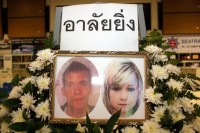 DNA tests have failed to provide a match and police are still working to identify the brutal beach killer of two British tourists on Koh Tao, southern Thailand, early Monday.

Watch today's top stories with Angus Watson.
May 8, 2009 (DVB), Over 60 British Members of Parliament, including two former Foreign Office ministers, have called for a United Nations commission of inquiry into crimes against humanity in[…]
May 6, 2009 (DVB), An exiled Burmese lawyers group recently ruled illegal by the Burmese government have said that the extent and severity of crimes committed by the junta warrant[…]
Jan 27, 2009 (DVB), A crab exporter from Irrawaddy division's Bogalay township was arrested yesterday for smuggling heroin aboard a container ship, according to a witness to the arrest. The[…]
Jan 9, 2009 (DVB), Police in the border town of Laiza in Kachin state have failed to investigate the recent stabbing of a visiting businessman, according to local residents. A[…]
Oct 8, 2008 (DVB), Burmese soldiers have been deployed to an area along the border with India where a lance corporal from Light Infantry Battalion 228 was killed and his[…]
Oct 7, 2008 (DVB), An infantry officer was killed and another wounded on Sunday when they were shot by a sergeant who then turned the gun on himself, according to[…]
Oct 1, 2008 (DVB), Residents of Rangoon division say that the number of robberies and muggings is on the rise in local townships, but authorities are currently failing to catch[…]
Sep 15, 2008 (DVB), Residents of Bago division's Zeegone township have been taking steps to guard their houses at night after a spate of robberies in the township, according to[…]
May 10, 2008 (DVB), A Burmese police officer guarding a polling station in Taguntaing village in Mudon township, Mon State, was shot dead by an unknown gunman today at around[…]
Apr 11, 2008 (DVB), A bank robbery at Thingangyun township's Myanma Economy Bank on Tuesday left the bank administrator dead and an accountant injured, according to township police. An officer[…]
Dec 11, 2007 (DVB), Taung Twin Gyi township residents are angry that local authorities have ordered police to stop investigating crimes reportedly committed by government supporters following two incidents in[…]
Oct 10, 2007 (DVB), Security forces have stepped up arrests of people in Mandalay for curfew violations, amid an increase in the local crime rate blamed by residents on the[…]