Snr-Gen Min Aung Hlaing said the army would continue to usher Burma towards democracy, during a 30-minute speech at Burma's 70th Armed Forces Day parade.
In a mass show of military force, army, air force and navy units paraded past the Tatmadaw (Burmese military) strongman, as jets streamed overhead and elite troops performed drills. Airborne soldiers abseiled from helicopters on ropes. Missiles, tanks and armed personal carriers lined the streets of Naypyidaw for the celebrat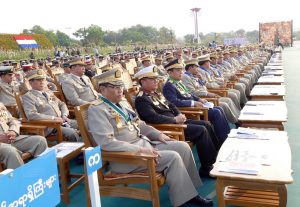 ion, which marks the date in 1945 when Burma's newly formed army rose up against Japanese occupiers near the end of the Second World War.
Much of Min Aung Hlaing's address was dedicated to the upcoming election. The commander-in-chief acknowledged that this year's vote would have a changing impact on the country. He went on to vow that the military would prevent disturbances to the country's tranquility and would ensure rule of law.
While the military chief discussed the upcoming general election at length, Burma's opposition leader, Aung San Suu Kyi was absent from the day's parade. Sickness kept the Nobel Peace Prize winner away from the annual event, breaking a string of attendances running back to 2013.
[related]
"She needs to take as rest at this moment. That's why she couldn't attend the ceremony this morning in Naypyidaw," a party source close to Suu Kyi told AFP, adding that she was "fine".
This year's Armed Forces Day comes at a time when the Burmese military is mired in conflict across the country's northeast. Fighting in Kachin, Kokang and Shan regions has resulted in some of the heaviest Burma army casualties in recent years. The fighting shows no sign of abating, despite a positive outlook shared by both government and ethnic peace negotiators who continue to work towards a nationwide ceasefire deal. The government's Union Peace-making Working Committee will sit for further talks with ethnic bloc the Nationwide Ceasefire Coordination Team on 30 March.