"Let's rebuild our community by ourselves. I want to educate the youth and introduce them to the nature, the culture, and the sense of brotherhood and sisterhood that our ancestors used to surround themselves with."
By Sippachai Kunnuwong for Fortify Rights. Illustration by Tams Lu.
"My people aren't recognized by former governments or the junta," 31-year-old Mayyu Ali said. "They accused us of being illegals, terrorists, and Bengalis. Writing our own stories and telling what we have been through in the color of our own words is an act of revolution."
Mayyu Ali is a poet, author of two books, educator, and researcher. He is also a genocide survivor. But one identity that has been central to his displacement, spanning from western Myanmar to Bangladesh to an estranged life in the West, is his ethnicity.
"I am a Rohingya," Mayyu Ali proudly describes himself, speaking from his new home in Canada, where he now lives with his wife and 12-month-old child.
Ali's story began in the green paddy fields of Maungdaw Township, Rakhine State, Myanmar. Growing up amid the lush mountains and river—both named "Mayu," literally "peacock" in the Rohingya language, which later became his pen name–Ali remembers having childhood friends of diverse ethnicity.
"My classmates were Rohingya, Rakhine, Hindu," he said. "There was no separation. We all sat together. We didn't fear each other. We used to drink from the same mug." But as he grew older, Ali could not escape the discriminatory policies that have long deprived Rohingya of fundamental rights, including the right to citizenship and freedom of movement.
"I was just broken"
Inspired by his Rohingya teachers and an interest in language, Ali pursued literature at Sittwe University in Myanmar's Rakhine State, dreaming of becoming a teacher for Rohingya children. However, after graduation, the education office in Rakhine State rejected his teaching application because he was "born to Rohingya parents."
His best friend, an ethnic Rakhine Buddhist, ended up getting the job.
"He and I attended the same school and came from the same village," Ali said. "But professionally, we became different. He was eligible [to become a teacher], but I was rejected. When I saw him wearing the schoolteacher uniform, I was just broken. I found myself useless and worthless."
It was in poetry that he found a means of catharsis.
"…it was like I was born again."
Ali started writing in secondary school. But it was not until he was introduced to prominent Burmese literary magazines that he began his quest to become a writer.
"A Rohingya friend introduced me to The Best English Magazine," he recalled. "It's one of the popular magazines in Myanmar. There were sections for poems and writings with English translations. I was so happy—like a little boy seeing a lot of toys."
In Myanmar—a country that boasts a rich poetry tradition—writers are among those attributed as being a driving force against British rule during the colonial era.
"Burmese believe in writing," Ali told Fortify Rights. "A couplet, two lines, can become courage for you in truth-seeking and the fight against injustice . . . it inspires you and gives you courage and hope."
Realizing that few poets in Myanmar were writing about Rakhine State, Ali began submitting his poems to publishing houses in Yangon–Myanmar's largest city and former capital–hoping that his work would reach readers nationwide.
"The first time I saw my name in the magazine, it was just like I was born again," Ali told Fortify Rights. "I was recognized. My name was printed." Ali's early work focused on life in Rakhine State, his adolescence, and nature's beauty. But after violence broke out in Rakhine State in 2012, followed by military-led genocidal attacks targeting Rohingya in 2016 and 2017, Ali's poems and other writing became a testament to the times.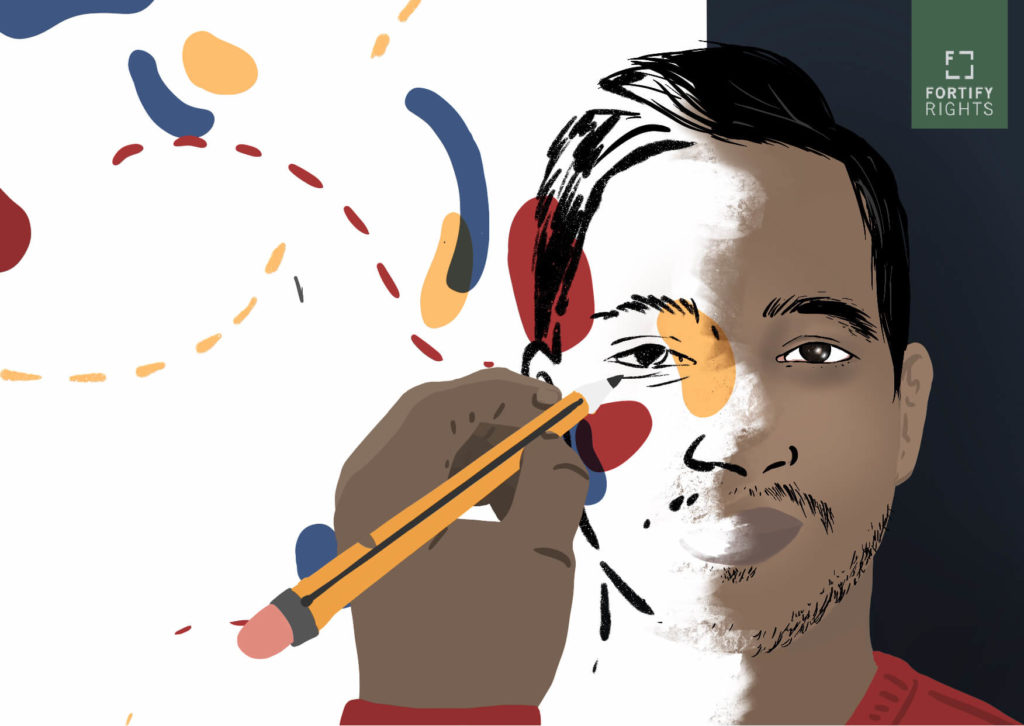 "In my writing, I'm free"
"After the violence in 2012, I saw my people's situation transformed from restriction to extermination," Ali explained."Before, there were restrictions and policies set by the state government. After 2012, they started setting fires in the villages and killing people. Fear. Trauma. Depression. Silence everywhere."
The deadly crackdowns in 2016 and 2017 resulted in a mass exodus of hundreds of thousands of Rohingya fleeing the military's genocidal attacks in Myanmar to seek refuge in Cox's Bazar District, Bangladesh.
After witnessing Myanmar security forces burn their village, Ali's family fled Myanmar at the end of August 2017. Ali followed suit a week later.
Looking for ways to cope with the aftermath of the attacks, Ali turned to poetry for solace, saying:
For people in other parts of the world, when you feel depressed or sad, you express it to your friends, and you feel lighter. My friends, neighbors, and siblings have been through the same thing. We just keep it inside. It became heavy. I sit at my table and write it down. Sometimes, it became poems. Sometimes, it became essays and articles.
Continuing, he said: "I live in a world where there is hatred, discrimination, persecution, and all other bad things. In my writing, I'm free. No one can touch me. There is no fear, and I find resilience and hope to strengthen myself. Whenever I write, I feel alive"
"Another tragedy"
After fleeing Myanmar, Ali found himself in what is now one of the world's largest refugee camps located in Cox's Bazar District, Bangladesh, where he described "another tragedy" is brewing: "There [are] no jobs. There [are] gangs. New gangs. Crimes. Pistols. I couldn't imagine how Rohingya youth [in the camps] will be after a few years."
Believing in the power of education, Ali used his savings—collected from his time working with camp-based humanitarian organizations—along with book and other donations from friends to set up two refugee-led education centers in the camps.
"I wanted to steer them towards the right path," Ali said. "This is a refugee-led education initiative. We teach the Burmese curriculum, so when we go back home [to Myanmar] one day, the children can continue studying."
He also turned his favorite pastime into activism. After spotting some writing by Rohingya youth, Ali invited 20 of them to learn poetry writing, saying: "They had been through so much. I explained to them that writing could help."
Then, in 2019, together with his friends, Ali launched a poetry collective—"The Art Garden Rohingya"—in which Rohingya writers and artists are invited to submit their work for online publication. The project has since collected the work of over 100 Rohingya poets, writers, and artists.
The Art Garden Rohingya project not only supports youth, but it is also a platform to "encourage the youth to write and draw to revive the culture" after years of systematic erasure of the Rohingya history in Myanmar.
"A race against time"
"When people think of the Rohingya genocide, they think of the killing and physical damage," Ali told Fortify Rights. "But genocide is not just about the method of killing. The Myanmar government first targeted our culture and language. In 1964, Burmese dictator U Ne Win [banned] the Rohingya language [on] radio broadcast, and he launched operations against my people. Every operation resulted in the exodus."
He elaborated further, saying:
We became the Rohingya refugees. We learned the new language and culture from the host communities. We had to deal with the Bangladeshi communities and authorities. We are losing our culture. So, we encourage the youth to write and draw to revive the culture.
For years, Ali has been talking to Rohingya elders and documenting disappearing Rohingya cultural artifacts. Without a common system of writing, Rohingya knowledge and culture has long been passed down from generation to generation through an oral tradition.
"We have a rich culture of storytelling," Ali said. "Rohingya ancestors used to tell their stories to their children as moral lessons, because there were no books. So, they composed songs based on the social context . . . Today, we have almost lost it. The longer we suffer, the more we lose touch with our culture and the more we lose the sense of solidarity and community."
"It's a race against time," Ali admitted, but one that may be an alternative path to ease the Rohingya's struggles. He added: "This journey is giving me hope."
*Mayyu Ali's real name and details are withheld due to security concerns.
The hardship of the Rohingya people are told in Ali's book "Exodus: Between Genocide and Me" and recently published biography "Erasure." Published in 2019, "Exodus: Between Genocide and Me" is a collection of poems based on his and other refugees' accounts of the restriction of rights and extermination of the Rohingya. "Erasure" is a personal story of how the Rohingya people and culture were erased due to systematic violence and racism.