FROM THE DVB NEWSROOM
AAPP condemns murder of political prisoners
The Assistance Association for Political Prisoners (AAPP) stated that urgent action must be taken to stop the military regime from killing more people held in prison and at interrogation centers. "Two political prisoners from Daik-U [Kyaiksakaw] Prison were killed on July 16 and a Bago Regional Hluttaw MP was killed on July 17. Relatives of [Lethwei champion] boxer Too Too were informed by the Magway police station about his death on July 13 after he was killed during an interrogation on April 26," said Tate Naing, the AAPP secretary. In July 2022, the regime executed four pro-democracy activists, including Phyo Zeyar Thaw and Kyaw Min Yu (aka Ko Jimmy). The AAPP added that the regime's actions are in violation of international law.
NUG establishes board of directors for its central bank
The National Unity Government (NUG) announced on July 19 that it has established a board of directors for its interim central bank. Bank Chairperson Tin Tun Naing said that Min Zaya Oo has been appointed as the vice-chair of the board of directors. Johnny Ahtang and Aung Paing were appointed as board members. The NUG Ministry of Planning, Finance and Investment (MPFI) set up its interim central bank on June 1 in order to regulate the banking sector. The regime-controlled Central Bank of Myanmar (CBM) is enacting policies to protect Naypyidaw rather than its customers, the NUG stated. The interim bank will issue business licenses for financial institutions in accordance with NUG directives and regulations.
UK slashes aid to Burma
The British government has cut aid to Burma by 51 percent for this financial year, states Burma Campaign UK citing statistics from the Foreign, Commonwealth and Development Office (FCDO). "Aid to Burma should be increased, not cut, and more aid needs to go to local civil society so British aid reaches people in areas not under Burmese military control," said Anna Roberts, the executive director at Burma Campaign UK. The cuts come after the British government slashed aid to Rohingya refugees in Bangladesh by 82 percent. Nearly 1.9 million people are displaced from their homes due to armed conflict in Burma and 1.6 million people are in urgent need of humanitarian assistance, states the U.N. Office for the Coordination of Humanitarian Affairs (UNOCHA).
News by Region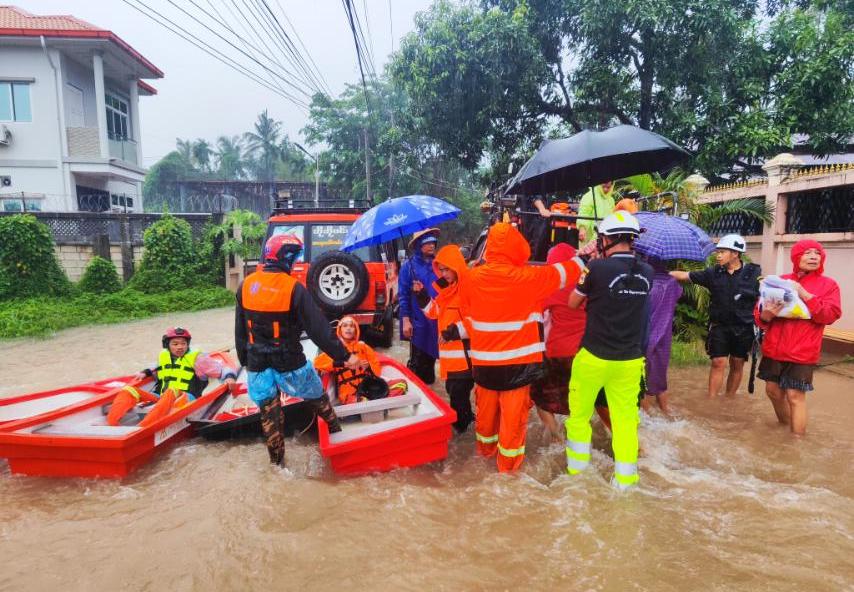 MON—Record-breaking rainfall in Mon State has killed at least four people, including three children, in Mawlamyine and Paung townships since July 17. Another two were injured. "The rainfall has increased, and the sea level has risen again. Rivers and mountain water are rising, and we are suffering from flooding," said a Mawlamyine resident. Read more here.
KACHIN—Two general administration staff members were injured when an administration office and a municipal office were attacked by a drone in Shwegu town on July 19. "Since it's a holiday, there were no staff members present. However, two individuals from the administration office sustained injuries. The administration office building also suffered slight damage," a Shwegu resident told DVB. The Shwegu People's Defense Force (PDF) is thought to be behind the attack even though it hasn't officially claimed responsibility. It launched a drone strike on Shwegu police station July 11 that killed three policemen and injured at least six others.
KARENNI—Kyaw Kyaw Tun, a member of the Karenni National Progressive Party (KNPP) is missing after being arrested by Burma Army troops in Mese Township. "We lost contact with him on July 9," said a family member. Kyaw Kyaw Tun ran for the Amyotha Hluttaw (upper house of parliament) for the KNPP in Mese Township in the 2020 election but failed to win. He served as a member of the Karenni State Consultative Council (KSCC).
RAKHINE—At least ten members of the Arakan Rohingya Salvation Army (ARSA) and a member of the Arakan Army (AA) were killed during fighting in Buthidaung Township on July 18-19. "The AA attacked ARSA troops deployed near Sein Hnyin Pyar village on July 18. There was a fighting on July 19 as well," said a Buthidaung Township resident. The ARSA fighters have reportedly been hiding in Rohingya villages in Burma as they are no longer able to hide out in the Rohingya refugee camps of Bangladesh since security forces there have forced them out. Last November, AA spokesperson Khaing Thu Kha said that the AA will not accept the presence of any other armed group in northern Rakhine State.