[dropcap]O[/dropcap]n Thursday, Chinese researcher Tu Youyou will grace the world stage to collect a Nobel Prize for medicine. Tu, now 84, spent decades devising a malaria treatment based on Chinese traditional medicine that went on to save millions of lives in Asia and across Africa.
Not that many people have heard her name.
Having lived in relative obscurity with little to no recognition, she now has the world's attention. Tu is the first person to receive a Nobel Prize for a discovery based on Chinese traditional medicine. In government offices, meeting rooms and pharmaceutical labs around the world, people are congregating to consider what her win means for them.
Burma is certainly no exception. With the country's healthcare system ranked one of the worst performing in the world, there is a pressing need to make medical care more affordable and accessible even in the most remote areas. The government hopes traditional medicine can fill the gap.
[pullquote]"Burmese traditional medicine is a national heritage" — Dr. Kim Sung Chol, WHO.[/pullquote]
"To some extent traditional medicine is cheaper and a better health care system that is already accepted by most of people in this country," reports Dr. Aung Myint, director general of the Burmese government's Department of Traditional Medicine. "More than 90 percent of Burmese people still believe in and use traditional medicine as their first treatment for their illnesses, particularly if they perceive the illness to be a minor one."
Until recently, traditional medicine was often the only course of treatment for ill Burmese. The practice became associated with self-reliance when longstanding trade sanctions barred international commercial and non-governmental health organisations from working in the country. In many cases people went years between seeing western pharmaceutical equipment and supplies.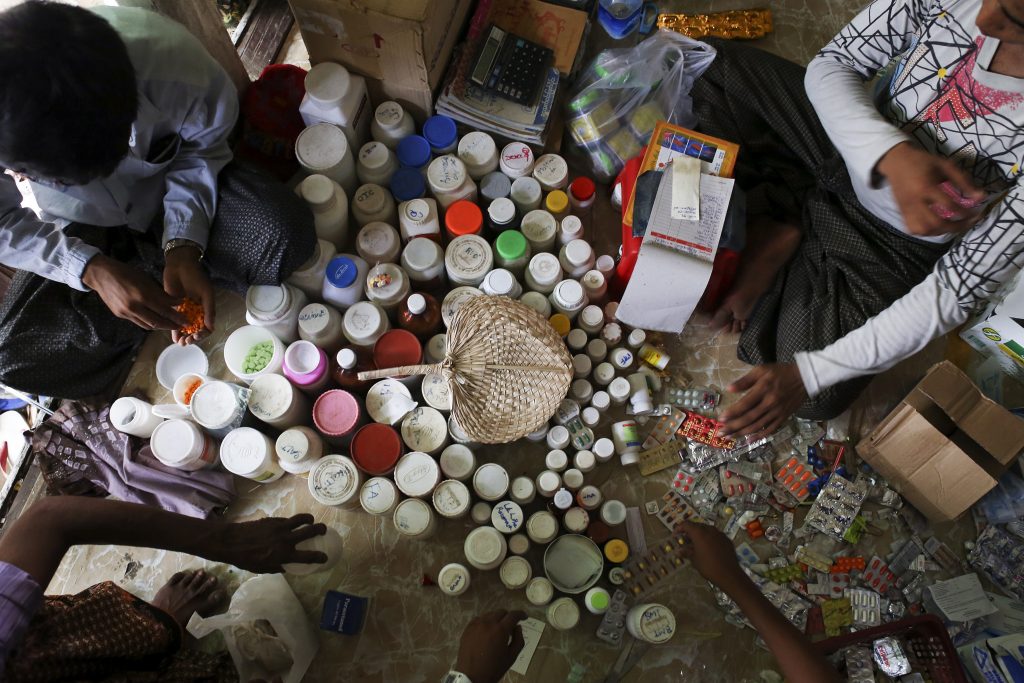 Cultural acceptance and historic use is one matter. Effectively incorporating traditional medicine into the national healthcare programme is another. The latter requires the standardisation and professionalisation of practices. To that end, government agencies are endeavouring to develop a codified system for Burmese traditional medicine.
Today there are dedicated traditional medicine hospitals, clinics, herbal gardens and universities throughout the country. More than 7,000 traditional medicine practitioners are now accountable under the Traditional Medicine Council Law (2000), and nearly 13,000 traditional medicines had been registered by mid-2014. Manufacturing policies were recently written into legislation while the production, packaging and storage of medicines has also been modernised.
Clearly Burmese traditional medicine is a distinctive discipline with great capacity for further growth. "It has potential to gain [international] notoriety since we have unique principles and practices of our own," says Dr. Aung Myint. "Moreover, there are some medicinal plants that are very useful and exclusively available in Burma."
Dating as far back as 600 BC, Burmese traditional medicine has strong roots in Buddhism and its concept of mind and matter – Nāma-Rūpa. Considered major homeostatic factors in the discipline, "mind and matter and their mutual influence for health has been well recognised," according to Dr. Aung Myint. "They have made Burmese traditional medicine into a holistic practice."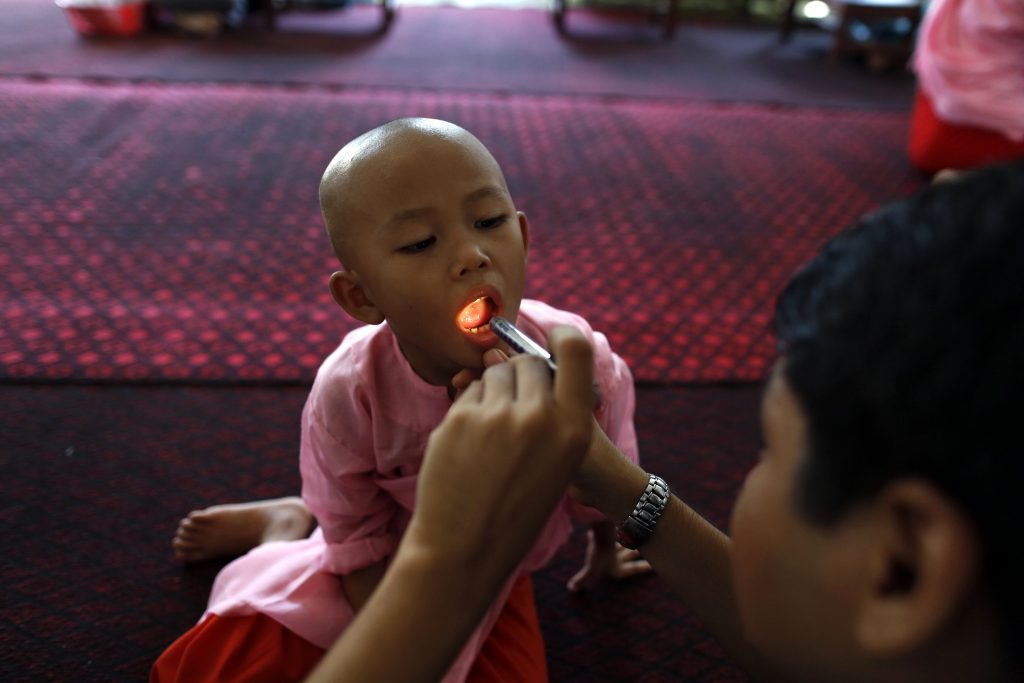 Dr. Kim Sung Chol is the advisor for traditional medicine in Southeast Asia at the World Health Organisation (WHO). "The holistic approach of Burmese traditional medicine is its main advantage over western medicine," he reports.
While western medicine starts with the goal of curing symptoms, Burmese and other traditional medicines approach illnesses as body imbalances that need to be restored. Examining the malady in isolation and concentrating only on the affected body part is ineffective according to traditional medicine practitioners who focus on the whole physique and offer holistic remedies.
"Burmese traditional medicine is a national heritage," says Dr. Kim. With Burma's minimum daily wage set at US$2.80, and many people living on less, traditional medicine makes its strongest impact at the household level. "The goal of universal health coverage is to ensure all people can access healthcare without suffering any financial stresses," he explains.
Can Burmese traditional medicine hope to reach the same acclaim as the great disciplines of Ayurveda, Siddha and Unani? Not yet according to Dr. Kim. "The advantages of Burmese traditional medicine first need to be validated through modern medical science," he says.
[pullquote]"If traditional practitioners could get more support from the government, they could also aim for a similar success to the Chinese practitioner that won the Nobel Prize."—Kyaw Thet Naing, manufacturer.[/pullquote]
Western pharmaceutical methodologies remain the standard for drug testing though applying these to traditional remedies can seem like fitting a square peg in a round hole. Isolating scientifically testable compounds is a serious challenge when there are regularly up to 600 compounds working together. Plotting their individual interactions is considered necessary for regulatory approval in many countries.
The holistic approach to Burmese traditional medicine presents a challenge in its reliance on mind and matter concepts that prove difficult to measure for medicinal efficacy. Longstanding usage has often been considered reason enough for exemption from strict safety regulations. But if Burmese traditional medicine is to be exported to the world greater vigilance will be needed. "Validation needs to be multi-disciplinary," says Dr. Kim. "[Burmese traditional medicine practitioners] can look to use modern medical technology such as double blind clinical trials."
And even if Burmese traditional medicines were to land on supermarket shelves abroad, people are not necessarily going to pick them up. Cultural acceptance is still another hurdle. "How much people in other countries accept foreign traditional medicines is rooted in tradition and culture," advises Dr. Kim. "If the traditional medicine isn't well known, then people won't accept it."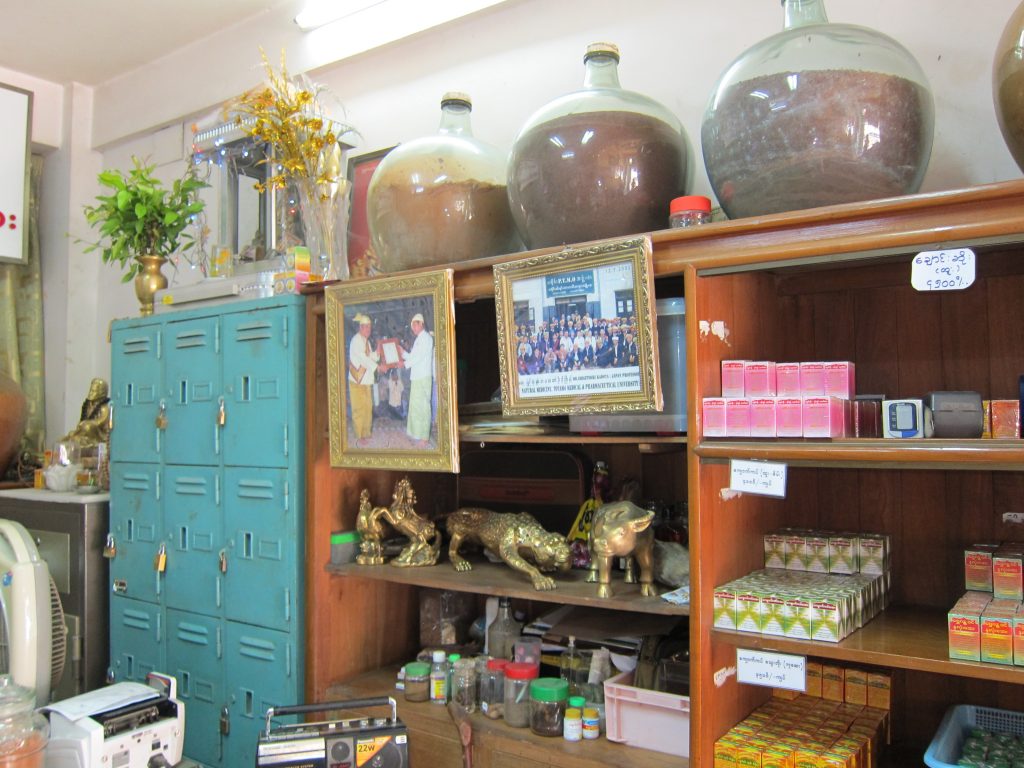 As managing director of pharmaceutical company Yoke Pyo and member of the Myanmar Traditional Medicine Practitioners Association (MTMPA), Kyaw Thet Naing faces these trials on a daily basis. "No branch of study can be completely perfect," he says, yet the traditional medicine policies set out by the Burmese government are difficult to meet.
Starved of government investment throughout the period of military rule, medical infrastructure and supply shortages remain throughout the country. "The main challenge," admits Kyaw Thet Naing, "is that we are still far from being equipped to follow guidelines on standardisation of medicinal plants, manufacturing practices and medicinal trade."
"Traditional medicine production involves so many steps," explains Dr. Kim. "You need to think about how you are cultivating and collecting plants, how you are processing and manufacturing products." All these aspects need equal consideration. "People think that traditional medicine is safe because it's natural but if you're not following procedures, you're not producing good-quality traditional medicine."
The situation is improving says Kyaw Thet Naing, "We are working to implement infrastructure and production technologies to conform to production guidelines."
With the incoming government committing to further investment in traditional medicine, the future looks bright for now. When Tu Youyou rises to accept her Nobel Prize, Kyaw Thet Naing is clear the spotlights will be lighting the path for traditional medicine practitioners across Asia.
"[The Chinese medicine discovery] is something to be proud of for Asian traditional medicine practitioners and also an inspiration for the MTMPA," he says. "I believe Burmese traditional medicine practitioners, if they can get more support from the government, can also aim for a similar success to the Chinese practitioner that won the Nobel Prize."