FROM THE DVB NEWSROOM
Aid blocked from reaching Rakhine State
A total of 5,000 bags of rice seeds donated by the Myanmar Rice Federation meant for relief efforts in Rakhine State remains at Bayint Naung port in Yangon. The Myanmar Customs Department prohibited the rice seeds from being sent to Rakhine as it has not yet been certified by the Department of Agriculture. Experts estimate that only two percent of all rice seeds in Burma have been certified by the Department of Agriculture and are able to be planted.
UN waiting for military approval
Titon Mitra, the U.N. Development Programme (UNDP) Resident Representative for Burma, called for the "depoliticization and demilitarization" of aid efforts in the country following the devastation caused by Cyclone Mocha on May 14. Mitra stressed the urgent need for approval from Naypyidaw to allow international organizations and civil society groups to provide assistance to cyclone-impacted communities. He warned that Burma would face a major food crisis unless an effective response was mounted. "Food availability and affordability will become huge issues," added Mitra.
Japan donates to Burma and Bangladesh relief efforts
Japan's Ministry of Foreign Affairs announced that it will provide $2 million USD in emergency assistance to Burma and Bangladesh for Cyclone Mocha relief efforts. The aid will be distributed through the World Food Programme (WFP), International Committee of the Red Cross (ICRC) and International Organization for Migration (IOM). Out of Japan's overall aid donation, $1.5 million USD will go into Burma and the remainder will go toward Bangladesh.
At least 156 sentenced to death since coup
The regime has sentenced 156 people to death since the coup, RFA reported. A lawyer said that military tribunals handed out the death sentences and detainees were denied a proper defense. "There is only one military court of appeal and if it rejects the appeal, the only option left for the defendant is to file a petition for mercy from chief [Min Aung Hlaing]," added the lawyer. Ko Jimmy, Phyo Zeya Thaw, and two other activists were executed in July 2022.
News by Region
CHIN—The Kachin Independence Organisation (KIO) donated K200 million ($95,458 USD) for Cyclone Mocha relief efforts in Chin State. The Chin National Front (CNF) expressed "its gratitude for the KIO's brotherly spirit and contribution to the reconstruction work." Around 1.6 million people nationwide are in need of emergency assistance.
KAREN—Thailand's Provincial Electricity Authority (PEA) cut off electricity to Shwe Kokko on June 6. Approximately 3,000 households in the area are now without electricity. Shwe Kokko is an alleged crime hub. It is operated by the regime-backed Border Guard Force (BGF). It threatened to shut down the Myawaddy-Mae Sot border in retaliation but it remains open.
KARENNI—Two people, including a child, were killed by artillery shells in Mobye Township on June 5. Another civilian was killed on June 3. The People's Defense Force (PDF) claimed that 10 Burma Army troops were killed by resistance forces. This could not be independently verified by DVB.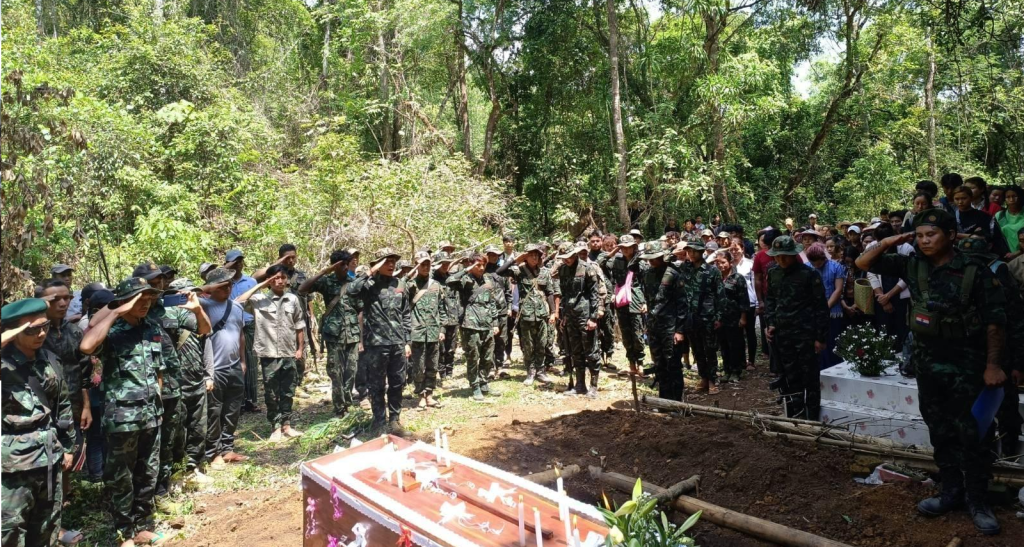 At least 152 civilians have been killed and 162 have been injured in Karenni State since the 2021 coup, claimed the Karenni Nationalities Defense Force (KNDF). At least 153 KNDF members were also killed. Twenty-two homes, 12 religious buildings, six schools and 16 clinics were destroyed by artillery and airstrikes. The KNDF added that it had seized 10 military outposts and killed more than 2,065 Burma Army personnel in the last two years of fighting.
SAGAING—Seven bodies were discovered by the PDF in Singu Township on June 4. "They [military] left Kyat Tu Yway village after torching it on June 1. We found bodies when we cleared the village. The victims had returned to their houses to put out the fires started by the Burma Army," said a PDF spokesperson. Locals state that the Burma Army burned down Kyat Tu Yway and Thae Inn villages on May 25 and 27.
YANGON—Two members of the Special Task Force (STF) were arrested for the murder of singer Li Li Naing Kyaw, regime media reported. The singer was shot in Yankin Township on May 30 and died at Mingaladon military hospital on June 6.
Explosions occurred at the Union Solidarity and Development Party (USDP) office in Dagon Myothit (East) Township and at a park in North Okkalapa Township on June 5. "Soldiers and police arrived at the scene and conducted inspections," residents told DVB. There have been no reported casualties.