FROM THE DVB NEWSROOM
Airstrikes destroy 20 homes and a church in Chin State
Twenty houses and a church were destroyed in an airstrike on Maswatwi village, located in Chin State's Kanpetlet Township, on July 18. "Five fighter jets dropped ten bombs at about 10:40 a.m. and dropped six more 20 minutes after. No one was injured as people [had already] fled. Only homes and a church were destroyed," said a Maswatwi village resident. Nearly 1,500 residents from six villages located in the area bordering Chin State and Magway Region have been displaced due to fighting between the Burma Army and resistance forces since July 14. There were no reported casualties.
US embassy reaffirms support for return to democracy in Burma
The U.S. Embassy Chargé d'Affaires in Yangon, Susan Stevenson, said in a speech that the U.S. government has been leading international efforts to hold the military regime in Naypyidaw accountable. "At the same time, we support the efforts of the pro-democracy movement, including the NUG, ethnic organizations, civil society, and all those working to resolve the conflict," added Stevenson. The U.S. has sanctioned more than 100 individuals and entities, including two state-owned banks, to limit Naypyidaw's access to financial markets.
UN Refugee Agency meets with regime in Naypyidaw
Regime media reported its Minister of Immigration and Population Myint Khaing met with Noriko Takagi, the Representative of the U.N. High Commissioner for Refugees (UNHCR), in Naypyidaw on July 17. The two discussed the continuation of work in Rakhine State to create conditions conducive for the voluntary return and reintegration of Rohingya refugees. Naypyidaw and Dhaka have started a pilot project to repatriate Rohingya from Bangladesh to Burma. The plan has been widely condemned by Rohingya refugees and human rights organizations. Over 700,000 Rohingya fled to Bangladesh in 2017 after a military operation in northern Rakhine State that was labeled genocide by the U.S. government in 2022. 
News by Region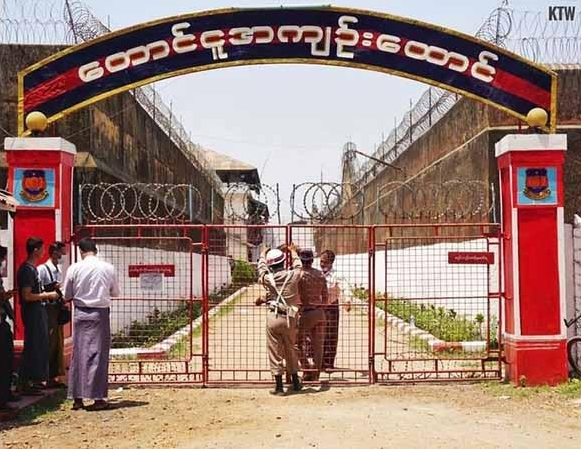 BAGO—Seven staff members at Taungoo Prison arrested in May were sentenced on July 17 for allowing prisoners to escape. "They have been held at the prison since the prison break. Then they were interrogated and received sentences from a prison court," said a source close to the prison. Ten prisoners attacked guards on their way to a court hearing on May 18. One of the prisoners was killed while nine managed to escape. The regime has increased security by installing CCTVs and drone systems at prisons nationwide.
KACHIN—The Kachin Baptist Convention (KBC) issued an urgent warning on July 16 in response to fighting near Laiza. It advised residents to shelter in place and prepare bomb shelters, as the Burma Army has been known to use artillery and airstrikes against civilians. Laiza serves as the headquarters of the Kachin Independence Army (KIA/KIO). The KIA and its allied People's Defense Force (PDF) have been fighting the Burma Army since July 3.
KAREN—The PDF claims that it killed 10 Burma Army troops and one police officer in Kyainseikgyi Township on July 16. More than 20 Burma Army and one PDF member were injured in the fighting that took place following a drone attack on a police station and government offices in the township.
MAGWAY—Six Rohingya men disguised as monks, a nun, and another two men were arrested by the Burma Army at a checkpoint gate in Ngape Township on July 17. "Two men and a nun who brought the Rohingya were arrested and are currently being questioned," said a witness. They were allegedly traveling from Sittwe to Yangon on a bus. All nine people have been detained at Ngape Police Station. Nearly 1,000 Rohingya have been arrested so far this year. Nearly 300 have been sentenced to prison.
SAGAING—Residents in 25 villages located in Kanbalu, Kyunhla and Kawlin townships complain that they have been without electricity for the last four months. "There has been no electricity since March 11. Electricity is usually provided by the power distribution department in Kyunhla Township. Some villages have not had electricity since August 2022," said a Kanbalu Township resident.
Read our latest contribution from Visual Rebellion Myanmar: Two months after Cyclone Mocha hit and survivors still wait for assistance.