The death toll from the ferry boat disaster in western Arakan State could be much higher than the official estimates, according to a local MP.
The latest state media report said at least 34 people – 31 women, two men and one monk – drowned when the "Aung Takon 3" sank late on Friday while en route from Kyaukphyu to Sittwe.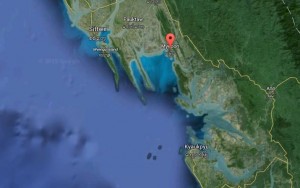 But lower house MP Pe Than of Myebon Township – which is the closest port to the disaster site and located around halfway between Kyaukphyu and Sittwe – said the number of fatalities cited by officials in the rescue effort was just an estimate based on subtracting the number of persons rescued from the water from the numbers on the passenger list.
The original passenger list suggest 179 souls were aboard the ill-fated vessel. However, the government announced via state media on Sunday that the ferry was in fact carrying 214 passengers when it capsized at 7:15pm on Friday. It cited a police source saying 167 passengers – 103 men and 64 women – had been rescued.
Speaking to DVB on Sunday, Pe Than claimed that the passenger list reflected only the number of passengers who bought "official" tickets for the trip, but that more than 400 people were on board.
"According to rescuers, around 40 dead bodies have been recovered," said the parliamentarian. "The regional chief minister said the disaster occurred because the boat's captain got drunk and took a wrong turn. However, some other accounts suggest the boat suffered a hull breach and sank.
"It is currently unclear what the death toll will be," he said. "The officials estimated the number of dead by subtracting the number of survivors from the official passenger list. Unfortunately, that does not work. According to witnesses on the boat, there were a lot more passengers without tickets."
[related]
He said it is likely many passengers died trapped in their compartments.
Ferry disasters are not uncommon in the Bay of Bengal off the coast of Arakan State, also called Rakhine State. Many local ferry lines employ aged and rickety vessels which frequently suffer breaches to their wooden hulls, or are eroded over time by seawater and many years of service. They are nonetheless a popular method of trade and transport as they operate for much cheaper prices than competing hovercrafts.