FROM THE DVB NEWSROOM
ASEAN refers to Oct. 9 IDP camp attack as bombing
The regime's Ministry of Foreign Affairs criticized an Association of Southeast Asian Nations (ASEAN) statement that referred to the attack that killed 29 civilians at the Munglai Hkyet Internally Displaced Persons (IDP) camp on Oct. 9 as a bombing. Munglai Hkyet IDP camp is located near Laiza, Kachin State, the headquarters of the Kachin Independence Army (KIO/KIA).
It claimed that reports stating the explosion was caused by a bombing is "based on unfounded facts from the biased local and international media." It alleged that the blast was caused by an explosion at an arsenal near a KIA training school. Investigations by both Amnesty International and Human Rights Watch determined that the blast was caused by an airstrike.
Scammers impersonating UNHCR staff in Malaysia
Reports have emerged that scammers in Malaysia are defrauding Burmese asylum seekers by impersonating U.N. High Commissioner for Refugees (UNHCR) staff, according to a source assisting Burmese refugees in Malaysia. The fraudulent brokers contact the refugees through social media, claiming that they will issue them an official UNHCR card if the victim sends between 200-300 Malaysian Ringgit ($42-63 USD).
"Some refugees became victims of fraud because they really wanted to have legal status due to fears of arrests by the Malaysian authorities," the source in Malaysia told DVB. The UNHCR has issued a warning about the scams as cards issued by it can technically provide legal protection and status to remain in Malaysia.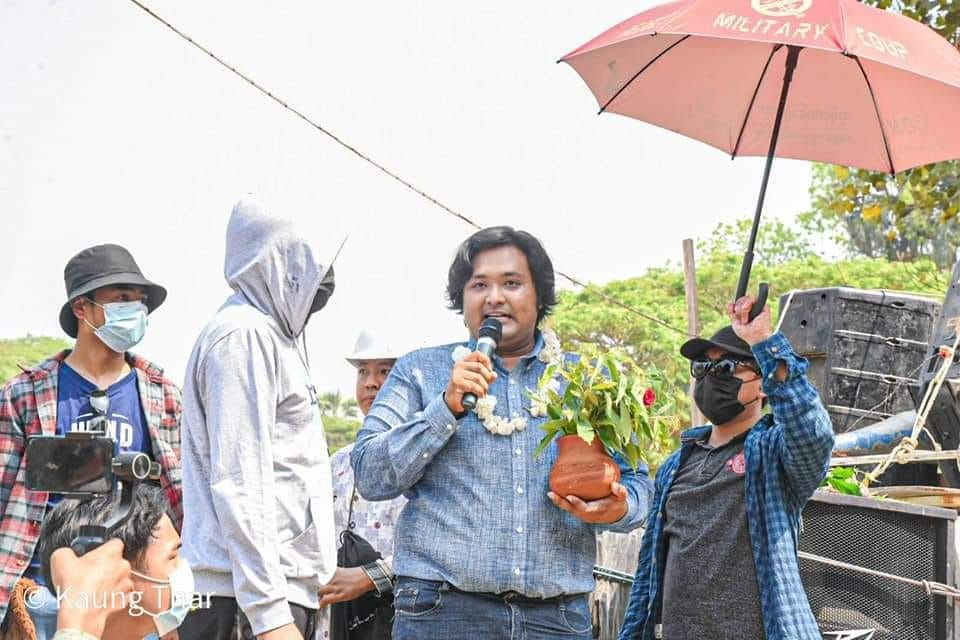 Monywa Prison to prosecute hunger strikers
Monywa Prison officials will take further legal action against 26 political prisoners held in Sagaing Region, including anti-coup protest leader Wai Moe Naing. The prisoners held a hunger strike at the prison in September. Five prison officials, including the superintendent, were fired as a result.
A settlement was reached with prisoners a few days after the hunger strike began, but reports of punitive measures being taken against them and prison staff surfaced in October. Seventeen political prisoners are being charged with rioting, which carries a maximum penalty of two years' added to their existing sentences. Authorities revoked a one-year reduction of nine prisoners' sentences, including for Wai Moe Naing.
News by Region

AYEYARWADY—The Pyapon district court sentenced seven young people to death on Oct. 20 for allegedly joining the People's Defense Force (PDF). "The Burma Army arrested them in connection with the PDF. All of them were transferred to Pathein prison as soon as the court sentenced them," said a source inside the court.
The court convicted the seven under Sec. 302 (1) a of the Penal Code for murder. It convicted another seven from five to 55 years in prison under the Counter-Terrorism Law. Last month, the Pyapon court sentenced seven others to death.
KACHIN—Former journalist Maung Maung Oo, 60, was abducted from Sein Yadanar Mon ward, Mohnyin Town, on Oct. 14. "We heard his body was abandoned at the garbage dump and we're looking for it," said a Mohnyin resident.
Maung Maung Oo reported for the Eternal Peace Network based in Kachin State. His whereabouts are unknown. No group has claimed responsibility for his abduction and disappearance.
KARENNI—Internally Displaced Persons (IDPs) living in Hpruso Township have been suffering from a lack of basic medicines. "Most of them are suffering from seasonal flu," said a healthcare worker.
More than 50,000 IDPs are living at five camps in Hpruso. Many children have been suffering from flu-like symptoms and dengue fever since July. A transportation ban on food and medicine into Karenni State was imposed by the Burma Army in 2021.
YANGON—The Burma Army has been stopping Yangon Bus Service (YBS) buses and inspecting its passengers. "The bus I took was stopped by them in Tamwe. There were 15 of them. Two soldiers forced the driver to open the door, and checked the passengers. I don't know what they were looking for," said a passenger.
A YBS driver said that sudden inspections are carried out frequently in Yangon and that sometimes, passengers have been ordered to step off the bus to be inspected. Resistance forces warned passengers to inspect their phones and to clear any data from it that may lead to arrest.
MON—The Karen National Defense Organization (KNDO) battalion 6 drone team claimed to have attacked the headquarters of the Southeastern Command in Mawlamyine Township on Oct. 20.
"We used target locked bombs for civilian safety. The first one was for ambushing. The second one attacked the oil tanks and planned to set fire with the third one. But the third one was broken," said a KNDO spokesperson. The extent of the damage and the number of casualties is unknown.
(Unofficial rate: $1 USD = K3,320, Official rate: $1 USD = K2,100)