FROM THE DVB NEWSROOM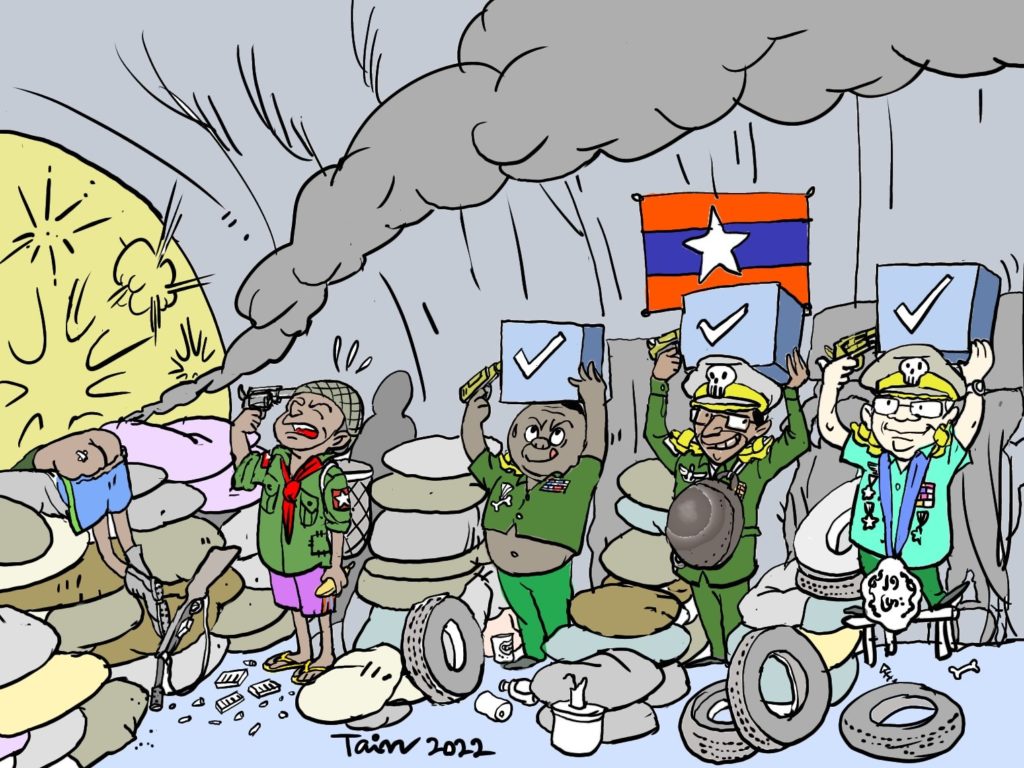 ASEAN Special Envoy will not make a third trip to Burma
ASEAN Special Envoy to Burma, Prak Sokhonn, will not make a third and final trip to Burma as promised. Cambodia's Foreign Ministry said it would "leave this opportunity for Indonesia as ASEAN's chair" to resolve Burma's political crisis under its Five-Point Consensus. Indonesia will take over as chair of ASEAN in 2023.
U.S. to downgrade its representation in Burma
The U.S. embassy will downgrade its representation in Burma by replacing its ambassador with a chargé d'affairs. U.S. Ambassador Thomas Vajda will be replaced by his deputy Deborah C. Lynn, according to the State Department. Many western countries have downgraded their diplomatic representation in Burma since last year's coup.
Songwriter released from prison
Songwriter Shaun Tun was released on Dec. 10, according to a source. Shaun Tun was arrested on Nov. 30, along with three others including Burmese traditional dancer Poe Chit. Junta media accused the four of supporting anti-military resistance groups.
News by Region
BAGO—National League of Democracy (NLD) MP Tun Tun Oo turned himself in to the Pyay Regional Command HQ of the Burma Army on Dec. 8. "His daughter went to get a passport to go abroad. They arrested her and called her father to turn himself in. They told him that he would be charged under Section 505(a). However, they still have yet to release his daughter," a source told DVB. Tun Tun Oo was elected as Bago Region MP in 2015 and served as the regional Minister for Immigration from 2016-2021. He hid with his family in Paungde Township following the coup. The Burma Army issued an arrest warrant and seized his vehicle.
KACHIN—Two deputy police chiefs at Nanmar police station in Mohnyin Township were arrested for alleged ties to local resistance groups. Thwin Aung and Myo Kyaw were arrested by the Burma Army and charged under the Counter-Terrorism Law on Nov. 15, according to sources. "They are now detained in Myitkyina prison and they are not allowed to meet with their family," a source said. The Burma Army bulldozed two homes in Nanmar Township on Sept. 29 for alleged connections to resistance forces.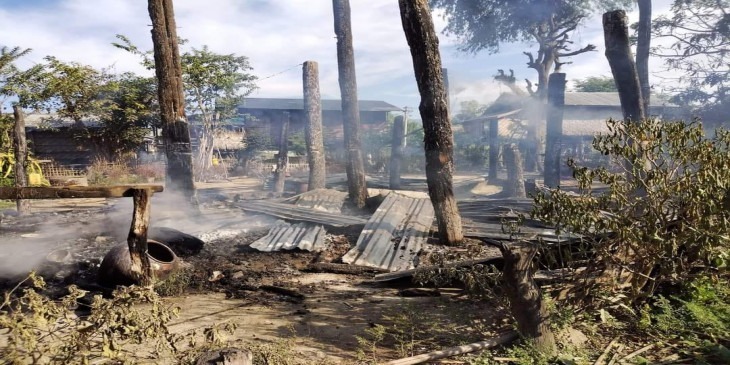 SAGAING—The body of Sein Maung, 87, was discovered in Zee Thaung village of Tigyaing Township on Dec. 8, according to locals. "He was from Intain village. He was temporarily sheltering at his relative's house in another village when [it] was burned down. On that day, he brought K450,000 ($215.75 USD) to donate to displaced residents in Zee Thaung village. The money was taken by the army," a relative told DVB.
Four Burma Army columns consisting of 500 troops entered Tigyaing Township last month to attempt to take back the area from the Kachin Independence Army (KIA) and its allied People's Defense Force (PDF). A total of 15 villages including Tha Khut Chaung, Kyat Thayay Chaung, Su Poak Chaung, Intain, Lay Thar were torched by the Burma Army since Nov. 25, according to local sources. "They burned down Pauk Kone village on Dec. 7. They continued to torch five other villages nearby including Kyat Thayay Chaung village on Dec. 8," a local said.
TANINTHARYI—A total of 154 Rohingyas, including 83 men, 40 women, 23 boys and eight girls were rescued from a boat 155 miles southwest of Myeik town on Dec. 7. They were transferred into the custody of the Burma Navy, junta media announced on Dec. 9. "We've lost contact completely after they were transferred to the military. I worry about those people as they might end up in jail," Rohingya activist Ro Nay San Lwin told DVB. The 154 Rohingyas have been transferred to Myeik Township immigration for investigation, junta media reported.
Southern Monitor reports that 317 civilians were killed and another 115 were injured in the region since last year's coup. "It is not acceptable that the civilians were targeted," a source told DVB. Civilian deaths in Dawei, Launglon, Yebyu, and Thayetchaung townships were the highest in the region. "The military council's violences caused more civilian casualties. There were situations in which we canceled our missions because there were civilians present," said a Myeik PDF spokesperson. Southern Monitor called on all armed groups to adhere to military ethics to minimize civilian casualties.
YANGON—An explosion occurred at a Burma Army bunker in Hlaing Township on Dec. 10. "After the blast, I heard the gunfire. Other residents near the office said that the army was shooting indiscriminately," a resident told DVB. Emerald Girls Army (EGA) and other two local resistance groups claimed responsibility. Since Dec. 1, there have been 13 attacks across the city.