A sculpture of Burmese independence hero Gen. Aung San will go on display this month to commemorate his 100th birthday. The life-size work of art, depicting Aung San reading a book, was commissioned by the National League for Democracy (NLD) and created by artist Aung Kyaw Tun. Funding for the project was raised by music-based charity Pan Ye Lan through street performances. The statue will be unveiled at the Aung San Museum in Natmauk, Magwe Division, on 5 February.
Preparations for Aung San's 100th birthday on 13 February have spread across the country, with most towns and regions hosting some form of festivity to mark the occasion. In a country deeply divided along religious, ethnic and social lines, the man who is accredited with winning independence from the British Empire is a uniting figure.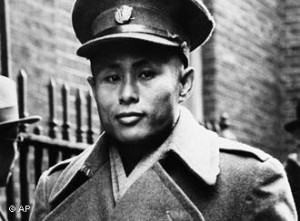 Aung San was born to U Pha, a lawyer, and his wife, Daw Suu, in Natmauk in central Burma on 13 February 1915. His family was already well known in the Burmese resistance movement; his grandfather Bo Min Yaung fought against the British annexation of Burma in 1886.
Aung San received his primary education at a Buddhist monastic school in Natmauk, and secondary education at Yenangyaung High School. He later went to Rangoon University and received a B.A. degree in English Literature, Modern History, and Political Science.
After Aung San entered Rangoon University in 1933, he quickly became a student leader. He was elected to the executive committee of the Rangoon University Students' Union and became editor of their magazine, Oway (Peacock's Call).
As a young activist, Aung San was staunchly anti-British and anti-imperialist. He helped found the Thakin movement – Thakin, meaning lord or master, was a politically motivated title that proclaimed that the Burmese people were the true masters of their country, not the colonial rulers.
In 1940, a warrant was issued for his arrest and he fled, first to China, then on to Japan where he received military training alongside future prime minister U Nu and others who would go on to be known as the 30 Comrades.
On 1 August 1943, the Japanese declared Burma to be an independent nation, and Aung San was appointed War Minister. However, he began to doubt Japan's promises, and turned against them.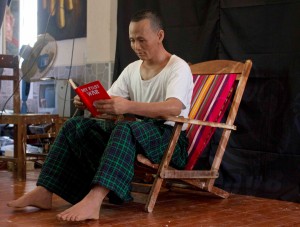 After WWII, in January 1946, he became the president of the Anti-Fascist People's Freedom League, and entered into negotiations with British administrators for Burma's independence. The following year, he visited London where he ironed out the fine details with British Prime Minister Clement Atlee.
Upon his return from Britain, he met immediately with the country's ethnic leaders and entered into the Panglong Conference on 12 February 1947, convincing Shan, Kachin and Chin representatives to pledge support for a united Burma.
On 19 July 1947, a gang of armed paramilitaries – allegedly loyal to former Prime Minister U Saw – broke into the Secretariat Building in central Rangoon during a meeting of the Executive Council and assassinated Aung San and six of his cabinet ministers.
His family went into exile in India. Daughter Suu Kyi was brought up in London before she returned to Burma in 1988, becoming swept up in the euphoria of pro-democratic reform. She co-founded the NLD and has headed Burma's opposition movement against military dictatorship ever since.
[related]