FROM THE DVB NEWSROOM
Aung San Suu Kyi and Win Myint sentences reduced
State Counsellor Aung San Suu Kyi and President Win Myint have been granted partial pardons on Aug. 1. The two jailed leaders were arrested during the military coup on Feb. 1, 2021. Aung San Suu Kyi, 78, had five of her 19 convictions dropped, reducing her 33 year sentence to 27 years in prison. She has been transferred to house arrest. Win Myint, 71, had two out of eight convictions dropped. His total sentence will be reduced from 12 to eight years in prison. Read more here.
More talk of a regime-planned election
Min Aung Hlaing said that an election would only take place only when Burma achieved "peace and stability" during the National Defense and Security Council (NDSC) meeting on July 31. He mentioned fighting between the People's Defense Force (PDF) and his Burma Army. "Right now, the country is not stable. The PDF is fighting against the army. So we have to wait for the country to stabilize before holding elections," he added. Fifty political parties have registered to participate in the regime-planned election with the Union Election Commission (UEC) and another 13 have submitted their applications.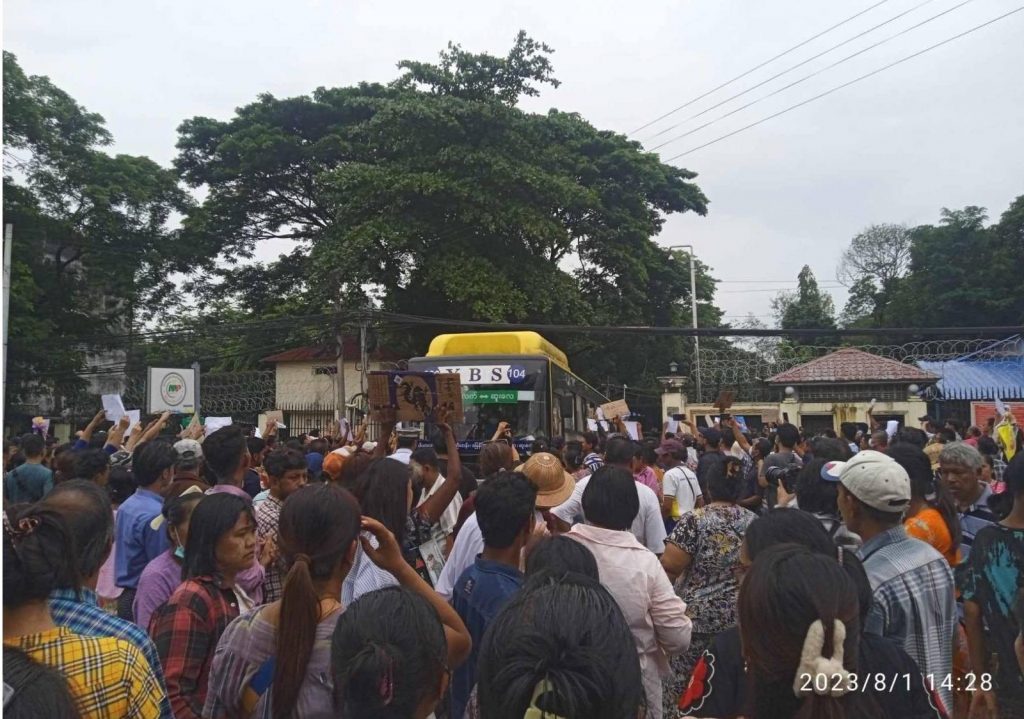 Nearly 8,000 prisoners granted amnesty from regime
A total of 7,749 prisoners were released across Burma, including 22 members of Ethnic Armed Organizations (EAO), 72 individuals accused of belonging to "unlawful associations," and 125 foreign nationals. Some prisoners on death row had their sentences commuted to life imprisonment. DVB is investigating whether any political prisoners were included in this amnesty. At least 1,577 prisoners were freed to mark the Burmese New Year in April, but no political prisoners were among them. At least 24,123 have been arrested by the military since 2021 and 19,733 remain imprisoned, states the Assistance Association for Political Prisoners (AAPP).
News by Region
KACHIN—Fuel prices have risen in Hpakant Township as tanker trucks must pay bribes ranging from K10,000 to 35,000 ($4.76 to 16.66 USD) per oil drum (50 gallons) at each of at least six Burma Army checkpoints, according to township residents. The military has prevented tanker trucks from entering Hpakant since June 27. Some petrol stations have closed as a result. The price of 92 diesel fuel increased from K2,500 to 3,000 ($1.19-1.43 USD) per liter to K6,000 to 8,000 ($2.68-3.81 USD) per liter. The Burma Army started blocking fuel shipments into Hpakant since fighting began with the Kachin Independence Army (KIA) in January.
SAGAING—A seven-year-old was killed when artillery hit Shaw Phyu village in Ye-U Township on July 31. The girl died after being hit in the head by a fragment of the shell. "Despite receiving medical treatment, the young girl passed away," said a Ye-U Township resident. Locals called on the Burma Army to refrain from firing heavy weapons at villages. On Aug. 1, some township residents had fled their homes and were arrested by Burma Army troops in the area.
RAKHINE—The Burma Army arrested 60 people with illegal drugs at a KTV in Sittwe on July 30. They were taken to No. 1 Police Station. "The restaurant was known for allowing the use of various substances, including drugs and heroin," a Sittwe Township resident told DVB. There has been a rise in drug use among locals, prompting calls for action against shops selling narcotics. Sittwe residents claimed police officers are accepting bribes from establishments selling drugs to allow them to continue operating.
NAYPYIDAW—A 100-household administrator was killed near Mya Tha Village in Pyinmana Township on July 30. He was allegedly a member of a pro-regime militia. "The locals in the area are fearful and concerned about the attack," a Pyinmana Township resident told DVB. Two people associated with the regime were also killed in Pyinmana Township on July 29, according to a source close to the police. The victims were Win Shwe, the former Lewe Police Station chief, and Kyaw Lin, the leader of the Pyinmana Town Militia. No arrests have been made in either case.