FROM THE DVB NEWSROOM
Aung San Suu Kyi may be transferred from prison to house arrest
The regime plans to transfer Aung San Suu Kyi, 78, from her Naypyidaw Prison cell to house arrest, the AP reported. BBC Burmese reported that the jailed State Counsellor has already been transferred from prison to a home in Naypyidaw assigned to a deputy minister. Sources close to the prison department told DVB that prominent political prisoners may be granted amnesty on Aug. 1 during a ceremony to mark the consecration of a new Buddha statue hosted by the military. "There are indications that Aung San Suu Kyi is being placed under house arrest, leading to speculation that the amnesty is likely to happen," said a former political prisoner. Thailand's Foreign Minister Don Pramudwinai met with Aung San Suu Kyi at Naypyidaw Prison on July 9. She has been sentenced to 33 years in prison since her arrest on the day of the military coup, Feb. 1, 2021. The Supreme Court is currently hearing special appeals of her numerous convictions, along with those of jailed President Win Myint.
China sacks its foreign minister
Chinese Foreign Minister Qin Gang was removed from his post after he had been absent from public view for several weeks, the BBC reported. Qin Gang served as foreign minister for less than seven months and was replaced by Wang Yi, the current Director of the Office of the Central Foreign Affairs Commission. The reasons for Qin Gang's removal remain unknown. As foreign minister, Qin Gang had met with military coup leader Min Aung Hlaing and his regime officials in Naypyidaw last May. Wang Yi himself was previously foreign minister from 2013 to 2022. He had engaged with Naypyidaw but stopped short of meeting with Min Aung Hlaing during his visits to Burma after the 2021 military coup.
Migrant worker drowns at sea in Thailand
A Burmese migrant worker drowned at sea while working on a fishing boat in Thailand's Samut Prakan Province on July 19, states the labor rights group Aid Alliance Committee (AAC). The AAC cited witnesses who claimed that the boat's captain ignored the pleas of the victim's brother and other workers to rescue him when he fell overboard from the boat. "The captain did not care about him. If he wanted to save the boy, he would have to cut the fishing net," said Khaing Gyi, the AAC director. The brother of the victim was forced to retrieve the body from the sea with a rope. Migrant workers in Thailand often report labor rights violations and deaths to the AAC.
News by Region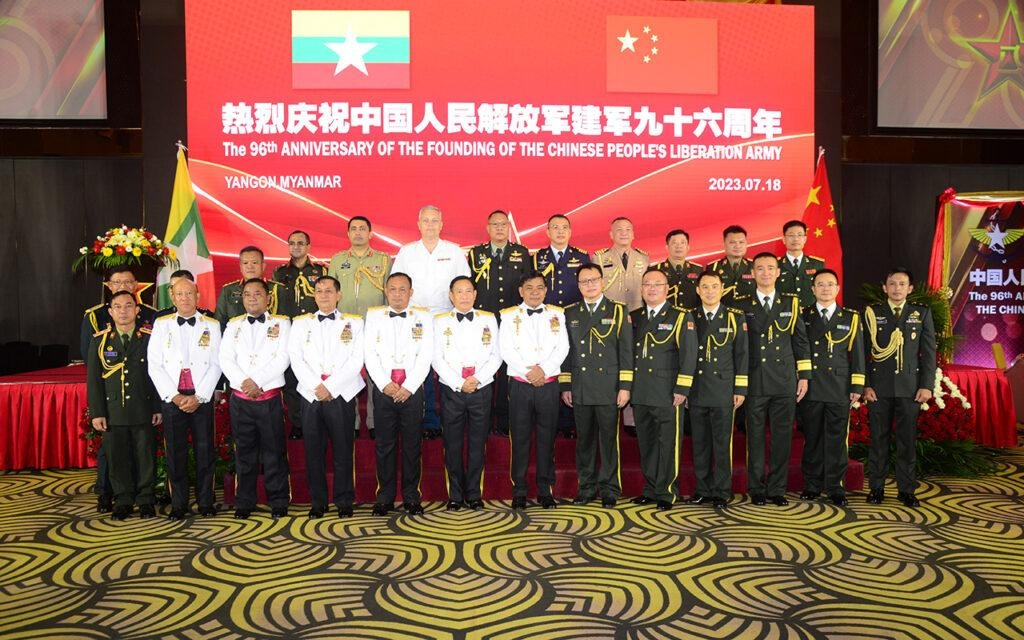 SHAN—Chinese army officers have been training pro-regime militias in Muse, according to local residents. A source close to the administration told DVB that seven Chinese officers have been living in the Shweli government housing for Burmese military officers since June. "The Burma Army's strategist officers are downstairs, The Chinese Army is upstairs. They give military training to the locals here for counterattacks. Then sent to Sagaing [Region]," the source told DVB. Locals with knowledge of the training said it focuses on counterinsurgency techniques to target the People's Defense Force (PDF). "In June, a group of 35 militia commandos were sent to Sagaing. They were taught by the Chinese military," said another local on the condition of anonymity.
Two Kutkai and Hsenwi township residents were killed and six were injured by artillery from July 8-18, states the Shan Human Rights Foundation. One local was killed and three were injured by artillery in Kutkai Township on July 18. Another was killed on a cattle farm in Kho Moong village. A woman was wounded by artillery in Kutkai town on July 10. Two sisters were injured by artillery when a shell landed on their house in Na Phai village on July 9. Fighting between the Burma Army and Kachin Independence Army (KIA/KIO) has been ongoing in the area.
One Muse Township resident was killed and two were injured by airstrike on July 25. Fighting between the Burma Army and the Ta'ang National Liberation Army (TNLA) has been ongoing since July 23. "We don't want any armed forces in the village, neither the TNLA nor the KIA nor the military regime. Now the people are being killed like this. Who should the people rely on?" asked a Muse Township resident.
NAYPYIDAW—Individuals linked to the military regime contributed an additional K17 billion ($8 million USD) for the construction of a Buddha statue in Naypyidaw, regime media reported. The donation ceremony was presided over by Min Aung Hlaing and Sitagu Sayadaw. In attendance were 26 monks, military generals, and 377 military cronies. The Maravijaya Buddha Image statue is 63-feet tall and is carved from marble, making it the tallest marble Buddha statue in the world. The 250 individuals who made substantial donations were awarded with honorary degrees.
Visual Rebellion Myanmar shares its story Telegram: An Online Battleground in Myanmar, in collaboration with Engagemedia.