From the time she was a little girl, Eh-Moo (pronounced similarly to Emma) Da lived in uncertainty with no real place to call home.
That changed three years ago when her family was settled in northern Brisbane, a far cry from the refugee camps dotting the border between Thailand and Burma, or Myanmar as it is officially known.
Having fled Burma in fear for her life, Eh-Moo's mother, Happy Da, was only 16 years old when she first entered the camp with two-year-old Eh-Moo. Over the next 15 years, while moving constantly between camps, Happy married another man, had twin boys, and was granted a visa to live permanently in Australia.
Their story is familiar to many refugees – the terrifying journey to the camps in the dark of night, the bleak uncertainty of constantly travelling from camp to camp, always moving and never settling.
But Happy and Eh-Moo's story has a happier ending than most who have endured the experience.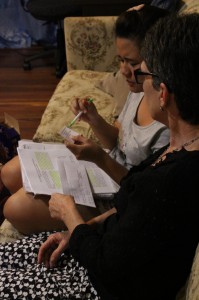 Following her family's settlement in Mitchelton, a suburb of Queensland's capital Brisbane, Eh-Moo and her family were recommended to the St Vincent de Paul society's recently developed Volunteer Refugee Tutoring and Community Support (VoRTCS) programme, which aims to help refugee families improve English language skills and provide support for individuals struggling to adapt to life in Australia.
After working with her tutor, Brian Dickson, for a little over a year now, Eh-Moo, now 20, has successfully graduated high school and is now enrolled in tertiary education with ambitions to become a dental assistant.
"I study Diploma of Dental Technology and I hope when I finish, I get a job to work." Eh-Moo said, frowning slightly as her tone turned serious. "Because people need their teeth, and if they don't have their teeth, this is not good for them.
"I like to study, I like to learn. But it [is] hard."
Dickson, a Brisbane resident and dedicated volunteer, said that English language skills aren't the only thing he teaches Eh-Moo and her family. As per the VoRTCS programme mission statement, he also aids the family in other ways, such as helping Eh-Moo's parents navigate the Queensland schooling system and helping them pay their bills via email.
"You don't realise there's all these things we do that we take for granted," Dickson said, "It's important to be reminded just how fortunate we really are to live in this country and appreciate it more than we do."
Even with the support offered by her tutor, Happy struggles with tasks most Australians do not think twice about. The family only has one 2-hour tutoring session per week, and Happy often takes the back seat with English lessons, preferring to allow the tutor to focus his energies on helping the children with their homework. When there is some spare time, the family's father, Pa Da, will usually need help with the bills, or some other kind of paperwork foreign to Burmese nationals. As a consequence, Happy cannot speak the language as well as her children.
With the help of Eh-Moo translating, Happy spoke about her lessons with a separate church group, where she learns English and "Australia skills" such as telling time from analogue clocks, how to write neatly, and how to draft a CV.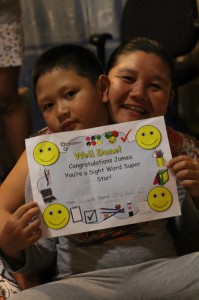 "I know 'o'clock time', and handwriting, and email now," Happy said proudly, beaming at her tutor.
"Next I write a paper to get me job, and I be very happy."
St Vincent de Paul Society Chief Executive Dr John Falzon said he believes that if given both the chance to thrive and the appropriate support, refugees such as the Da family can make a valuable contribution to their communities. Falzon was quoted earlier this year stating: "…When embraced by our community, there is strong evidence [that refugees] contribute enormously to our nation."
In Eh-Moo's case, positive contributions are certainly evident already. At the time of writing, the 20-year-old was about to begin a week-long work experience placement at a local dentistry office.
"We have many more opportunities here than we did before. [In the camps], we stay home, we help Ma clean," said Eh-Moo, jabbering excitedly.
"But now, I go out with my CV, and I talk to dentists in English, and they give me a little job."
Dickson said that the only difficulties he encounters in the job is that there is never enough time for him to spend with the Da family, and having to say goodbye at the end of each session.
When asked why he began tutoring with the VoRTCS program, Dickson simply said, "I learned that there were three sources of assistance that people could call on: the government, other people, and me.
"The government can only provide minimally, leaving other people and me. I thought; 'If not me, then who? If not now, then when?'"
Now, thanks to VoRTCS's support of around 1,060 refugees in the Brisbane area, the Da family is more than a simple statistic in Australia's policy politics. Having now been granted the right to education, to freedom, and most importantly, to happiness, Eh-Moo is able to venture freely into her future as she calls Australia home.