Guest contributor
Shafiur Rahman
As Bangladesh gears up for pivotal elections, the fight for public opinion has escalated. AFP's recent investigation disclosed a systematic disinformation campaign that favored the government. Launched around September 2022, this campaign coincided with an official call for 'good columnists' to counter negative 'propaganda.'
Hundreds of articles penned by bogus experts, some masquerading as academics affiliated with prestigious global institutions, surfaced. Utilizing deceptive tactics such as stolen profile pictures and fabricated quotes, these articles not only compromised media integrity but also manipulated public sentiment.
In a parallel vein, the discourse surrounding the remote island of Bhasan Char also experienced manipulation, exacerbated by a pervasive information vacuum. The announcement in 2020 to relocate refugees from Cox's Bazar to Bhasan Char, situated 3-4 hours by boat from the mainland, sparked widespread scrutiny of various issues related to the island.
International agencies, human rights organizations, and other interested parties had already sounded alarms prior to the actual relocation of the Rohingya refugees. These concerns were heightened not just by the questionable credentials and tactics of those advocating for the project, but also by sporadic, unofficial reports of health issues like pneumonia and maternal health problems among the refugees.
Even in 2022, a report in The Lancet highlighted the scarcity of verified information emerging from the island, where services were being managed by the Bangladeshi authorities and local NGOs. An aid official, speaking anonymously to The Lancet, noted that refugees visiting relatives in Cox's Bazar were too frightened to speak openly, making it even more difficult to ascertain the situation on the ground.
Government assurances regarding livelihoods and essential services were also met with skepticism, a sentiment exacerbated by the prevailing climate of disinformation. The logistical difficulties posed by the island's remoteness raised doubts about the practicality of proposed economic activities and food security initiatives. This scrutiny intensified when considering the government's vague plans for vocational training and its strict security protocols, painting Bhasan Char as a heavily controlled setting where refugees would find their rights curtailed and social tensions exacerbated.
In response to mounting international concerns and criticism, Bangladesh deployed a multi-pronged strategy to steer the narrative. The government leaned on compliant media and digital channels to disseminate optimistic stories about the island, portraying it as a humane solution to the refugee crisis.
In parallel, think tanks like the Central Foundation for International and Strategic Studies (CFISS) (and later the Centre for Bangladesh and Global Affairs [CGBA]) emerged, spearheaded by retired military officials. CFISS had a clear agenda: to reshape public perception in favor of the government's relocation and repatriation plans.
It not only produced articles and op-eds, often appearing on the same platforms used by discredited AFP-exposed authors, but also strategically invested in research and academic publications to legitimize its stance. Alarmingly, the origins and scope of funding for both organizations remain undisclosed on their websites. The overarching aim has been to craft a robust counter-narrative that vindicates the Bangladeshi government's decision to relocate Rohingya refugees to Bhasan Char and of course to repatriate them to Myanmar.
It's worth pausing here to consider the chronology of events and the specific context that led to the emergence of think tanks like CFISS.
In the early months of 2020, the future of Bhasan Char as a relocation site for Rohingya refugees remained in flux, despite the project having been officially authorized by the Bangladesh government in 2017. Bangladesh's Foreign Minister, Abul Kalam Abdul Momen, openly discussed alternative uses for the island, including turning it into a tourist center or a residence for the landless as part of other Ashrayan projects.
He emphasized that these were personal opinions and that the government had not yet made a final decision. A circular was sent to all 64 districts in Bangladesh to gauge interest in relocating landless populations to the island, but there were no takers.
As the year 2020 unfolded, the scenario took a significant turn. In May, the Bangladesh government seized an opportunity to advance their Bhasan Char initiative. Citing the COVID-19 pandemic, authorities opted to divert 300 rescued Rohingya individuals, who were in fact trafficked and en route to Malaysia, including 33 children, away from the established camps in Cox's Bazar to Bhasan Char.
This strategic move underscored a commitment to making full use of the island's facilities. By August, Foreign Minister Momen had effectively closed the door on alternative plans for Bhasan Char. And by December, it had become clear that the Bangladesh government was proceeding with relocations, some of which were not voluntary.
After Foreign Minister Momen declared that there would be no alternative plans for Bhasan Char, the Bangladesh government's publicity efforts went into overdrive. In September 2020, a specially arranged visit for 40 Rohingya representatives from the refugee camps was coordinated.
This was swiftly followed by a deluge of media coverage. Outlets, which were hand-picked for their willingness to portray the island favorably, were plied with promotional materials: from sweeping drone footage that showcased the island's terrain to a barrage of impressive statistics.
One such emblematic TV package was aired on Jamuna TV. Viewed over half a million times on YouTube, its broadcast was artfully designed, opening with poetic visuals of birds soaring against the panoramic vistas of Bhasan Char. The reporter was filmed amidst a flock of healthy sheep, discussing the promising livelihood options for the refugees.
To round off the idyllic portrayal, additional footage displayed lush vegetable gardens, geese roaming freely, and more. (Fast forward three years, and the various promises listed by the journalist – of round-the-clock electricity, 24-hour emergency health services to the mainland, and cooking with biogas, etc – remain unfulfilled).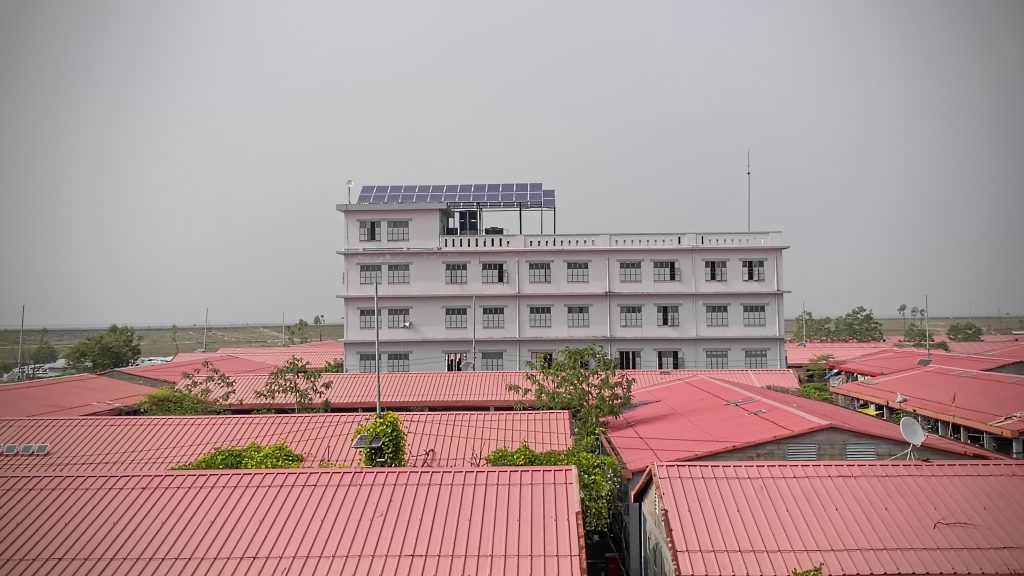 In October 2020, CFISS materialized, conspicuously devoid of public scrutiny despite its public-facing claims of being a state-of-the-art, non-partisan research organization. According to its 'About Us' page, CFISS purports to offer "non-partisan, independent, well-researched analyses." It aims to work across sectors to provide innovative policy agendas.
However, its chairperson, Commodore Mohammed Nurul Absar, with a diverse background in military, government, and intelligence sectors, served as a telling indicator of the organization's claimed impartiality, raising serious questions about its true provenance. After retiring from the Navy on 29 December 2017, Commodore Absar continued on a contract service with the Prime Minister's Office (PMO). Intriguingly, the Armed Forces Division of the PMO had already declared Bhasan Char to be 'one of the finest camps in the globe for displaced nationals,' even before its completion.
The disparity between CFISS's professed mission of providing "non-partisan, independent, well-researched analyses" and the reality of its output couldn't be more stark. Simply perusing the titles of their publications reveals a narrative that is far from impartial.
Consider the following: one article is headlined "Study Finds Bhasan Char Perfectly Liveable," while a webinar was boldly titled "Bhasan Char: A Beacon of Hope for the Rohingyas." Another story in the Bengali language declares, "Bhasan Char is Much Safer for Rohingyas."
CFISS even engaged external expertise to lend credence to its narratives. Dr Kamal, Pro-VC of Dhaka University and a disaster management expert, led a study through the university's Disaster Science and Management Department. Notably, he not only asserted that Bhasan Char is geologically stable but went on to claim that living conditions on the island are superior to those in the Cox's Bazar camps.
He stated that educational facilities for Rohingya children are more organized on the island and opined that "Livelihood options are also better in Bhasan Char than those in Rohingya camps in Cox's Bazar." Dr. Kamal's broad claims indicate a multidisciplinary expertise that extends beyond his department's titular focus. It raises the question of whether the study's wide-ranging conclusions can truly be considered authoritative in all these aspects!
Moreover, these glowing proclamations stood in stark contrast to the more grim assessments offered by various humanitarian agencies. Baseline surveys conducted independently after Dr. Kamal's study paint a far less rosy picture of life on Bhasan Char. His sweeping statements are in direct contradiction with these on-the-ground reports, which detail the significant challenges faced by refugees on the island.
CFISS's rhetorical strategy was two-fold, offering a hybrid narrative of security concerns alongside a veneer of humanitarianism. They deftly framed the Bhasan Char relocation as part of a 'broader plan' for repatriation, a move seemingly designed to head off any argument that the project might be a diversion or even a dead end.
In a striking addition to this narrative, Commodore Absar even claimed that the Rohingya were moving to Bhasan Char "spontaneously," purportedly out of frustration with the conditions in the Cox's Bazar camps. Again, parroting the government's stance, they depicted Cox's Bazar camps as hotbeds of criminality and extremism, crafting a narrative that was more self-serving than complete.
Stateless people, according to this perspective, not only warrant humanitarian concern but also pose a national and regional security risk. Thus, the Rohingya crisis is depicted as both a humanitarian dilemma and a security issue, demanding rapid action from Myanmar's government for repatriation. Meanwhile, Bangladesh's tactical choice to alleviate camp congestion through relocating 100,000 refugees to Bhasan Char is posited as a necessary interim solution.
But CFISS did more than merely echo government policies. The think tank actively challenged external criticisms, effectively dismissing concerns put forth by human rights organizations such as Human Rights Watch and Amnesty International. CFISS seemed more invested in validating the Bangladesh Navy's approach. According to CFISS, these organizations seemed more intent on presenting information that discredited the Bangladesh Navy's efforts than on genuinely alleviating the Rohingya crisis.
Perhaps the most telling indicator of CFISS's stance is its palpable frustration with the absence of robust international support. This is not framed merely as apathy on the part of the global community, but rather as a massive failing—an abandonment of an opportunity to contribute to what CFISS deems a critical humanitarian endeavor. This stance is particularly galling coming from an organization that has minimized reports of human rights violations, maltreatment, and even deaths among the Rohingya attempting to flee Bhasan Char.
So what is CFISS? It is less an impartial think tank and more a mouthpiece designed to whitewash a project rife with ethical and humanitarian landmines. CFISS isn't just part of the conversation on the Rohingya crisis; it has been framing that conversation to its own and Bangladesh's advantage, all the while ignoring the very real suffering of those it purports to help.
Commodore Absar was well-rewarded for his stewardship of CFISS; in August 2022, he was appointed the Chairman of Cox's Bazar Development Authority, a Bangladesh government development authority responsible for the development of Cox's Bazar.
In conclusion, it's worth acknowledging a distressing yet recurring pattern: the warehousing of refugees on remote islands or places is not a phenomenon unique to Bangladesh; it's a global tactic, often mired in secrecy, opacity, and a palpable lack of respect for human rights. From Australia's offshore detention centers to Europe's contested asylum policies, isolating refugees in far-flung locations has become an insidious practice.
Yet, each context is underscored by unique local factors. In Bangladesh, Bhasan Char wasn't born from a benign need to shelter the dispossessed; it was a politically expedient move in a political system rife with clientelism.
As we look back over the past three years, it is apparent that the cost has been devastatingly high. Rohingya refugees haven't just lost their homes; some have lost their lives. Tens of thousands are marooned on a remote island rendered even more remote by bureaucratic obfuscation and misinformation.
Think tanks, academic departments, and mainstream media that have actively participated in disseminating this misinformation are not just errant bystanders; they are complicit. They are complicit in a system that has not only denied refugees their basic rights but also their voices. Their scholarly articles, op-eds, and news stories have served to legitimize a regime of dislocation and disenfranchisement.
---
Shafiur Rahman is a documentary filmmaker currently working on Rohingya issues.