The Central Bank of Myanmar (CBM) has rejected rumours that it plans to shut down some private banks in the country.
A statement released by the CBM on Tuesday said stories circulating about the impending closure of certain private banks, due to large numbers of customers withdrawing their savings, were just rumours as all banking businesses are kept under close scrutiny by the state bank.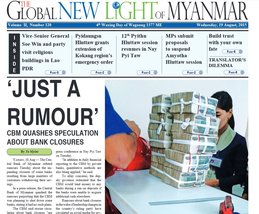 Speaking at a press conference in Naypyidaw, CBM deputy-governor Satt Aung said, "The CBM has no plan to shut down any bank whatsoever – we are on hand to provide the necessary financial assistance in accordance with the law when they are in financial crises.
"All private banks are under close scrutiny and follow the rules and regulations laid down by the CBM."
He said Burma's economy has been affected by the recent drop in the value of the Chinese yuan and that, in order to prevent a sharp decline in Burma's domestic currency value, the CBM is distributing US dollars on the market.
Than Lwin, vice-president of the private Kanbawza Bank, said: "There will be no closure of [banks]. The CBM released a statement pledging 100 percent support in case of financial struggle. It is pointless to clarify these rumours. There is no issue with any bank and everything is stable."
Burma's state-run Global New Light of Myanmar on Wednesday ran with a splash headline reading: 'Just a rumour', as it tried to regain consumer confidence. The headline was accompanied by a picture of a customer making a huge cash deposit at a bank in Rangoon.
The Burmese kyat declined following the leadership reshuffle in the ruling Union Solidarity and Development Party recently, which contributed to the speculation of bank closures.
[related]
As of Monday, the Burmese currency was trading at 1,275 kyat to the US dollar, down from 1,256 on Friday, and 1,236 the week before.
However, the kyat has been gradually declining for an extended period; it was valued at 1,033 kyat to the dollar at the beginning of 2015, and 971 to the greenback exactly one year ago – a loss of 30 percent in the last 12 months.
Read more on Burma's BANKING