British MP Valerie Vaz addressed the House of Commons last week to discuss the findings of an eight-day cross-party delegation to Burma in August. She met afterwards with DVB's Jack Goodman to discuss the delegation, British foreign policy towards Burma, and Aung San Suu Kyi.
INTERVIEW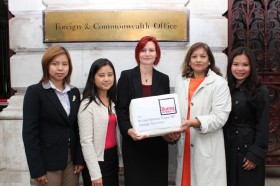 Question: Am I right in saying that your relationship with Burma began before you were elected as an MP?
Answer: As a lawyer I was interested in human rights before I became an MP. I thought Aung San Suu Kyi's story was very similar to Nelson Mandela's. It was one of the campaigns I thought was important to be involved in.
On a political level I felt I had to raise my voice as well, which is why when I was elected to parliament in September 2010 and had my first opportunity to ask the Prime Minister [David Cameron] a question, I asked what he was going to do about Burma.
Q: How did you spend your time in the country?
A: At the parliament in Naypyidaw we met both speakers of the upper and lower houses, the president, ministers from the presidential office and committee chairs. The British embassy, including the Burmese people who worked there, arranged lots of meetings with many different people from different ethnic groups. These were people who perhaps government ministers would not normally have agreed to meet.
Q: It was only an eight-day trip, but did you feel that you were able to fully understand resentments held by different ethnic groups towards the government?
A: Yes, but we didn't have enough time to explore fully. We got a sense of the anger, from say, the people of Mon state – including the anger because Daw Suu didn't speak out against the ethnic conflicts.
Q: Are people right to be critical?
A: We can dress it up anyway we like and there are many hopes pinned to her. People don't understand that when you are in an elected role, but in the opposition, you need to find a balance. That's a fact of life. Remember, she is sitting with the very people who imprisoned her.
Q: Did you meet with any Rohingya?
A: We had one meeting with Rohingyas and you could feel the hostility. The meetings began with 'yes, we want to work together', but by the end it was more 'No, no we don't'.
Q: Moving to British policy, how does Britain ensure that the trade and development agendas work in harmony without being counter-productive?
A: That's what I touched on in my speech. The [UK] Foreign Office has a trade agenda – so at the All Party Parliamentary Group they were discussing the need to open the country up, like other countries we are now trading with.
At the same time, this is not a legitimate government because they haven't really won an election, but we're still trading with them. So while the international community is trading with the government, the army are displacing people from their villages and taking their land.
Q: Will an overbearing trade agenda result in social issues and real democratic change getting swept under the carpet?
A: Yes. I don't know whether it's a force that they [the Burmese government] can control. To commemorate the 1988 uprising recently was a good thing and that was there for the world to see, but arbitrary arrests are still going on. The NGOs don't lie to us: there is no rule of law and government 'favourites' still hold influence.
Q: Britain and Burma have a working relationship; would further evidence that the police and the authorities were involved in anti-Muslim violence, as has been widely reported, alter British policy?
A: I can't say because I'm not in government. But that is what we would be pushing for.
Q: What role will Aung San Suu Kyi play in the future of Burma or is she just a Western icon?
A: Because of Aung San Suu Kyi's connections, the government needs her for her moral and political standing. So we need to keep in touch with her.
Q: So she is crucial for a number of stakeholders?
A: Yes absolutely.
Q: There are many steps that Britain is already taking in Burma. As you mentioned in your speech they are providing training for MPs, training on select committees, and have financed a census. But what would enhance British policy?
A: Britain needs to introduce one person to track everything to help the Foreign Office and DFID [UK's Department for International Development] work together. At the moment it isn't co-ordinated. We are dealing with the president on the trade side but through international organisations for development.
You can read MP Vaz's address to Britain's Parliament here.