The International Federation of Journalists and its affiliate, the Myanmar Journalists Network (MJN), have today launched a campaign to end the underpayment of Burmese journalists and media workers, both inside Myanmar and in exile, by local and international media outlets. The IFJ and the MJN commend the continued perseverance of Myanmar's independent journalists amid immeasurable challenges under the military junta and urge the global media community to continue to pay media workers commensurate to the assignment.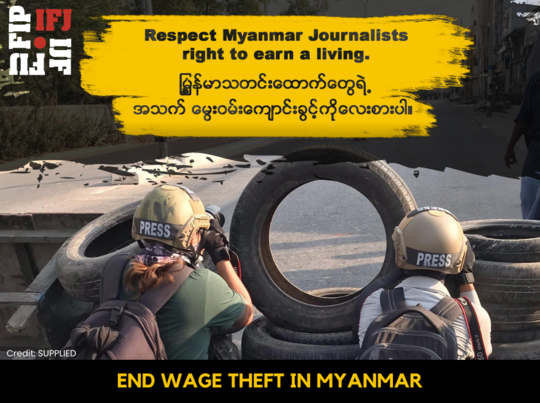 The new anti-wage theft campaign, supported by Norsk Journalistlag and produced by media workers on the Myanmar border in collaboration with the MJN and Myanmar Women Journalists Society, tells the first-hand experiences of shortchanging by local and international media of journalists both inside and in exile.
Through the MJN, the IFJ has documented the payment of professional journalists, some with decades of experience, at citizen journalist rates, with many international media outlets paying diminutive amounts and failing to give credit for footage, images and hard-to-source interviews with people inside Myanmar, including Internally Displaced People, People's Defence Forces (PDFs) and Ethnic Armed Organisations.
While funding from international non-government organisations and media funders has provided support to larger, established outlets, smaller media houses and independent journalists have reported underpayment and non-payment of agreed wages by outlet managers.
Experienced reporters working inside Myanmar, particularly those in conflict zones, are highly susceptible to arrest and face life-threatening attacks, harassment, and intimidation from the military junta. A young freelance reporter working from a borderline conflict area told the IFJ she is paid the wages of an intern or citizen journalist, approximately 5,000 kyat (USD 24) salary per month.
At least four media workers have been killed in Myanmar since the military coup in February 2021. On November 30, a court in the Ayeyarwady region's Pyapon Prison sentenced freelance reporter Myo San Soe to fifteen years in prison, while on November 22, veteran Myanmar journalist Thuzar was also sentenced to two years imprisonment at Yangon's Insein prison court under Section 505 (a) of the Penal Code.
The IFJ's recent report, The Revolution Will Not Be Broadcast – Myanmar: IFJ Situation Report 2022, highlighted the ongoing legal and economic challenges facing journalists and media workers under the junta's repression of press freedom and independent journalism and called on the international community to increase pressure on Myanmar's military junta to guarantee the safety of all Burmese citizens.
View the full anti-wage theft campaign at the IFJ Myanmar online hub here.
The MJN said: "At a time when Myanmar journalists are working under extremely dangerous conditions, MJN would like to request news outlets to prioritize the rights of journalists to be able to live and work safely, rather than focusing on the growth and profits of the news outlet."
The IFJ said: "The launch of the anti-wage theft campaign sends a strong message to local media outlets and international media to stop the short-changing of Burmese journalists and media workers. Professional journalists must be paid appropriately and given credit for their indispensable work under the military junta and in exile. The IFJ stands in solidarity with our Burmese colleagues and commends the brave work of the country's media in resisting the military's impositions and continuing to report in the face of immeasurable challenges."
For further information contact IFJ Asia – Pacific on [email protected]
The IFJ represents more than 600,000 journalists in 140 countries
Twitter: @ifjasiapacific, on Facebook: IFJAsiaPacific and Instagram