Burmese government forces say they have captured three bases from the Kachin Independence Army (KIA), including its local base command in Bhamo District, southern Kachin State.
According to yesterday's report from the Office of the Commander-in-Chief, the Tatmadaw [Burmese army] successfully captured a base in Mansi Township belonging to the 12th Battalion of the KIA's 3rd Brigade on Wednesday morning. The report said that two other Kachin outposts soon fell, following a series of assaults since 13 January that included aerial and artillery bombardment.
According to the Burmese military chief's office, the base in Mansi had been a major hub for smuggling timber and cattle to "a neighbouring country", which almost certainly refers to China. It is also alleged that the KIA's 12th Battalion was also involved in attacking strategic military positions in Mongko in Shan State's Muse District last November before it was routed by government forces, forcing the Kachin rebel unit into a retreat.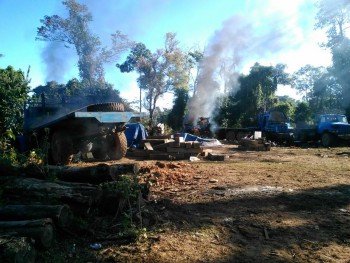 The Tatmadaw reported that it continued to track the rebels' movements via ground and aerial surveillance, and ultimately located their base of operations near the village of Mangan, adding that the base was situated outside the KIA's demarcated zone.
Burma's Minister of Border Affairs Lt-Gen Ye Aung on Thursday blamed the ethnic militia for provoking the assaults by violating an agreement not to expand their troop strength or territory.
"They previously agreed not to expand their forces or set up new bases," said the border affairs minister.
"Clashes are continuing in Shan State because they are not adhering to this agreement," he continued. "We have no reason to fight ethnic armed groups that comply. Both sides must keep to the agreement and find peaceful solutions via political dialogue."
The commander-in-chief's office released a further statement on Thursday, claiming that Tatmadaw troops had seized 108 tons of logs at the base in Mansi.
The KIA has so far been unavailable for comment.
San Awng, a member of the Peace-Talk Creation Group in Kachin State, which frequently mediates negotiations between the KIA and the Burmese military, confirmed that the base had been captured but dismissed the allegation that it was a major timber-smuggling centre.
"It's likely just propaganda," he told DVB by phone on Thursday. "The KIA is not solely responsible for the entire timber-smuggling operation. The logs come from Sagaing Division, so there must be more parties involved. There are no forests in the KIA 12th Battalion's area."
[related]
The KIA is one of four ethnic armed groups –alongside the Arakan Army, Myanmar National Democratic Alliance Army, and Ta'ang National Liberation Army – that coordinated simultaneous attacks on Burmese military and police positions in and around Muse Township on 20 November. Clashes ensued after the Tatmadaw reinforced its troop strength in the area, and brought in heavy weapons. Jet fighters have also been used on rebel strongholds.
The ongoing conflict has compelled thousands of local residents to flee their homes and seek refuge elsewhere. Many crossed the border into China, where authorities arranged makeshift accommodations for them.