Kyat settles
After rising slightly against other currencies in August, the Burmese kyat remained stable over the past week. The current buying rate is 965 kyat to the US dollar, while the selling rate is still 973.

China-ASEAN trade could double by 2020, says Chinese PM
China's trade with Southeast Asia could more than double to US$1 trillion by 2020, Li Keqiang told regional leaders at a China-ASEAN summit in Nanning this week. While downplaying simmering territorial disputes at the summit, the Chinese premier stressed a "common destiny" and called for an upgraded version of the free trade deal between the two sides.
Stock Exchange deadline looks risky
Burma is running behind schedule for starting a stock exchange by 2015 after delays in getting the legal framework in place, according to a report this week by Bloomberg which quoted a Japanese executive who is assisting with the project. "We're pressed for time," Koichiro Miyahara, a senior executive officer at Japan Exchange, reportedly said, and noted that the late approval of a capital markets bill had delayed the project.
New Rangoon airport shuttle
A 24-hour shuttle bus service to and from the Rangoon international airport was launched on 1 September. The eight commissioned mini-vans will each carry a maximum of 15 passengers, and the fare has been fixed at 5,000 kyat for foreigners and 3,500 kyat for locals.
Banks association wants to stand alone
The Myanmar Banks Association announced at a meeting on 30 August that it has decided to become independent of the Central Bank of Myanmar. Than Lwin, former deputy director of the Central Bank of Myanmar and now deputy-director of the private-owned Kambawza Bank, stressed that the association did not seek to break away from the Central Bank, but just wanted to become "conventional" as bank associations in other countries.
Finger on the pulse
Burma has earned over US$840 million from the export of beans and pulses this quarter, according to the Ministry of Commerce. The country exported a total of more than 1.39 million tonnes of agricultural products worth over $845.3 million from 1 April to 23 August during this 2013-14 fiscal year.
Van Heusen sets the trend
Top US menswear brand Van Heusen has launched its first outlet in Burma at the Parkson Departmental Store, FMI Centre, in downtown Rangoon. The firm says it also plans to open branches in Mandalay, Naypyidaw and other major cities. "We have come here to encourage Myanmar people's dreams to come true," said a VH spokesperson. Established in 1881, Van Heusen is a subsidiary of PVH Corporation which owns other clothing brands including Tommy Hilfiger and Calvin Klein.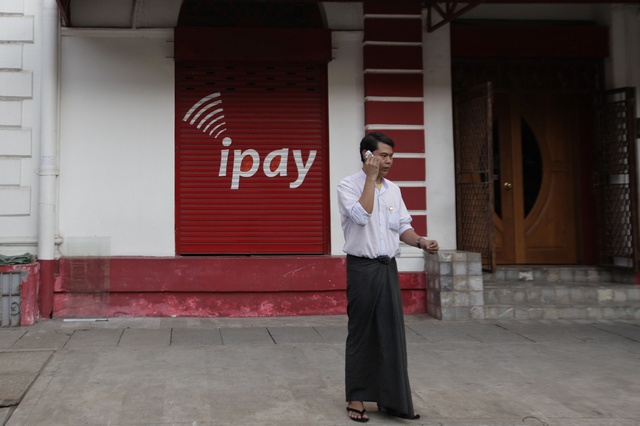 SIM pickings
Mobile phone SIM cards, originally sold for 1,500 kyat (US$1.50) each through a lottery system, are now trading for between 90,000 and 120,000 kyat on the black market in Burma.
Fuji Electric opens Rangoon branch
Tokyo-based Fuji Electric Holdings Co Ltd announced on 2 September that it had opened a branch office on Shwegondaing Road in Bahan Township in Rangoon. The Japanese firm said it aims to collect and analyse market trends for electric appliances while building ties with local and Japanese corporations based in Burma.
Nokking at the door
Thailand's Nok Air last week launched daily flights between the Thai border town of Mae Sot and Moulmein in Burma's Mon state. The flight takes just 25 minutes, a far cry from the bumpy six-hour journey it would normally take overland. The economy airline says it will also introduce Mae Sot – Rangoon flights from 1 October.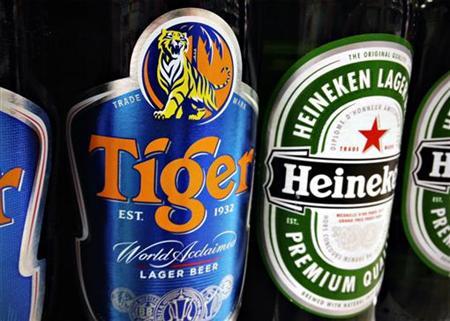 Beer war in Burma
Singaporean food and beverage conglomerate Fraser & Neave (F&N) has claimed that its Burmese partner is trying to oust it from a joint-
venture agreement in Myanmar Brewery, according to various news sources. F&N owns 55 percent of Myanmar Brewery, which corners a huge part of Burma's domestic beer market with manufacturing plants for Tiger Beer, Myanmar Beer, ABC Stout and Anchor Beer. The remaining 45 percent is held by state-owned Union of Myanmar Economic Holdings Ltd, a conglomerate run by Burma's Ministry of Defence.